If you're looking to add a unique touch to your terrace garden, exotic fruit trees may be just what you need! Not only do they add a pop of color to your space, but they also provide delicious and healthy treats that you can enjoy right at home. From the sweet and tangy taste of the sweet lime to the creamy texture of the egg fruit, there are countless options to choose from. And the best part? Growing these trees on your terrace is easier than you might think. With a little bit of patience, care, and the right tools, you can turn your small outdoor space into a thriving orchard. In this article, we'll explore some of the most popular exotic fruit trees for terrace gardening, as well as where you can buy them. So, let's get started and add some tropical vibes to your terrace garden!
Grow These Exotic Fruit Trees in Your Terrace Garden
Mini Dwarf Sweet Lime
The Mini Dwarf Sweet Lime is a citrus tree that is native to India. It is a small tree that can grow up to 6 feet tall. The tree has dark green leaves and produces small, round fruits that are about 2 inches in diameter. The fruits have a thin, green skin and a sweet, juicy flesh. The Mini Dwarf Sweet Lime is a popular tree for home gardens because it is easy to care for and produces fruit year-round.
Purple Forest Guava
This is a type of guava that has a purple skin. It has a sweet, juicy flesh and a slightly tart flavor when eaten with the skin. Purple Forest Guava has a lot of flavours and is best for making jams and juices.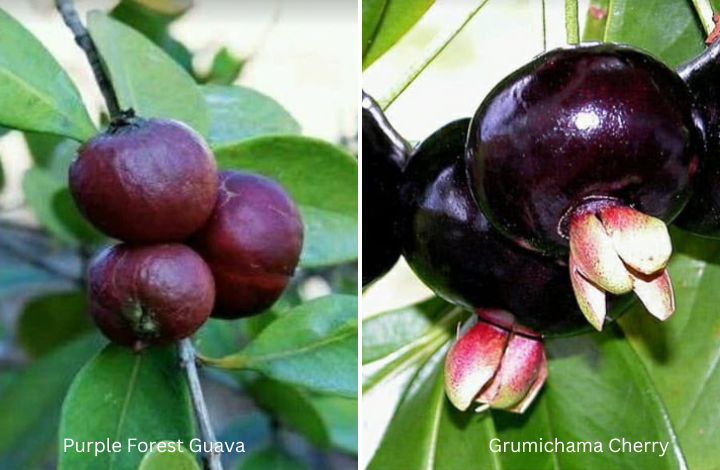 Grumichama Cherry
The Grumichama is a large bushy evergreen shrub that produces dark purple, sweet-tasting fruit that is an alternative to the Bing cherry. Grumichama fruit has thin, dark skin and exudes deep-red juice that is sweet and tart in flavor.
Black Sapote
Black Sapote, also known as Chocolate Pudding Fruit, is native to Central and South America. The leaves are evergreen, long, and glossy. Its fruit is round or slightly irregular, green-skinned, and typically about 7–10 cm in diameter. The skin of the fruit is not usually eaten, but the interior pulp is where the fruit gets its name. It's rich in nutrients, including vitamin C, calcium, and phosphorus and tastes best when used in desserts.
Dang Surya Red Jackfruit
This is a rare jackfruit variety with reddish-orange flesh and an attractive aroma. It is intensely sweet with very low latex content and offers a high yield, with the fruit weighing up to 10 kg. It is highly suitable for the Indian climate with fruits bearing in less than two years.
Egg Fruit
Egg fruit, also known as canistel fruit, grows on trees native to Mexico and South America. The tree grows 3-7.5 meters tall and has spreading branches and alternate leathery leaves. The fruit is roughly oval in shape, 5-12.5 cm long, and orange-yellow in color. The texture of the fruit is likened to that of the yolk of a hard-boiled egg, and the flavor is sweet and musky, sometimes described as being similar to a baked sweet potato. The Egg fruit is commonly eaten fresh or made into custards or milkshakes.
Red Strawberry Guava
Red Strawberry Guava is a small tree in the myrtle family, native to Mexico, Central America, the Caribbean, and northern South America. The fruit of the tree is about the size of a golf ball and looks similar to small purple-red pomegranates. The fruit is bright red and pear-shaped, with a sweet, tangy strawberry-guava flavor.
Abiu Z4 Fruit
Abiu Z4 is a variety of Abiu fruit that is brilliant yellow and roundish with smooth skin and sweet translucent flesh. The fruit has a delicious flavor that is similar to that of creme caramel.
The Abiu is a medium-sized, densely foliaged evergreen tree that can grow up to 15 meters in height.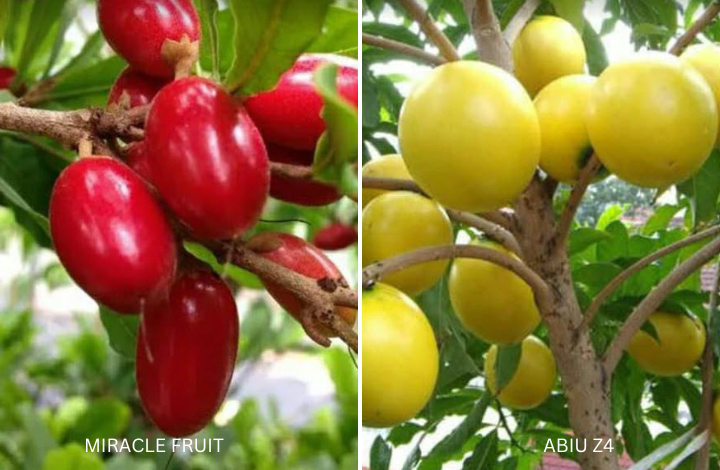 Miracle Fruit
Miracle Fruit is an evergreen shrub of the family Sapotaceae, grown for its mild fruits that make subsequently eaten sour foods taste sweet. The plant is native to tropical West Africa. The miracle fruit plant grows as a dense shrub or small tree, usually not more than 5.5 meters (18 feet) in height. The simple leaves are oval and tapering at the base with smooth margins and feature a waxy underside; they grow in spirelike clusters at the ends of branches.
Mangosteen
Mangosteen is a tropical fruit about the size of a tangerine, averaging 5-7 centimeters in diameter. It has a thick, smooth, leathery, burgundy-colored shell with about four to eight flat and woody lobes arranged in a rosette at the apex.
The mangosteen fruit has a reputation as a superfood and is highly valued for its juicy, delicate texture, and slightly astringent flavor.
Ping Pong Longan
Ping Pong Longan is a type of Longan fruit. Longan trees can produce thousands of ping-pong ball-sized fruits that are eaten fresh or dried. The round fruits have a thin, brown-colored inedible shell with small, round, hard, seeds. Longan fruits are small in size, averaging 1 to 3 centimeters in diameter, and have a round to ovoid shape.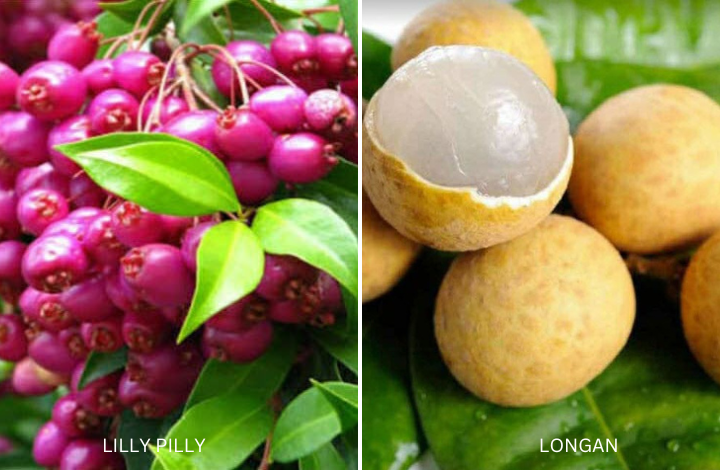 Lilly Pilly
It is a small fruit that is native to Australia. The small-leaved Lilly Pilly produces masses of red pear-shaped fruit, and its handsome purple-red growth makes it one of the favorites as an edible.
They are very high in Vitamin C. The fruit can be eaten fresh from the tree or used to make jams, cordials, and sauces. The fruit is quite tart and mostly eaten with sugar or other sweeteners. The Lilly Pilly fruit emits a clove-like fragrance, and it is considered a superfood due to its high nutrient content.
Blackberry
Blackberries are relatively easy to grow, and they produce a bountiful harvest. They thrive in climates with warm days and cool nights and may be erect, semi-erect, or trailing in habit. Blackberries prefer loamy, well-draining soil with a pH of 5.5 to 7.0 and thrive in a full sun location with six to eight hours of direct sunlight per day.
The fruit is typically black or dark purple when ripe, and it is composed of many small drupelets that are arranged in a circular pattern around a central core. The fruit is sweet and juicy, with a slightly tart flavor. Blackberries are rich in antioxidants, vitamins, and minerals, and are a good source of fiber. They are commonly eaten fresh, but can also be used in baking, or made into jams, jellies, and syrups.
There are plenty more exotic fruits that are available in KPS Nursery. White Dragon Fruit, Long Red Mulberry, Taiwan Pink Guava, Vietnam Jackfruit, Jaboticaba are some of them.
How to Buy These Exotic Fruit Trees for Your Terrace Garden
KPS Nursery in Dharmapuri district in Tamil Nadu houses these different varieties of exotic fruit trees. The plants are usually available at cheap prices. However, you'll have to pay for the cost of transporting them yourself.
They are located at: 5/315, Kanapatty Village Palavadi, near by Power Gird, Tamil Nadu 636809
The nursery only delivers its plants via MsS Parcel Service. (Metur Transports). The transport service is available in select places in Andhra and Telangana, in Chennai, Coimbatore, Erode, Karnataka, Krishnagiri, Madurai, Mettur, Pondicherry, Salem, Tirunelveli, Tirupur, Trchy, Vellore and Viluppuram.
Check the website for your nearest drop point and note it down.
Open Whatsapp and add KPS nursery to your contacts. Contact number: 916383794910; 916379384693
You can view their catalog of plants at: https://wa.me/c/918248239904
Place your order by selecting from the catalog and inform them of your drop point. Once payment is made, the items will be sent via the Parcel Service.
KPS usually does a good job of parceling and sending the plants. However, the plants are not boxed up so there is the possibility of you losing some flowers or fruits on the plants, if they are visible. Most buyers have been very happy with the plants purchased here since they receive good quality, healthy plants in pots/growbags. Delivery is usually on Mondays.
Whatsapp the number and get all the additional information you need.
Please note that we are not affiliated to this nursery and cannot stand guarantee for their service. However, most reviews have been highly positive, hence the mention.
You can always buy these plants on Amazon or other online nurseries, if available.
Creative Farmer Live Plant Egg Fruit Plant Rare Exotic Tropical Canistel Pouteria Campechiana Yellow…
Packet Contains: 1 Plant Shipped In Poly Bag And Without Pots . The Best Time To Plant A Tree Was 10…
This Fruit Tree Is Evergreen. The Edible Part Of The Tree Is Its Fruit, Colloquially Known As…
This Fruit Tree Grows Well In Containers As Well As Ground. It Takes 3-4 Years To Have The First…
Rare Plant. Suitable For Indian Climate. Growing Instruction Is Provided Along With The Shipment
Comes In Safe And Secure Packing. We Use A Specially Ventilated Recyclable Package Which Ensures…
Last update on 2023-09-12 / Affiliate links / Images from Amazon Product Advertising API