When it comes to home décor, not many of us think of adding plants to our indoor space. If you do decide to spruce up your living space, you can't ignore the Syngonium Pink. Also known as pink syngonium or pink syngonium podophyllum, this ornamental plant is a popular choice for those who want to add some foliage to their space. Here are all the details you need to know about growing the Pink Syngonium.
The Syngonium Pink plant is a type of philodendron that features bright green leaves with pink variegation. It's easy to identify thanks to its unique coloring, making it a standout addition to any collection of indoor plants.
Not only is the Syngonium Pink plant aesthetically pleasing, but it also has air-purifying qualities, helping to improve the air quality in your home or office. Plus, as a foliage plant, it is low-maintenance plant and easy to propagate and grow, making it a popular choice among plant lovers worldwide.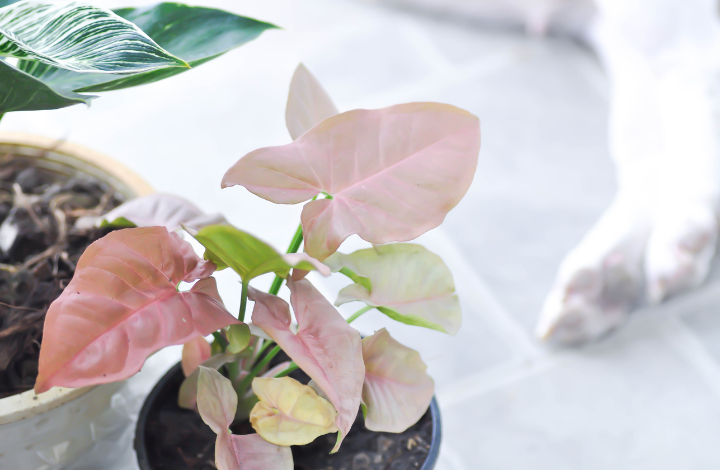 Pink Syngonium Varieties
There are several varieties of Pink Syngonium, each with unique characteristics that make them stand out. Here are some of the most popular ones:
Pink Allusion: This variety has a mix of pink and green colors on its foliage along with dark green borders, making it an elegant plant that needs modest care and prefers bright, filtered sunlight.
White Butterfly: This climbing vine variety has a catchy blend of green and white shades along with a contrasting deep green border, giving it a butterfly-like resemblance. It can be trained vertically using sticks, ropes, or trellis.
Mini Pixie: This compact variety is suitable for tabletops and has splashes of pink, green, and lime-green on its leaves.
Pink Splash: This variety features pink leaves with touches of light green hue on the surface with prominent veins and midrib. It thrives well in indoor conditions and looks spectacular with its color combination.
Confetti: This variety has light green leaves splashed in a creamy white shade mix with a tint of green.
Strawberry Ice: This beautiful variety exhibits remarkable pink new growth and looks great in bright light.
Neon Robusta: This variety has light green leaves with a pink tint and looks great in hanging baskets.
Maria Allusion: This variety has light green leaves with a pink tint and dark green margins.
Exotic Allusion: This gorgeous variety showcases light green leaves splashed in a creamy white shade mix with a tint of green.
Green Gold: This variety has yellow leaves and dark green margins and looks great as a trailing plant.
Red Spot Tricolour: This variety has dark green leaves with pink spots and cream-colored borders.
Milk Confetti: This variety has light green leaves with white spots and dark green margins.
#FunFact: The leaves of Pink Syngonium are shaped like an arrow and tend to grow bigger as the plant reaches the mature stage of life. That's why it is also called the Pink Arrowhead Plant.
Growing Requirements for Pink Syngonium
To thrive well, Pink Syngonium requires adequate sunlight exposure but should be protected from direct sunlight rays since it can scorch its delicate foliage. They also require regular watering but should not be overwatered to avoid root rotting.
Another essential requirement for growing healthy Pink Syngonium is soil quality; they prefer well-draining soil rich in nutrients like orchid bark mix. The soil should be kept moist but not waterlogged to prevent the plant's roots from rotting.
Sunlight Preferences for Pink Syngonium
This plant prefers bright, indirect light, which means you should avoid exposing it to direct sunlight. If this happens, the leaves may become scorched and damage the overall health of the plant.
To provide your Pink Syngonium with optimal light conditions, place it near a window that receives bright but filtered light. You can also use sheer curtains or blinds to diffuse the light further if necessary. During winter months or in low-light areas of your home, consider using artificial grow lights to supplement natural light.
Temperature Preferences for Pink Syngonium
Like most plants, Pink Syngonium has specific temperature preferences depending on the season. During summer months when temperatures are warmer, this plant prefers temperatures between 70-75°F during the day and around 60°F at night. In winter months when temperatures are cooler, aim for daytime temperatures between 60-70°F and nighttime temperatures no lower than 50°F.
It's important to note that sudden changes in temperature can shock and stress out your Pink Syngonium. Therefore, avoid placing it near drafty windows or doors and keep it away from heating vents or air conditioning units.
Humidity Preferences for Pink Syngonium
Pink Syngonium thrives in high humidity environments making it an ideal indoor plant for air purification purposes as well! It is recommended that you maintain humidity levels between 40-60%. Indoor air can be dry; therefore, misting the leaves regularly or using a humidifier can help maintain optimal humidity levels.
If you don't have a humidifier available there are other ways you could increase humidity levels around your Pink Syngonium. For example, place a tray of water near the plant to increase humidity levels as the water evaporates into the air.
Water Requirements for Pink Syngonium
One of the most important aspects of caring for this plant is getting the watering schedule right. Overwatering or underwatering can cause problems with the plant's growth. It can even lead to its death.
You need to strike a balance between keeping the soil moist and not allowing it to become waterlogged. The best way to achieve this balance is by following a regular watering schedule.
During the growing season (spring and summer), you should water your Pink Syngonium once a week. In winter, when the plant goes dormant, you can reduce watering frequency to once every two weeks.
Check the soil moisture level before each watering session. You can do this by sticking your finger about an inch into the soil. If it feels dry, go ahead and water your plant.
Also, to ensure even moisture distribution, use a pot with drainage holes at the bottom. This allows excess water to drain out instead of accumulating in the soil.
#ProTip: Another helpful tip is to use room-temperature distilled or filtered water when watering your plant. Tap water can contain chlorine and other chemicals that may harm your plant over time.
Propagation Tips for Pink Syngonium
Propagating Pink Syngoniumsis relatively easy. They are an excellent choice for beginner gardeners looking to expand their collection inexpensively. Here are some propagation tips:
Propagation via stem cuttings
Take a 4-6 inch cutting from the parent plant and remove any leaves from the bottom half.
Dip the cut end in rooting hormone powder and plant it in moist soil.
Propagation via division
When your Pink Syngonium outgrows its pot, you can divide it into two or more plants.
Carefully remove the plant from its container and separate the root ball into sections with clean shears or a knife.
Propagation via air layering
This method involves making a small incision on one of the stems near to where it meets the soil. Then you need to wrap that section with sphagnum moss and secure it with plastic wrap until roots form.
| | |
| --- | --- |
| Name | Pink Syngonium |
| Light | Bright, indirect light |
| Watering | Keep soil moist, not soggy |
| Temperature (India) | 20-30°C |
| Humidity | High humidity |
| Soil Type | Well-draining soil |
| Soil pH | 5.5-6.5 |
| Fertilizing | Once a month |
| Repotting | Every 2-3 years |
| Pruning | Prune to control size |
| Propagation | Stem cuttings, division, air layering |
| Toxicity | Toxic to pets |
Potting and Repotting Techniques for Pink Syngonium
Select a new pot
Selecting the right size of a new pot for your pink beauty is crucial. You want to choose a pot that is one size larger than the current one to allow for new growth. The roots need space to spread out and absorb nutrients from the soil. A pot that is too small will restrict root growth and cause the plant to become root-bound.
Choose the right soil mix
The type of soil you use when repotting your Pink Syngonium is equally important as selecting the right size of a new pot. A well-draining soil mix with perlite and organic fertilizer will prevent root rot caused by excess water retention in poorly draining soils. Perlite helps with drainage, while organic fertilizer provides essential nutrients for healthy plant growth.
Ugaoo Organic Potting Garden Soil Mix for Plants Home Garden 5 Kg
Garden Soil Mix – Organic potting soil mixture for indoor plants, outdoor plants, flowering plants,…
An organic mixture of nutrient rich Red Soil and Cow Manure.
Ready to Use, No further mixing required.
Good all purpose soil for plants & growing vegetabels, flowers, herbs.
Custom blended soil mix for all varieties of pot plants and beddings.
Ensure proper drainage
To avoid overwatering your Pink Syngonium, it's essential to ensure proper drainage when choosing a new pot. Look for pots with drainage holes that allow excess water to escape rather than being retained in the bottom of the container. If you're using decorative pots without drainage holes, consider placing them inside another container with drainage holes or adding gravel at the bottom of the pot before adding soil.
Repotting cuttings
If you're propagating your Pink Syngonium through cuttings, using a black plastic pot can help promote healthy root development. Black plastic absorbs heat from sunlight, which can encourage faster root growth compared to other colored containers. When repotting cuttings into their own containers, be sure to use fresh soil mixed with perlite and organic fertilizer.
GreenLoop Indoor Plant Food – Liquid Fertilizer for Indoor Plants, Two Bottles, Each 30 ml
For INDOOR Plants in SOIL pots / Coco peat / Mix media bed. For faster growth, and healthier greener…
We cannot use any smell causing or bug-inviting manure for indoor plants. And Indoor plants are…
Each set contains TWO Identical bottles – each 30 ml. Each bottle provides more than 6 months of…
For Indoor plants in soil / coco peat mix : Add 10-15 drops in a bathroom mug (1 liter) of water,…
Contains maximum nutrients – N, P, K, S, NH4, B, Zn, Cu, Cl, Na, Mo, Mn, Fe. Composition is…
Fertilizing after repotting
After repotting your Pink Syngonium, it's important not to fertilize immediately as this can shock the plant's roots. Wait at least two weeks before applying any fertilizer, whether it's a liquid fertilizer or slow-release granules. When using liquid fertilizer, dilute it to half-strength to avoid over-fertilizing and potentially damaging the plant.
When to repot
Knowing when to repot your Pink Syngonium is crucial for maintaining its health and promoting growth. Typically, you should aim to repot every 1-2 years in the spring when new growth starts to appear. Signs that your plant needs repotting include roots growing out of drainage holes or becoming root-bound, yellowing leaves, and stunted growth.
Common Problems and Pests When Growing Pink Syngonium
Spider Mites: The Silent Killer
One of the most common pests that can damage the leaves of Pink Syngonium is spider mites. These tiny arachnids thrive in warm, dry conditions and are often found on the undersides of leaves where they feed on plant sap. The first signs of a spider mite infestation are tiny yellow specks on the leaves, which can quickly spread to cover the entire leaf surface. If left untreated, spider mites can cause significant damage to your Pink Syngonium, leading to stunted growth, leaf drop, and even death.
To prevent spider mite infestations from taking hold in your Pink Syngonium plants, it's essential to maintain a humid environment around them. You can do this by misting your plants regularly or placing a tray of water near them to increase humidity levels. You should inspect your plants regularly for signs of spider mites and treat any infestations promptly using an organic insecticidal soap or neem oil spray.
Disease Infestation
Another common problem that can afflict Pink Syngonium is disease infestation. This occurs when the plant is exposed to too much moisture due to overwatering or poor air circulation. The excess moisture creates an ideal breeding ground for fungal spores and bacteria that can cause yellowing and wilting of leaves.
To avoid disease infestations in your Pink Syngonium plants, it's crucial to ensure proper drainage by allowing excess water to drain away from the pot after each watering session. You should also avoid overwatering by only watering when the top inch of soil feels dry to the touch. You should provide adequate air circulation around your plants by placing them in well-ventilated areas or using a fan to circulate air.
Diseases: Leaf Spot and Root Rot
Pink Syngonium plants are also susceptible to diseases such as leaf spot and root rot. Leaf spot is a fungal disease that causes small, dark spots to appear on the leaves of your plant. As the disease progresses, these spots can merge together, causing large patches of discoloration and decay. Root rot, on the other hand, is caused by overwatering and poor drainage and can lead to the decay of roots, resulting in yellowing leaves and stunted growth.
To prevent leaf spot and root rot from affecting your Pink Syngonium plants, it's essential to provide them with adequate drainage by using a well-draining soil mix and ensuring that excess water drains away from the pot after each watering session. You should also avoid overwatering by only watering when the top inch of soil feels dry to the touch. You should inspect your plants regularly for signs of disease and treat any infections promptly using an organic fungicide or bactericide.
Toxicity Concerns and Pet Safety Measures for Pink Syngonium
Is Pink Syngonium poisonous?
Yes, Pink Syngonium is poisonous to pets due to the presence of calcium oxalate crystals in its leaves. These crystals can cause severe discomfort and irritation if ingested, leading to symptoms such as swelling, drooling, and difficulty swallowing.
Pet safety measures for Pink Syngonium
As a responsible pet owner or plant enthusiast who owns Pink Syngonium's you should take precautions so that your furry friend does not ingest it accidentally. Here are some steps you can take:
Keep your plant out of reach: Place your Pink Syngoniums in areas where your pets cannot access them easily.
Deter chewing with neem oil: Spray neem oil on the leaves of your plant since it has an unpleasant taste which will deter your pets from chewing on them.
Train your pets: Training is crucial.
Remove any remaining plant material from their mouth: If you suspect that your pet has ingested any part of the Pink Syngonium plant, remove any remaining plant material from their mouth immediately.
Seek veterinary care: If your pet shows signs of poisoning after ingesting Pink Syngonium, contact your vet immediately or take them to the nearest animal hospital.
Conclusion
So, if you want to add a pop of color to your indoor garden, Pink Syngonium is a pretty perfect choice! With the right care and attention, you can enjoy its beauty for years to come.
FAQs
Q: How often should I water my Pink Syngonium plant?
A: It's best to allow the top inch of soil to dry out before watering again. Overwatering can lead to root rot or fungal infections.
Q: Can I propagate my Pink Syngonium plant?
A: Yes, propagating Pink Syngonium plants is relatively easy through stem cuttings or division.
Q: Are Pink Syngonium plants toxic?
A: Yes, these plants contain calcium oxalate crystals that can cause skin irritation or digestive problems if ingested by humans or pets.
Q: What kind of potting soil is best for Pink Syngonium?
A: These plants prefer well-draining potting soil that retains moisture without becoming waterlogged.
Q: What pests should I watch out for when growing Pink Syngonium?
A: Spider mites, mealybugs, and scale insects are common pests that can infest Pink Syngonium plants. Regular monitoring is necessary to prevent infestations.
UGAOO Syngonium Pink Neon Indoor Plant with Self Watering Pot
This plant is an Air Purifier plant as it efficiently removes indoor pollutants. It is also an easy…
Its heart shaped, pinkish green ornamental leaves makes it suitable for home decor.
Watering requirement for the plant is generally twice a week. But it is ideal to water it whenever…
Plant height without the pot is – 3 to 6 inch. And the plant spread is ranging between – 5 to 7…
Live Plant with Pot. Pot is self- watering where excess water gets stored in the reservoir below,…
Live Root Nature Good Luck Air Purifying Pink Syngonium Plant With Pot Indoor Plant
such a plant is an air purifier plant as it efficentli removes indur pollutants. it is also an izi…
its heärt chaped, pinkish green ornamental livs makes it suitabl for home décor.
wätering rekirman for te plant is generalli tuis a wick. but it is ideal to wäter it wenevere te…
Live Plant with Pot. Pot is self- watering where excess water gets stored in the reservoir below,…
Air Purifying Indoor Plant
The Four Seasons Syngonium Pink Allusion | Air Purifying | Natural Live Plant in Pot
Syngonium is one of the best and easy to maintain indoor plants to grow. It can create a great…
Product Material : Natural Plant With Pot , Quantity : 1.
Plant with Pot Height : 8 Inches to 10 Inches Minimum
Plant Height : 5 Inches to 7 Inches Minimum
Pot : Height : 4 Inches (10 cm) , Diameter : 4 Inches (10 cm) , Pot Colour : Black (Plastic)
Last update on 2023-09-09 / Affiliate links / Images from Amazon Product Advertising API