Asiatic Lilies, scientifically known as Lilium asiatica, are among the most spectacular perennials that can grace any garden. They are known for their early bloom and easy-to-care nature. Lets step into the world of Asiatic Lilies and explore the secrets to growing them successfully.
Understanding the Asiatic Lilies
Asiatic Lilies are admired for their vibrant colors and bountiful blooms. They are the earliest blooming lilies and can bring life to your garden in the early summer.
Blooming Time
Asiatic Lilies bloom primarily during the monsoon and spring seasons. The peak blooming period usually starts in July and may extend until August or even September, depending on the size of the bulb planted and the fertilizer applied.
Flower Characteristics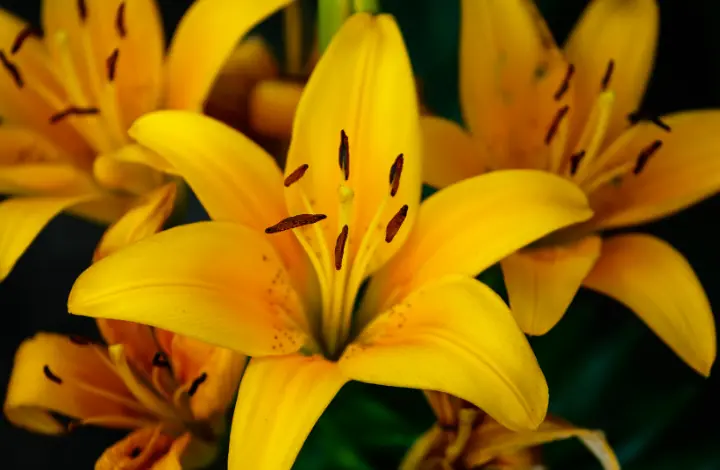 The flowers of Asiatic Lilies come in a variety of colors, including yellow, orange, pink, red, and white. They are unscented and generally grow facing upwards. Each flower has six petal-like segments, which are often adorned with freckles.
The Perfect Location for Planting Asiatic Lilies
The location for planting Asiatic Lilies can significantly impact their growth. They need at least six hours of sunlight daily. However, some partial shade during the afternoon can also be beneficial.
Choosing the Right Container
Select a suitable container for growing Asiatic lilies. The container should be at least 12-16 inches deep to allow the lily bulbs to develop a good root system. Make sure the container has drainage holes to prevent waterlogging.
Preparing the Soil for Asiatic Lilies
Asiatic lilies prefer well-draining soil with a slightly acidic to neutral pH. You can either buy a good quality potting mix from a garden center or prepare your own mix. An ideal mix can consist of equal parts of garden soil, compost, and perlite or sand for improved drainage.
Soil Amendments
Incorporate organic matter like well-rotted compost into the potting mix. This will enrich the soil with essential nutrients and improve its overall structure.
Mix a slow-release balanced fertilizer into the soil before planting the lily bulbs. Alternatively, you can add a liquid fertilizer during the growing season to promote healthy growth and blooming.
Soil pH
Asiatic Lilies prefer slightly acidic soil. If your soil is alkaline, you can lower its pH by adding organic matter like sphagnum peat or sulfur.
Planting the Asiatic Lily Bulbs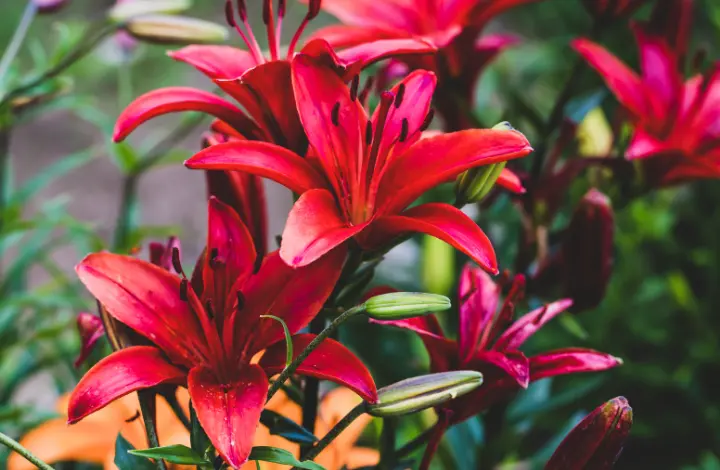 Plant Asiatic Lily bulbs in autumn. This timing allows the bulbs to establish a robust root system. Before planting, check the bulbs for signs of damage or decay. Choose firm and healthy bulbs for the best results.
Bulb Depth and Spacing
Plant the bulbs three times as deep as the height of the bulb, with the flat end down. Space the bulbs 8-12 inches apart to allow room for the plants to grow and spread.
Mulching
After planting, apply a layer of organic mulch around the lilies can help retain soil moisture, regulate temperature, and suppress weed growth. Use materials like straw, shredded bark, or dried leaves for mulching.
Caring for Asiatic Lilies
Once planted, Asiatic Lilies require some care to ensure their healthy growth and prolific blooming.
Watering
Water the lilies regularly, keeping the soil consistently moist but not soggy. Overwatering can lead to bulb rot, while underwatering may cause the plants to wilt.
Fertilizing
Fertilize your Asiatic Lilies with a balanced, slow-release fertilizer in the spring and again after flowering. Too much fertilizer, even organic types, can lead to lush green foliage at the expense of blooms.
Deadheading
Remove faded blooms to encourage more flowers and prevent seed formation. However, leave the foliage in place until it turns yellow in autumn, as the leaves continue to feed the bulbs for next years growth.
Pest Control
Watch out for common pests like aphids and lily beetles. If necessary, use organic insecticides or manually remove them.
Propagating Asiatic Lilies
Propagating Asiatic lilies can be done through various methods, but the most common and successful way is by using bulb scales. Heres a step-by-step guide on how to propagate Asiatic lilies:
Timing
The best time to propagate Asiatic lilies is during their dormant period, which is usually in late autumn or early winter. At this time, the bulbs are not actively growing, making it easier to handle and divide them.
Prepare the Bulbs
Dig up the mature Asiatic lily bulbs from the ground or carefully remove them from containers. Gently brush off excess soil and remove any dead or diseased parts.
Bulb Division
Asiatic lilies naturally produce bulb offsets or bulblets around the parent bulb. These are smaller bulbs that can be separated and grown into new plants. Carefully break off these bulb offsets from the main bulb using your hands or a clean, sharp knife.
Scale Propagation
An alternative propagation method is by using bulb scales. To do this, gently remove the scales (thin, fleshy segments) from the parent bulb. Ensure each scale has a basal plate, which is a small, round section at the base of the scale. The basal plate is where the new roots will develop.
Treat the Scales
To prevent fungal infections and encourage rooting, its essential to treat the scales with a fungicide. A common method is to dip the scales in a fungicide solution or pseudomonas.
Planting the Scales
Prepare a well-draining propagation mix, which can be a combination of peat moss and perlite or sand. Plant the treated scales with the basal plate facing downwards, just barely covering them with the propagation mix. Make sure to space the scales adequately to allow room for growth.
Provide Adequate Conditions
Place the planted scales in a warm, bright location but avoid direct sunlight. Keep the propagation mix consistently moist, not waterlogged.
Root Development
Over the next several weeks, the scales should develop roots. Once you see new growth and roots starting to form, it indicates successful propagation.
Transplanting
After the new plants have developed strong roots and are growing well, they can be transplanted into individual pots or directly into the garden bed. Be gentle when handling the young plants and ensure they receive proper care to establish themselves.
Patience
Keep in mind that lilies can take some time to mature and reach the size of the parent plants. It may take a year or more before they produce their first blooms.
Asiatic Lilies as Indoor Plants
Asiatic Lilies can also be grown as indoor plants, provided they receive at least four hours of sunlight per day. They require good drainage and regular fertilization for healthy growth.
Popular Varieties of Asiatic Lilies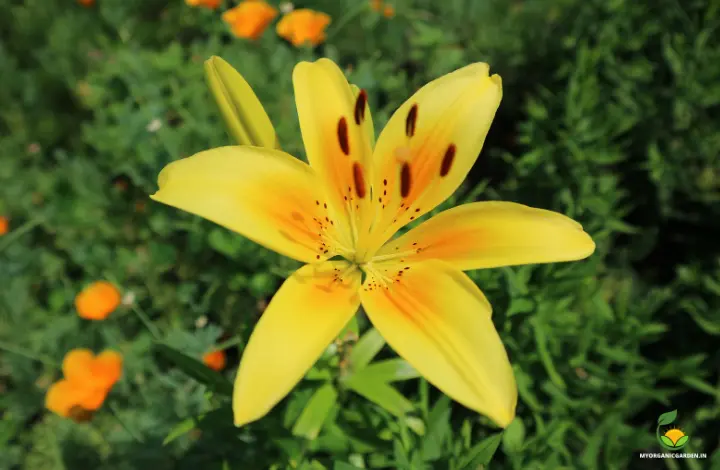 There are numerous varieties of Asiatic Lilies available, each with its unique color, shape, and size. Some popular varieties include:
Orange Pixie
This variety features stunning bright orange flowers with dark spots. It is a compact lily and perfect for smaller spaces or containers.
Black Out
As the name suggests, this variety has deep, rich maroon to dark burgundy flowers. It adds a unique and dramatic touch to any garden.
Navona
Navona lilies have pristine white blooms with a subtle fragrance. They are known for their elegant and classic appearance.
Enchantment
This variety showcases beautiful light pink to magenta flowers. Its a popular choice for its vibrant and eye-catching color.
Robina
Robina lilies have lovely soft pink flowers with white edges. They create a charming and delicate look in gardens or containers.
Santander
This variety offers bright yellow blooms with a hint of orange. It is a cheerful and sunny addition to any landscape.
Red Velvet
As the name implies, Red Velvet lilies display rich and velvety red flowers. They create a striking contrast against green foliage.
Gran Paradiso
These lilies have vibrant pink to deep magenta flowers, making them a captivating choice for floral displays.
Pollyanna
Pollyanna lilies feature creamy white flowers with a yellow center. They have a delightful fragrance that adds to their appeal.
Tiny Bee
This variety offers smaller-sized lilies with bright golden-yellow flowers and brown spots. Its a charming option for smaller spaces.
Connecticut King
These lilies have large, upward-facing, deep orange flowers. They make a bold and impactful statement in the garden.
Navajo
Navajo lilies have unique bi-colored flowers with deep red and white petals. They add a touch of elegance and sophistication to any setting.
Forever Susan
This variety displays striking dark red flowers with orange and yellow accents. Its named after the iconic literary character Susan Pevensie from "The Chronicles of Narnia."
Matrix
Matrix lilies are a series of Asiatic lilies that come in various colors, including red, orange, pink, and yellow. They are known for their vibrant hues and compact size.
Common Problems
Despite their easy-care nature, Asiatic Lilies can sometimes encounter problems like yellowing leaves, bud blast, or reduced flowering. Most of these issues can be resolved with proper watering, fertilization, and pest control.
Final Thoughts
Asiatic Lilies are truly a joy to behold. Their bright colors and large blooms can add a touch of elegance to any garden or indoor space. With just some basic care, these stunning lilies can reward you with their beauty year after year.
So why wait? Get your hands on some Asiatic Lily bulbs and start planting!
Last update on 2023-09-09 / Affiliate links / Images from Amazon Product Advertising API