Coleus plants are a fantastic addition to any garden or indoor space. With their vibrant and colorful foliage, they bring a touch of unique beauty and personality to your surroundings. If you're looking to enhance your outdoor garden or add some life to your indoor potted plants, coleus is the perfect choice. From shades of green, yellow, pink, and red to maroon and orange, you can find the perfect combination of colors and textures to suit your taste. Not only are coleus plants visually appealing, but they are also easy to grow and care for. If you're thinking of adding coleus plants to your garden, read this guide on how to grow coleus plants and care for them.
A Little Bit About Coleus Plants
Coleus plants, scientifically known as Coleus scutellarioides, belong to the Lamiaceae family of flowering plants. Native to Southeast Asia, coleus plants have been cultivated for centuries for their stunning foliage. These plants come in a wide array of colors, including shades of green, yellow, pink, red, and maroon. With their unique leaf sizes and shapes, coleus plants offer endless possibilities for adding color and interest to your garden.
How to Grow Coleus Plants Indoors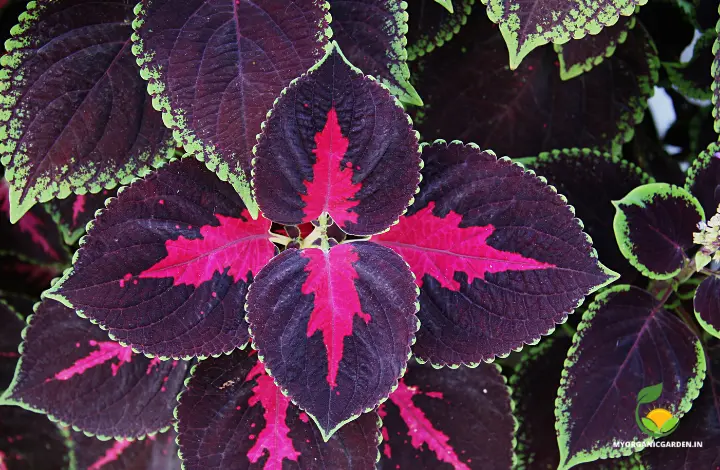 Choosing the Right Location
When it comes to growing coleus plants indoors, finding the right location is crucial. Coleus plants thrive in indirect light, so look for a spot near a window that receives bright, filtered sunlight. Avoid placing them in direct sunlight, as this can scorch their delicate leaves. Additionally, make sure the temperature in the room remains between 60-75°F (15-24°C) for optimal growth.
Selecting the Ideal Pot and Soil
Select a pot with good drainage to prevent waterlogging, as coleus plants prefer moist but well-draining soil. A pot with drainage holes at the bottom is recommended.
Use a high-quality potting mix that retains moisture but doesn't become overly soggy. You can also add organic matter, such as compost, to improve the soil's fertility and drainage capabilities.
Planting and Transplanting Coleus
When planting coleus, gently remove the plant from its nursery container and loosen the root ball. Place the plant in the prepared pot, ensuring that the soil level remains the same as in the previous container.
Gently press the soil around the roots to secure the plant. If transplanting coleus, take care not to damage the roots and provide ample water and care during the acclimation process.
Watering and Humidity Requirements
Coleus plants thrive in moderately moist soil, so it's important to water them regularly. Check the soil moisture level by inserting your finger about an inch into the soil. If it feels dry, it's time to water.
Avoid overwatering, as it can lead to root rot. Additionally, coleus plants appreciate higher humidity levels, so consider using a humidifier or placing a tray of water near the plant to increase humidity.
Fertilizing Coleus Plants
To ensure healthy growth and vibrant foliage, regularly fertilize your coleus plants during the growing season. Choose a balanced, water-soluble fertilizer and follow the package instructions for application rates.
It's best to fertilize coleus plants every 2-4 weeks, but always monitor the plants' response and adjust the frequency if needed.
How to Grow Coleus Plants Outdoors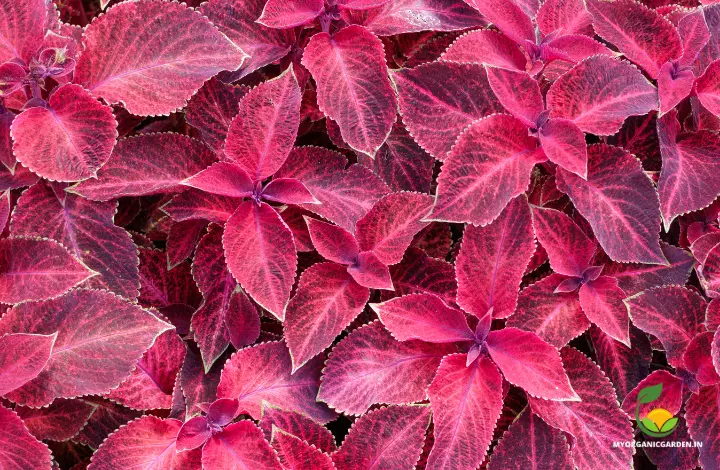 Selecting the Right Outdoor Location
When growing coleus plants outdoors, it's important to select the right location to ensure their success. Coleus plants prefer partial shade, especially during the hottest parts of the day. Look for areas in your garden that receive filtered sunlight or morning sun and afternoon shade. Avoid planting coleus in direct sunlight, as it can scorch the leaves and lead to wilting.
Soil Preparation and Planting
Prepare the soil in your garden bed by removing any weeds or debris and loosening it with a garden fork or tiller. Coleus plants prefer well-draining soil, so consider amending the soil with organic matter, such as compost, to improve its texture and fertility.
Dig a hole slightly larger than the root ball of the coleus plant and place it in the hole at the same depth as it was in its nursery container. Backfill the hole with soil, gently firming it around the plant.
Watering and Mulching
Proper watering is essential for the health and vitality of outdoor coleus plants. Water the plants deeply but infrequently, allowing the top inch of soil to dry out between waterings.
Aim to provide about 1-1.5 inches of water per week, either through rainfall or manual irrigation. To conserve moisture and suppress weed growth, apply a layer of organic mulch around the base of the plants.
Pruning and Pinching
Pruning and pinching are important techniques to shape and maintain the growth of coleus plants. Pinching the tips of the stems encourages bushier growth and prevents the plant from becoming leggy.
Regularly remove any dead or yellowing leaves to maintain the plant's overall health and appearance. You can also prune coleus plants to control their size and shape. However, be mindful not to remove more than one-third of the plant at a time.
Popular Coleus Varieties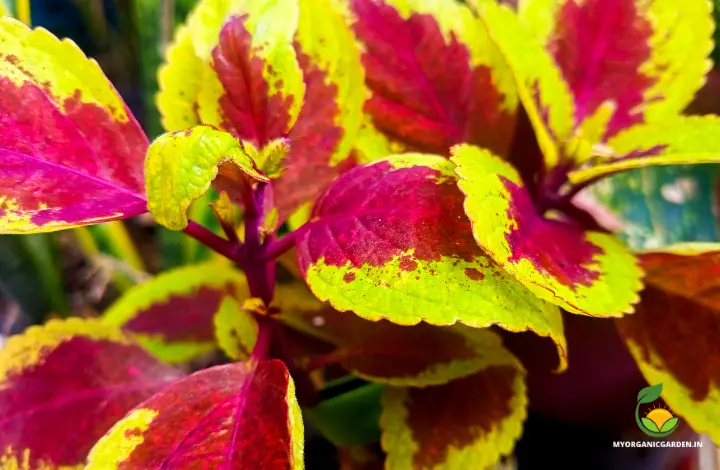 Coleus plants come in a vast array of varieties, each with its unique colors, patterns, and growth habits. Here are some popular coleus varieties to consider for your garden or indoor collection:
Wizard Series
The Wizard series is known for its compact size, reaching heights of 12-14 inches. These coleus plants come in a variety of color mixes and can be easily grown from seeds.
ColorBlaze Series
The ColorBlaze series offers a stunning range of colorful coleus plants, including Lime Time, Electric Lime, and many more. These varieties are prized for their vibrant foliage and sun tolerance.
Kong Series
The Kong series features large-leaved coleus plants with striking patterns and colors. They can grow up to 36 inches tall and add a bold statement to any garden or indoor space.
Fairway Series
The Fairway series is known for its trailing growth habit, making it an excellent choice for hanging baskets and containers. These coleus plants offer a cascade of colorful foliage, adding interest to any vertical space.
Additional Tips for Growing Healthy Coleus Plants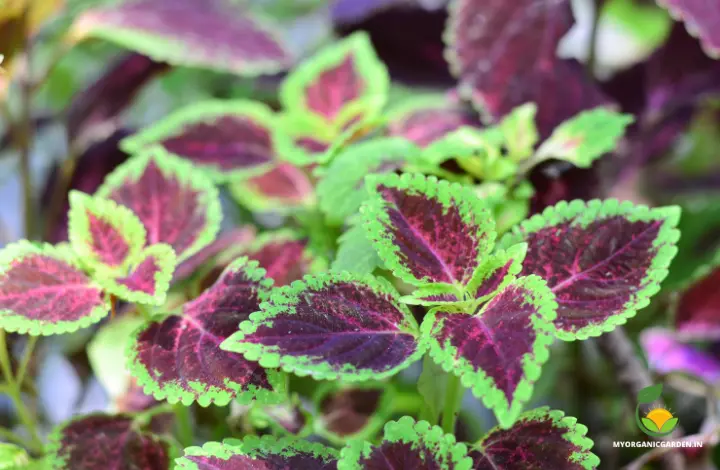 Pest and Disease Management
While coleus plants are generally resistant to pests and diseases, a few common issues can arise. Keep an eye out for aphids, mealybugs, and spider mites, which can infest the foliage.
Regularly inspect your plants and promptly address any pest problems with organic insecticidal soap or neem oil.
Additionally, ensure good air circulation around the plants to prevent fungal diseases.
Methods to Propagate Coleus
Coleus plants can be easily propagated through stem cuttings. Simply take a 4-6 inch cutting from a healthy plant, remove the lower leaves, and place it in a container filled with moist potting soil.
Keep the soil consistently moist and provide a warm, bright location for the cuttings to root.
Within a few weeks, roots will develop, and you can transplant the new plants into individual pots or garden beds.
Creative Uses for Coleus Plants
Don't limit yourself to traditional garden beds when it comes to incorporating coleus plants into your landscape. These vibrant foliage plants are incredibly versatile and can be used in various creative ways.
Consider planting coleus in containers, hanging baskets, vertical gardens, or as borders and edging plants. Their colorful leaves will add visual interest and elevate the overall aesthetic of your outdoor space.
Conclusion
With their stunning foliage, easy care requirements, and endless variety, coleus plants are a fantastic addition to any garden or indoor space. By following the tips and guidelines outlined in this guide, you can successfully grow coleus plants in your garden.
So go ahead, embrace the world of coleus plants, and let their colors and patterns bring joy to your gardening journey. Happy gardening!
Plantsworld Coleus Electric Lime Live Plant
Plantsworld Coleus Electric Lime Live Plant
Package Contains : 1 Live Plant, Pot Size : 4″ to 5″ (In Between), Image is for reference purpose…
Foliage Plants
Coleus Electric Lime
NurseryNature Coleus (Green Pink) Plant
Temperature & Light: Plants thrives in temperature between 20-40° C with high humidity. Plants…
Soil: A well-drained potting soil is perfect.
Water: Water thoroughly in the summer, reduce watering in monsoon and winter, but Keep potting mix…
Fertilizer: A good organic fertilizer or liquid fertilizer during the growing season
Pest and Diseases:The most common insect or pest is foliar and root mealybugs. Infested plants…
Last update on 2023-09-09 / Affiliate links / Images from Amazon Product Advertising API