No South Indian Sambar is complete without the drumstick. Drumsticks are said to contain 92 kinds of nutrients, 18 amino Acids, 46 antioxidants, and 9 essential amino acids. Plus the leaves of the Moringa tree are used in every South Indian kitchen to make tasty nutritious greens or flavorsome curries. That's why having a drumstick tree in your own garden is a great idea.
How to Grow Drumstick Trees in Pots
The drumstick tree is usually low maintenance tree requiring very little water and fertilizer. However, it has a brittle stem, which makes it easily susceptible to gusty winds. The only time you'll have real trouble with the tree is during the flowering season when the plant gets infested with dreadful itchy caterpillars. If you are willing to take the risk of dealing with those frightful pests, here's how to grow drumstick trees in containers.
I had a drumstick plant in my backyard a few years ago, but after moving houses, there simply wasn't any space to grow another one. Since it was next to impossible to get my hands on those tasty greens in my local market, I decided to try growing the drumstick tree in a container. Considering that the drumstick tree can grow quite tall very quickly, it looked like a tough challenge to grow one in a container, but I'm hoping to make it work.
I picked up some drumstick seeds from Amazon and planted them in a grow bag since I didn't have a big container at the time. The seeds sprang to life in just 2 days and my 4 day old plants now look like this.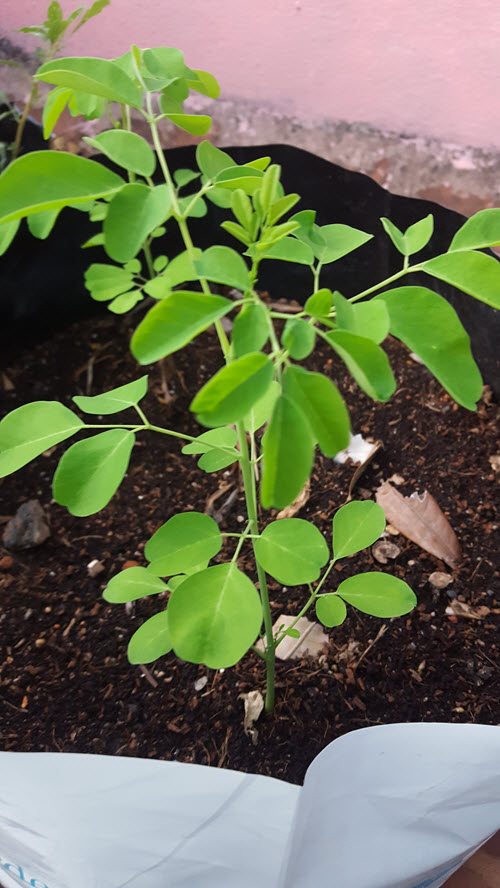 While I keep monitoring its growth and reporting on it for you guys, here's what you need to know about growing drumstick trees in containers.
Requirements for Growing Drumstick Trees in Containers
Sun
The drumstick tree is a sun loving plant so place it in a spot that gets at least 6 hours of sunshine.
Location
Place the container where you intend to grow the drumstick tree in a spot that is not windy. The tree tends to grow too tall too fast and can snap in two in windy conditions. You don't want any one getting hurt if your tree falls off your terrace.
Soil
Any loose fertile potting mix will do. Just make sure the soil is well draining because this tree hates extra water.
Pot
The drumstick tree has a deep tap root system. Therefore it is best to use a pot that is tall and deep, preferably a 20 inch container. If you don't have one at the moment, plant in a 6-7 inch pot. You can transplant it to a bigger one, say a 24 or 30 inch pot, later on. Don't wait for too long to transplant or you may have a tough time moving the plant.
Water
The drumstick tree is not a lover. Water lightly when young and then sparingly for the rest of its life. If you start seeing yellowing of leaves its a sign of too much watering.
Fertilizers
Fertilizers are not required for the drumstick tree. Just feed the plant with some manure or organic compost they will grow just fine.
Growing a drumstick tree in your garden offers plenty of great benefits. You get nutritious leaves, flowers (which can also be cooked) and fruit any time you want. Plus, the flowers attract pollinators like butterflies and bees, which will also help your other garden plants.
Quick Tips to Grow Drumstick Tree in Containers
| | |
| --- | --- |
| Feature | Tip |
| Location | Choose a spot that receives 5 to 7 hours of direct sunlight. |
| Pot Size | Choose a pot size of at least 20 inches and above. |
| Soil | Use well-draining soil with sand thrown in to help with drainage. |
| Watering | Water moderately when the plant is young and reduce the frequency of watering once the plant establishes full roots into the soil. |
| Fertilizer | Use compost or manure as a fertilizer for Moringa plants. Add a dash of asafoetida (hing) to prevent flowers from falling. |
| Propagation | Take a cutting from your Moringa plant that measures between .25-.5 inches in circumference and 8-12 inches in length. |
| Pruning | Prune the plant regularly to encourage bushy growth and remove any dead or damaged branches. |
| Pot Transplantation | Young plants can be kept in 6- to 7-inch pots but should be moved to larger pots as they grow. Use a 30-inch pot or larger to serve as a home for your Moringa. |
If you are interested, you can also check out these drumstick seeds on Amazon.
Last update on 2023-09-08 / Affiliate links / Images from Amazon Product Advertising API