Indoor houseplants don't have to be small and delicate. Big, large leaf plants can also make your indoor space look lovely and inviting. Today, we're talking about one such plant – with glossy leaves and unique holes – the Monstera Deliciosa. This plant is more than just a pretty face – it's also easy to care for and can thrive in various environments. So what exactly is the Monstera Deliciosa? What does the name mean? What are the common names of this plant? Keep reading to find out more about this fascinating plant and how it can transform your living space.
What is Monstera Deliciosa Plant?
Monstera deliciosa is often known as the "Swiss cheese plant" because of the distinctive holes in its large, heart-shaped leaves. It is a tropical plant native to Central and South America. It belongs to the Araceae family and is commonly grown as an indoor houseplant.
Young Monstera deliciosa plants don't start out with the Swiss cheese-like holes in their leaves. The holes, or fenestrations, develop as the plant matures and is thought to be an adaptation to help the plant withstand heavy rain and wind in its natural environment.
This plant produces two types of roots: ones that dig into the soil for nutrients and hydration, and aerial roots that help the plant climb and absorb humidity from the air.
#FunFact: The "Monstera" part of Monstera deliciosa's name comes from the Latin word for "monstrous" or "abnormal", and is in reference to the large size that the plant can grow to, with leaves often expanding to over a foot long in the home and even larger in the wild.
Where does Monstera Deliciosa grow?
In its natural habitat, Monstera Deliciosa can grow up to 70 feet tall and can be found in the rainforests of Mexico, Central America, and parts of South America.
Does Monstera Deliciosa flower? What do Monstera Deliciosa flowers look and smell like?
Yes, Monstera Deliciosa produces flowers that are usually white or cream-colored and have a pleasant fragrance similar to that of vanilla. The flowers are small and inconspicuous compared to the large leaves of the plant. Once pollinated, they develop into edible fruit that takes about a year to ripen.
Is Monstera Deliciosa a succulent?
No, despite its fleshy appearance, Monstera Deliciosa is not a succulent. Instead, it belongs to the same family as other popular houseplants such as Philodendrons and Pothos.
What does Monstera Deliciosa fruit taste like?
When fully ripe, the fruit produced by Monstera Deliciosa has a unique flavor that has been described as a combination of pineapple and banana. However, it's important to note that unripe fruit contains oxalic acid which can cause irritation if ingested.
#Air-Cleaning Plant: Like many other plants, Monstera deliciosa has been found to improve indoor air quality. It can help to reduce the levels of certain pollutants, such as formaldehyde.
How to Care for a Monstera Plant
One of the reasons why the Monstera Deliciosa has become so popular is because of its rapid growth rate. When provided with the ideal growing conditions, the plant can grow up to 2 feet per year.
So what are the ideal growing conditions?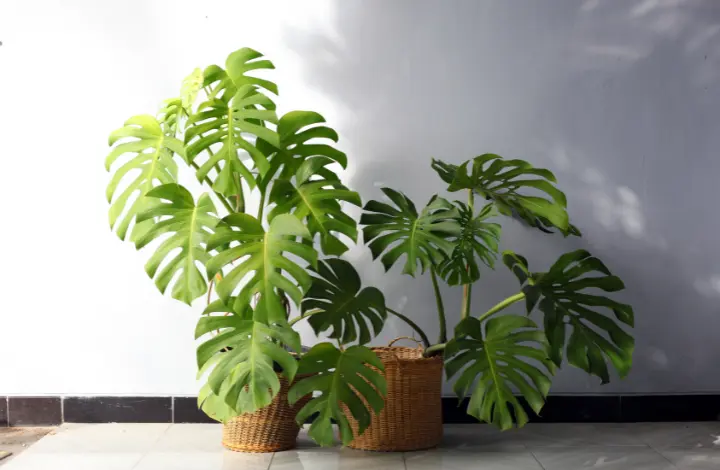 Water Requirements for Your Monstera
Watering your Monstera plant is one of the most crucial aspects of care. Overwatering or underwatering can lead to root rot or stunted growth. Here are some tips on how to water your monstera plant:
Water your monstera once a week during the growing season (spring and summer) and every two weeks during the dormant season (fall and winter).
Allow the soil to dry out slightly before watering again.
Use room temperature water to avoid shocking the roots.
Avoid getting water on the leaves as it can cause fungal growth.
Light Requirements
Monstera plants thrive in bright, indirect sunlight. Direct sunlight can scorch their leaves, while low light conditions can stunt their growth. Here are some tips on providing proper lighting for your Monstera Deliciosa:
Place your plant near a north or east-facing window where it can receive bright but filtered light.
If placing near a south or west-facing window, use sheer curtains or blinds to filter out direct sunlight.
Rotate your plant periodically to ensure even exposure to light.
Choose a Suitable Soil and Potting Mix
Choosing suitable soil and potting mix is essential in preventing root rot in your Monstera plant. Here are some tips when selecting soil/potting mix:
Use well-draining soil that doesn't hold too much moisture.
A mixture of peat moss, perlite, and bark works well.
Choose a pot with drainage holes to allow excess water to drain out.
Cleaning Your Monstera Plant
Cleaning your Monstera plant is essential to keep it healthy and free of pests. Here are some tips on how to clean your plant:
Wipe the leaves regularly with a damp cloth or sponge to remove dust and pests.
Use neem oil or insecticidal soap if you notice any signs of pest infestation.
Trim off any yellow or brown leaves to prevent fungal growth.
How to Propagate Monstera Deliciosa
Propagating a Monstera deliciosa is a relatively straightforward process. Here are the steps you should follow:
Identify a Healthy Stem: Start by identifying a mature, healthy stem on the plant that you want to propagate. Ideally, you want to find a section of stem that has at least one leaf, as well as a node or two (these are the swollen areas on the stem where leaves and roots sprout from).
Make a Cut: Once you've identified a good section, make a cut just below a node using a clean, sharp knife or pair of scissors. This is where new roots will form, so you want to make sure you include a node in the cutting. The cut should be made at a 45-degree angle, and the cutting should be about 6-8 inches long.
Remove Lower Leaves: Remove the lower leaves, if there are any. The goal is to have only one or two leaves left on the cutting, at most.
Let it Callous Over: Allow the cut end of the stem to dry out for a day or so. This allows it to callous over and can help prevent rot when you place it in water.
Place in Water or Soil: You can propagate Monstera deliciosa in water or directly in soil. If you choose water, place the cut end of the stem in a jar or vase with about an inch of water, making sure the node is submerged. Change the water weekly to prevent bacterial growth. If you choose soil, place the cutting in a pot with well-draining soil, with the cut end (and the node) buried in the soil.
Wait for Roots to Develop: This process can take several weeks. If you're propagating in water, you'll be able to see the roots grow. If you're propagating in soil, you'll know the plant has rooted when you see new leaf growth.
Plant Your New Monstera: Once the cutting has developed a good root system (if in water, roots should be a few inches long), you can plant it in soil. Choose a pot with drainage holes and use a well-draining potting mix. Keep the soil slightly moist, but not waterlogged.
How to Fertilize Monstera Deliciosa
Monstera deliciosa plants typically benefit from a balanced, water-soluble fertilizer. This means the Nitrogen (N), Phosphorous (P), and Potassium (K) ratios are equal, often referred to as a 20-20-20 formula. Additionally, Monsteras appreciate trace amounts of micronutrients like iron, zinc, and manganese.
Follow the instructions on the fertilizer packaging for how much to use. It's often better to under-fertilize, as over-fertilizing can cause issues such as fertilizer burn or overly lush growth at the expense of the plant's overall health.
Generally, it's recommended to fertilize your Monstera deliciosa about once a month during the growing season (spring and summer). In the dormant season (fall and winter), you can cut back to once every 1-2 months or stop feeding entirely.
GreenLoop Indoor Plant Food – Liquid Fertilizer for Indoor Plants, Two Bottles, Each 30 ml
For INDOOR Plants in SOIL pots / Coco peat / Mix media bed. For faster growth, and healthier greener…
We cannot use any smell causing or bug-inviting manure for indoor plants. And Indoor plants are…
Each set contains TWO Identical bottles – each 30 ml. Each bottle provides more than 6 months of…
For Indoor plants in soil / coco peat mix : Add 10-15 drops in a bathroom mug (1 liter) of water,…
Contains maximum nutrients – N, P, K, S, NH4, B, Zn, Cu, Cl, Na, Mo, Mn, Fe. Composition is…
Remember to always water your plant thoroughly after applying fertilizer to help it distribute evenly and prevent the concentration of salts that can burn the roots.
Be sure to monitor your plant's reaction to the fertilizer and adjust as necessary. Signs of over-fertilization can include yellowing leaves, browning leaf tips, and a white crust of fertilizer on the soil surface. If you see these signs, you might want to flush the soil with water to rinse out excess fertilizer and then cut back on the amount of fertilizer you're using.
Potting and Repotting Monstera Deliciosa
To ensure the growth and health of the Monstera Deliciosa, also known by the name Split Leaf Philodendron, repotting is essential.
Why Repotting is Important
Repotting allows the Monstera Deliciosa to grow properly by providing more space for its roots. As the plant grows, it outgrows its current pot and requires a larger one to continue thriving.
Moreover, when you repot your Monstera Deliciosa, you can check the condition of its roots. If they are damaged or root-bound (when the roots have grown too much), repotting gives you an opportunity to trim them back and promote new growth.
Choosing the Right Pot
When selecting a pot for your Monstera Deliciosa, choose one with proper drainage holes to avoid root rot. The ideal pot should be slightly larger than the current one but not too big that it overwhelms the plant.
Self-watering pots can be a good option for busy plant owners because they regulate watering levels automatically.
How to Repot Your Monstera Deliciosa
To repot your Monstera Deliciosa:
Choose a new pot that provides enough space for growth.
Remove any dead leaves or debris from around the base of the plant.
Gently loosen any tangled roots without damaging them.
Add fresh soil into the new pot until it's about 1/3 full.
Place your Monstera Deliciosa into the new pot and fill in with more soil around it until it's level with the soil surface.
Water your plant thoroughly and let it drain.
When to Repot Your Monstera Deliciosa
You should repot your Monstera Deliciosa every two years or when you notice that its roots are growing out of its current pot's drainage holes.
Common Problems with Monstera Deliciosa and How to Fix Them
Here are some common problems with Monstera Deliciosa and how to fix them.
Overwatering
One of the most common problems with Monstera Deliciosa is overwatering. When the soil remains too wet for too long, it can lead to root rot. This can result in yellowing leaves that eventually fall off.
The Fix: Let the soil dry out slightly between watering sessions. You should also ensure that your pot has proper drainage holes so excess water can escape. If your plant has already developed root rot, you may need to repot it in fresh soil and trim away any damaged roots.
Brown tips on leaves
Another issue that Monstera Deliciosa owners often encounter is brown tips on their plant's leaves. This is typically caused by low humidity levels in your home or office.
The Fix: Increase the humidity around your plant by misting it regularly or placing a humidifier nearby. You could also consider grouping several plants together or placing a tray of water near your Monstera Deliciosa to help increase moisture levels in the air.
Pest Infestations
If you're not careful, pests such as spider mites and mealybugs can infest your Monstera Deliciosa. These tiny insects feed on sap from your plant's leaves and stems, causing them to wilt or turn yellow.
The Fix: First, isolate your plant from other plants to prevent the infestation from spreading. You can then use insecticidal soap or neem oil to kill the bugs. Be sure to follow the instructions on the product label carefully and repeat the treatment as needed until all pests are gone.
Improper sunlight
Monstera Deliciosa needs bright, indirect sunlight to thrive. If your plant is exposed to too much direct sunlight, it can scorch its leaves and cause them to turn brown or yellow. On the other hand, if your plant doesn't receive enough light, it may not grow as quickly as you'd like.
The Fix: To ensure that your Monstera Deliciosa gets just the right amount of light, place it near a window that receives bright but filtered light. You could also consider using sheer curtains or blinds to help diffuse harsh rays of sun.
Is Monstera Deliciosa Toxic
Fortunately, Monstera Deliciosa is not toxic to humans or pets, making it an excellent choice for those who want to add some greenery to their bedroom without worrying about potential health risks.
Tripping Hazard
One thing to consider before placing a Monstera Deliciosa in your bedroom is its size. The plant's large leaves can be a tripping hazard, especially if you have limited space or tend to move around during sleep. Consider positioning the plant in an area where it won't obstruct your path and cause accidents.
Conclusion
Growing Monstera Deliciosa can be a rewarding experience for plant enthusiasts. With its unique characteristics, such as the iconic split leaves and fast growth rate, it is easy to see why it has become a popular houseplant. By providing proper care and attention, you can enjoy its stunning appearance for years to come.
little jungle Monstera Deliciosa In 4.5″ Nursery Pot
Comes in 4.5" nursery pot
Healthy plant with atleast 4-5 leaves
Safe And Sturdiest packaging Ever for healthy plant delivery
Seller support available Just Message seller in case of any problems
NASA Certified Air Purifier Plant
Last update on 2023-09-07 / Affiliate links / Images from Amazon Product Advertising API