Flowers are one of the most romantic ways to show your loved ones how much you cherish them. While chocolates and other fancy gifts are great, they are a token of love that is soon forgotten. If you want to treat your loved one to a gift they are  not likely to forget any time soon, consider giving them a beautiful plant or two. Skip the chocolates and consider these gorgeous plants to gift your Valentine this year!
It will be a happy surprise and one they will remember and cherish for a long time to come. And the two of you may even end up reminiscing about it on next Valentine's. Here are 5 of the most beautiful plants to gift your Valentine this year.
Irresistible Plants to Gift Your Valentine This Year
Anthurium Red
Anthurium is a beautiful ornamental plant with gorgeous heart shaped flowers that are a sight to behold. The dark green shiny foliage of the Anthurium contrasts perfectly with the red exotic flowers making it hard not to see the resemblance between the flowers and romantic hearts! Give your Valentine an Anthurium with the loveliest of red heart shaped flowers and he/she'll think of you every time a new flower blooms. A love for all time.
Heart Shaped Lucky Bamboo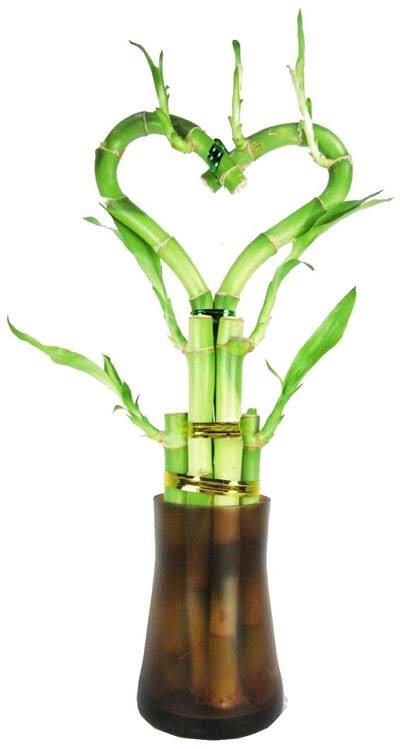 The bamboo plant is a symbol of good health, wealth and happiness. Nothing symbolizes your love and good wishes better than a heart shaped bamboo. You aren't just wishing your valentine good fortune and prosperity, you're also wishing that from your heart. A sweet gesture like this one is sure to keep the love flowing.
Get the Heart Shaped Lucky Bamboo at Plants Guru
Sweetheart Hoya
Also known as the Hoya kerrii Variegata, this plant is an unusual tropical climber with heart shaped leaves. It produces light pink flowers with maroon eyes and carries a sweet fragrance. This plant is usually sold as a single leaf but in one year's time, you and your Valentine will have a grand collection of green hearts and memories to treasure. An eccentric but interesting gift for your Valentine.
Kalanchoe
A plant, with its starry red flowers and deep green leaves can light up any room and turn it into a romantic hotspot. It certainly makes for a lovely gift, if you can find a perfect creamy ceramic pot, maybe a gorgeously decorated one to go with it. You can pick up the kalanchoe on Plants Guru or on Amazon.
Roses
Nothing says you love someone like a bouquet of roses. So why not impress your loved one with not one but 5 beautiful rose plants. This special Valentine Pack from Nursery Live includes a gladiator red rose, a light yellow rose, an orange rose, a pink rose, and a white rose.
That's five , beautiful, thoughtful plants to gift your Valentine this year. Wherever you pick up these beauties, personalize them with some fancy planters, preferably gorgeous ceramic ones, some lovely lace ribbons and special cookies or chocolates to match the theme.
Happy Valentines Day Folks!  May Your Love Be Evergreen as the Leaves and Fragrant as the Flowers!