Searching for a houseplant with lots of color, yet is easy to look after? The Aglaonema plant is just what you need! Aglaonema plants are known for adding a touch of tropical beauty to indoor spaces. They are relatively low maintenance and can thrive in low light conditions, making them a popular choice for homes and workplaces. Here's everything you need to know about caring for an Aglaonema plant, including light and water requirements, potting and repotting tips, and common problems.
The Aglaonema is a Gorgeous Beauty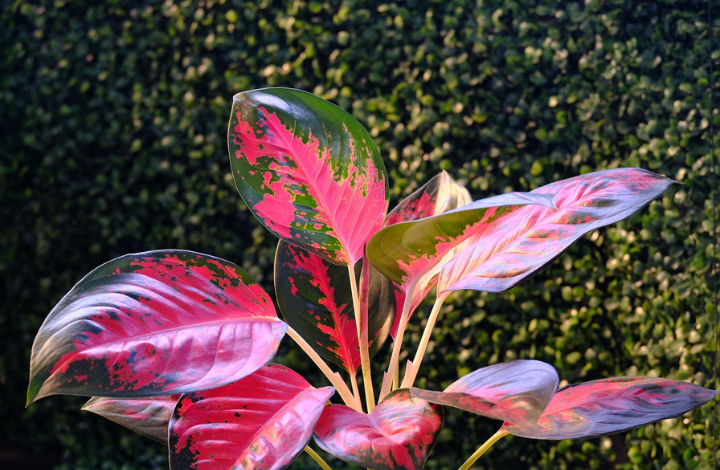 Aglaonema plants, well known for their luscious foliage and effortless maintenance, are a top-pick when it comes to buying indoor plants. With over 20 species and a seemingly endless number of hybrids, this ornamental plant has been a favourite for centuries.
Aglaonema's scientific name comes from Greek words 'aglaos' meaning 'bright' or 'splendid,' and 'nema' meaning 'thread,' referring to the spadix's twisted thread-like flowers found on mature plants.
According to Feng shui, the Aglaonema is also thought to be lucky due to its bushy growth which reflects abundance.
Native Habitat of the Aglaonema Plant
The Aglaonema plant, also known as the Chinese Evergreen, is a species from the Araceae family. It's native to China and New Guinea, more specifically, the rainforests in Thailand, Indonesia, and Malaysia. These plants prefer warm and humid environments, an average temperature of 20-30°C and humidity of 70%.
They're popular indoor plants because of their adaptability. Needing just low light or filtered sunlight, they can grow up to four feet tall and come in various shades of green, silver, pink, red, and cream-colored patterns.
Pro Tip: Place the Aglaonema near windows or a bright location with indirect sunlight. Allow its soil moisture to dry before watering again.
Varieties of Aglaonema Plants
The Aglaonema Plant has striking beauty and distinct features. Its variegated leaves show intricate patterns from silvery green to deep emerald shades. Its sturdy stem provides great support. Plus, its compact size of 12-30 inches in height and 12-24 inches in spread makes it a perfect fit for small spaces.
Different hues and patterns are available in Aglaonema cultivars, ranging from pale green to dark emerald. Choosing one can be tricky! Here's a table that lists the different types, their scientific names, and descriptions.
| | | |
| --- | --- | --- |
| Type of Aglaonema Plant | Scientific Name | Description |
| Maria Christina | Aglaonema Commutatum 'Maria Christina' | Dark green with silver-gray patterns |
| Valentine | Aglaonema Pictum 'Valentine' | White veins and pinkish-red hues |
| Siam Aurora | Aglaonema Siamense | Dark leaves with pink edges |
There are even more variations. Each type also has different light and temperature requirements for optimal growth.
Benefits of Having an Aglaonema Plant in Your House
While the Aglaonema plant is primarily cherished for its aesthetic appeal, it also offers a few benefits that can positively impact your indoor environment. Here are some potential advantages of having an Aglaonema plant:
Purifies the Air
Like many other houseplants, Aglaonema has the ability to purify the air by removing harmful toxins. It can help filter out pollutants such as formaldehyde, benzene, and xylene, which are commonly found in indoor environments due to household products, furniture, and synthetic materials.
Improved air quality: Aglaonema plants release oxygen and increase humidity by photosynthesis. This can enhance the quality of the air in your home, making it feel fresher and more comfortable to breathe.
Reduces Stress
Indoor plants, including Aglaonema, have been shown to have a positive impact on mental well-being. The presence of greenery indoors can create a calming and soothing environment, helping to reduce stress and enhance overall mood.
Increases Productivity
Studies have indicated that having plants in the workplace can improve productivity and concentration. Aglaonema plants can contribute to a more pleasant and visually appealing workspace, potentially boosting your focus and efficiency.
Reduces Background Noise
While not specific to Aglaonema alone, having plants in your living or working space can help absorb and reduce background noise, creating a quieter atmosphere.
Aesthetically Pleasing
Aglaonema plants are known for their attractive foliage, which can add beauty and visual interest to any indoor setting. The various leaf patterns and colors make them a popular choice for interior decoration, adding a touch of nature and elegance to your space.
Tips to Care for an Aglaonema Plant
Here are some tips to care for your Aglaonema Plant
Water lightly and let soil dry between waterings.
Bright, indirect light is best but they can handle low light too.
Humidity should be high, but they can adapt to normal indoor levels.
Keep in a warm area with temperatures above 60°F (15°C).
Feed monthly during the growing season with a slow-release fertilizer.
Propagate by dividing root ball or taking stem cuttings.
To help photosynthesis, regularly wipe down the leaves with a damp cloth to prevent dust buildup.
Diseases that Can Affect the Aglaonema Plant
The common pests and diseases that could threaten your Aglaonema plant include:
| | |
| --- | --- |
| Pest | Description |
| Spider Mites | Red or brown arachnids, leaving spots or stippling on leaves. |
| Mealybugs | Look like small white lumps on undersides of leaves. |
| Scale Insects | Create a hard, waxy shell underneath leaves. |
| Leaf Spot Disease | Fungi/bacteria create dark spots on leaves. |
| Root Rot | Fungal growth in soil causes wilting leaves & poor growth. |
| Anthracnose | Fungal infection causes leaf wilt & stem lesions. |
For prevention, ensure proper watering, light exposure, and air circulation. Inspect the plant regularly to identify issues early. Use organic methods to treat pests & avoid pesticide toxins.
Conclusion
In conclusion, Aglaonema is ideal for those who want a beautiful, low-maintenance plant that offers physical and mental benefits. It's the perfect addition to your home!
Get an Aglaonema plant now and enjoy its physical splendor!
Last update on 2023-11-29 / Affiliate links / Images from Amazon Product Advertising API