‍Lantana is a vibrant and versatile flowering plant that can instantly add a splash of color to your balcony garden. Growing lantana plants is a good option if you want to create a vibrant environment for attracting pollinators. These vibrant blooms serve as irresistible magnets for a variety of pollinators. In this guide, we'll explore everything you need to know about growing lantana plants in pots, from selecting the right variety to caring for your lantana throughout the year. Get ready to witness nature's pollinator party unfold right before your eyes.
Vibrant Lantana Blooms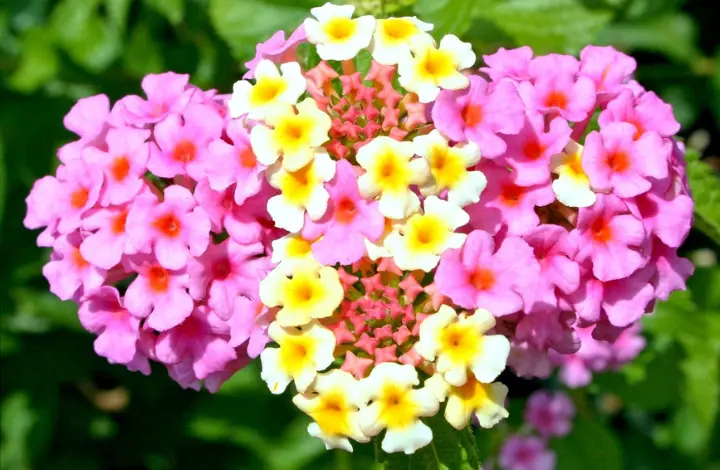 Lantana (Lantana camara) belongs to the verbena family and is native to tropical regions of the Americas and Africa. It is a popular ornamental plant known for its clusters of brightly colored flowers that attract pollinators like bees and butterflies. The flowers can be found in various shades, including yellow, red, white, orange, purple, and bicolored combinations.
These plants come in various forms, including bush types, trailing varieties, and dwarf cultivars. When selecting a lantana variety for your balcony garden, consider the size of the pot and the desired growth habit.
Bush Types
Bush lantanas are well-suited for upright containers and can be used as a stand-alone accent or combined with other plants. Some popular bush varieties include:
Luscious® Goldengate™
Landmark™ Citrus
'Dallas Red'
Trailing or Spreading Forms
These types of lantana are perfect for hanging baskets and window boxes, as they have a cascading growth habit. Some trailing or spreading varieties include:
Luscious Grape®
Purple trailing verbena (L. montevidensis)
Spreading Sunset™
Dwarf or Smaller Varieties
Dwarf lantana plants are ideal for smaller spaces, window boxes, or combined with other plants. Some dwarf or smaller varieties include:
Bandana® Lemon Zest
Patriot™ Rainbow Compact
Little Lucky™ Red
#Fun Fact: Lantanas have various common names in different cultures. For example, in Mexico, they are called "Spanish flag" due to their red and yellow flowers resembling the country's national flag.
Growing Requirements for Lantanas
| | |
| --- | --- |
| Aspect | Requirements |
| Light | Full sun (at least 6 hours of direct sunlight) |
| Watering | Moderate, allowing soil to dry between waterings |
| Temperature | 20-30°C (68-86°F) |
| Humidity | Moderate to high |
| Soil Type | Well-draining, fertile soil |
| Soil pH | Slightly acidic to neutral (6.0-7.0) |
| Fertilizing | Light and infrequent |
| Repotting | Every 2-3 years |
| Pruning | Regularly to maintain shape and size |
| Propagation | Stem cuttings or seeds |
| Toxicity | Toxic to dogs, cats, and other animals |
Choosing the Perfect Pot
Select a container that is large enough to accommodate the root ball and allow room for a full season's growth. If you plan to include other plants in the pot, make sure there is enough space for all plants to thrive. The container should have adequate drainage holes to prevent waterlogging and promote healthy root development.
Potting Soil and pH Requirements
Lantana plants prefer well-draining soil with a slightly acidic to neutral pH (6.0-7.0). Use a high-quality all-purpose potting mix and amend it with sand, vermiculite, or perlite to improve drainage if needed. This will ensure your lantana plant has the ideal growing conditions for healthy, vibrant blooms.
Ideal Light, Temperature, and Humidity Conditions
Lantana plants thrive in full sun and require at least 6 hours of direct sunlight daily. In tropical regions of India, lantana can tolerate partial shade but will produce fewer flowers. The ideal temperature range for lantana is 20-30°C (68-86°F). These plants can tolerate moderate to high humidity, making them well-suited for the Indian climate.
#Butterfly Effect: Lantanas have a fascinating relationship with butterflies. When butterflies feed on lantana nectar, it affects their wing coloration. In some instances, butterflies can acquire pigments from lantanas, altering the hues of their wings.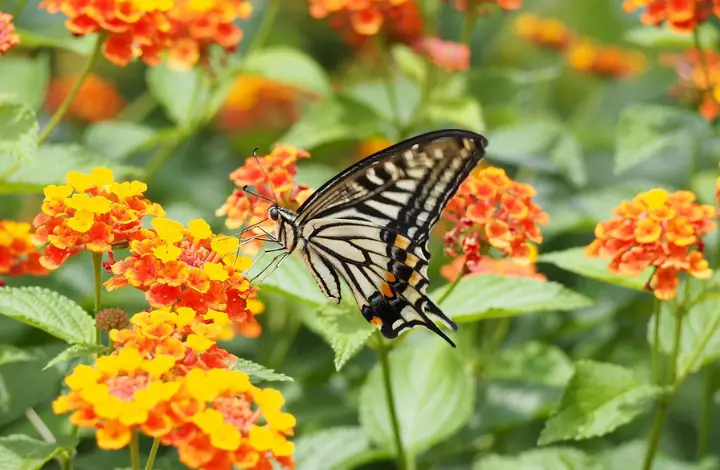 Watering and Fertilizing Lantana Plants
Newly planted lantana will require regular watering to promote healthy root development. Once established, lantana is drought-tolerant and will need less frequent watering. Water your lantana when the top 1-2 inches of soil feels dry, taking care to avoid splashing the foliage to prevent diseases.
These plants do not require much fertilizer, but a light application of a balanced 20-20-20 granular fertilizer every 2-3 months can boost growth. If you're growing lantana in a container, you may need to supplement with a liquid fertilizer once a month during the growing season.
Pruning and Maintenance of Lantanas
Regular pruning of your lantana plant will promote dense growth and lush, vibrant flowers. Pinch off new shoots with your fingers to encourage branching and fuller growth. Remove dead or long branches occasionally with a small pair of scissors.
Deadheading spent flowers can also promote more blooms and prevent the plant from diverting energy to seed production. This will help maintain a continuous display of colorful flowers throughout the season.
How to Propagate Lantana Plants
Lantana plants can be propagated through stem cuttings or seeds. Here's a quick guide for each method:
Stem Cuttings
Take 4-6 inch cuttings from a healthy lantana plant during late spring or early summer.
Remove the lower leaves and dip the cut end in rooting hormone.
Plant the cutting in a moist potting mix and place it in a warm, sunny location.
Keep the soil moist until roots develop, which should take around 2-3 weeks.
Seeds
Start lantana seeds indoors 6-8 weeks before the last frost date.
Sow seeds on the surface of a moist, well-draining seed-starting mix and press them lightly into the mix.
Keep the soil moist until seeds germinate, which should take 10-14 days.
Harden off seedlings for a week or two before transplanting outdoors after the risk of frost has passed.
Pest and Disease Control
Lantana plants are generally resistant to most diseases but may be attacked by pests like spider mites, mealybugs, and aphids when grown in poor conditions. Regular inspection of your plants and prompt treatment of any infestations can help keep your lantana healthy and vibrant.
Toxicity
Lantana leaves and berries contain toxic compounds called triterpenoids, which can be harmful or even lethal if ingested. Symptoms of poisoning include constipation, diarrhea, mouth irritation, and abdominal pain. To ensure the safety of your pets and children, keep lantana plants out of their reach.
Final Thoughts
The enchanting lantana flowers have the remarkable ability to not only beautify your garden with their vibrant colors but also attract a diverse array of pollinators. By incorporating these delightful blooms into your garden, you create a welcoming haven for bees, butterflies, hummingbirds, moths, and beetles.
As these pollinators flit from flower to flower, they play a vital role in the pollination process, ensuring the reproduction of many plant species. Follow this comprehensive guide to enjoy the delightful dance of pollinators and the endless wonders of nature in your own backyard.
Last update on 2023-09-10 / Affiliate links / Images from Amazon Product Advertising API