Hanging baskets overflowing with colorful blooms can instantly elevate your outdoor space and add a touch of charm to any corner. Picture the sky showering a gentle cascade of colors, punctuated by a mesmerizing array of vibrant blossoms gracefully suspended in mid-air. That's what a perfect hanging basket plant can do for you. In this guide, we'll explore the best flower hanging baskets that will bring a small slice of heaven to your home, bringing joy, color, and life into your surroundings. Let's dive in and create stunning hanging baskets that will be the envy of all!
Designing Your Hanging Basket: Choosing the Right Plants
The first step in creating a show-stopping hanging basket is to choose the right plants for your specific location. It's essential to consider whether your basket will be in full sun, part sun, or full shade. Remember, the sun's position changes seasonally, so observe the area carefully. Here are some plant options for different light conditions:
Full Sun Flower Hanging Baskets
If your hanging basket will receive full sun, you have a wide range of options. Consider plants like:
Supertunia Petunias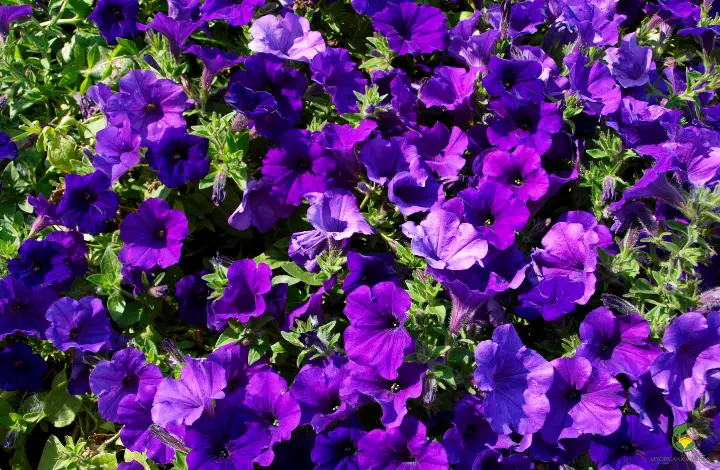 These vigorous hybrids come in various rich shades and attract hummingbirds and butterflies. They don't require deadheading, making them an excellent choice for low-maintenance hanging baskets.
Million Bells Calibrachoa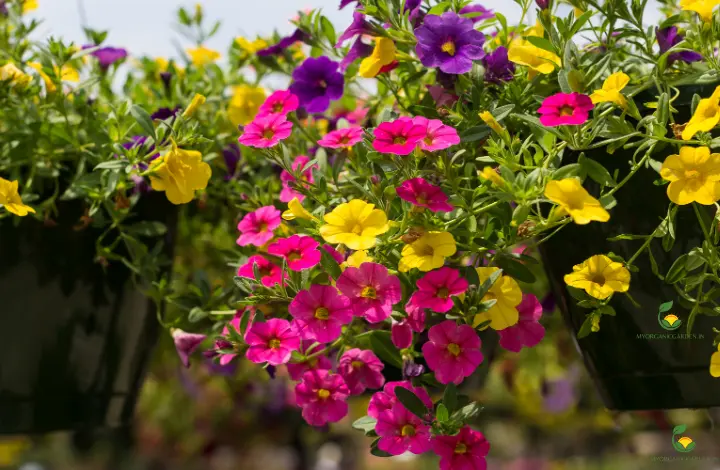 With their cascading growth habit and abundant flowers, Million Bells offer a burst of color. Opt for varieties like 'Trailing Magenta' for a stunning display.
Verbena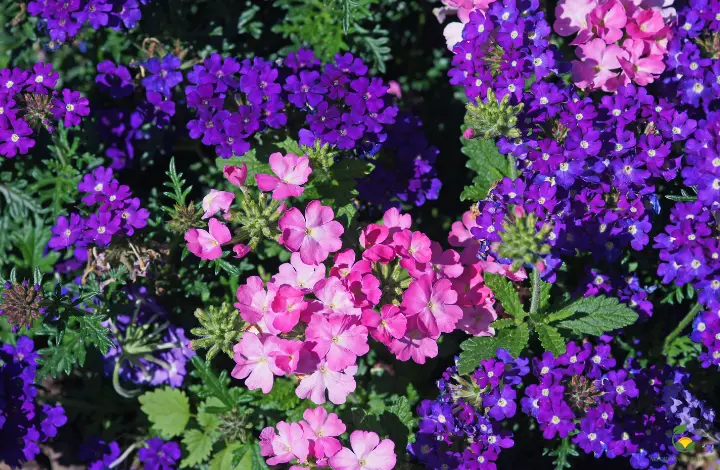 Known for their vibrant clusters of flowers, verbena varieties like 'Homestead Purple' and 'Tapien Blue Violet' thrive in full sun conditions.
Part Sun Flower Hanging Baskets
If your hanging basket receives part sun, you'll need plants that can tolerate some shade. Consider the following options:
Nasturtium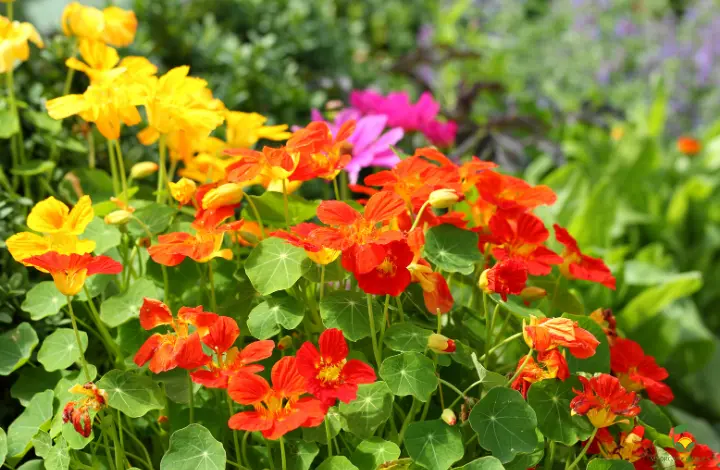 These colorful trailing plants are available in a range of warm hues. Varieties like 'Jewel Mix' and 'Empress of India' add a touch of whimsy to your hanging basket.
Bacopa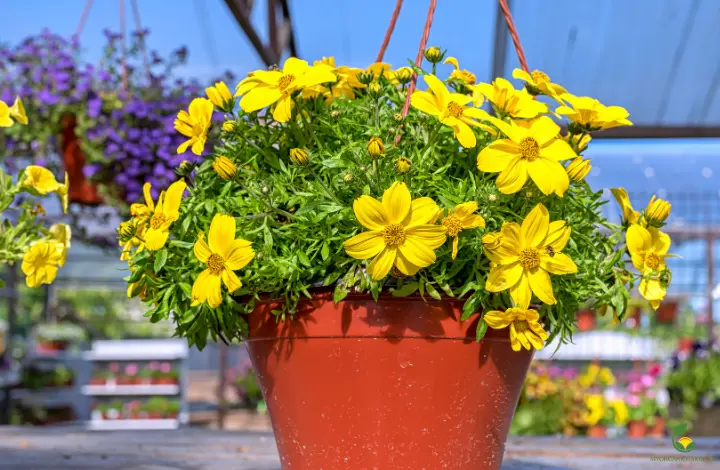 Bacopa's delicate white or lavender flowers create an elegant trailing effect. Look for varieties like 'Snowtopia' and 'Gulliver Blue' for a splash of grace.
Sweet Alyssum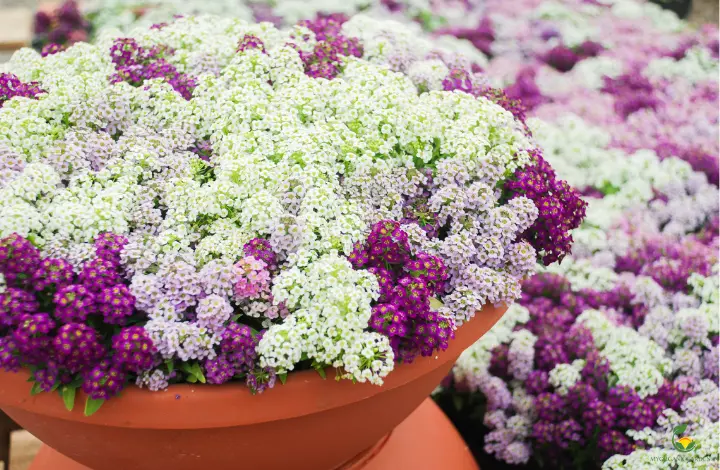 Known for its sweet fragrance, sweet alyssum is a popular choice for hanging baskets. Varieties like 'Snow Princess' and 'Carpet of Snow' are perfect for adding a touch of white to your display.
Full Shade Flower Hanging Baskets
For those shady spots, there are still plenty of options to create a stunning hanging basket. Consider these shade-loving plants:
Fuchsia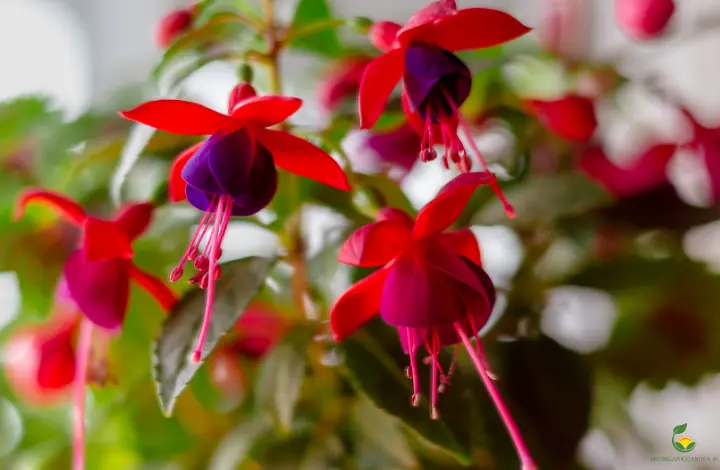 Fuchsias with their vibrant pendulous flowers are perfect for shady areas. Varieties like 'Swingtime' and 'Dark Eyes' add drama and elegance to your hanging basket.
Lobelia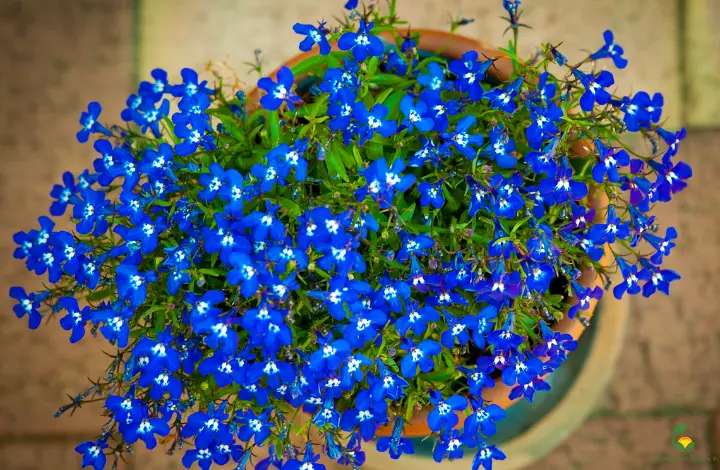 Lobelia's delicate flowers in shades of blue, white, and pink are ideal for shady hanging baskets. Look for varieties like 'Waterfall' and 'Cascade' for a cascading effect.
Impatiens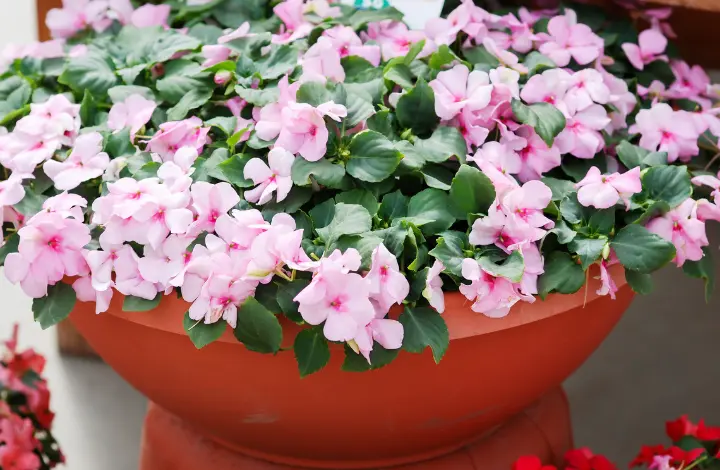 Impatiens, also known as Busy Lizzies, are classic shade-loving plants. Opt for double-flowered varieties like 'New Guinea' and 'Fiesta Ole Salmon' for a burst of color.
Designing Your Hanging Basket: Mixing Colors and Textures
Now that you have an idea of the plants suitable for your hanging basket, it's time to get creative! The key to a visually stunning display is to mix different colors and textures. Here are some design tips to help you create a harmonious and eye-catching hanging basket:
Color Combinations
Choose a color scheme that complements your outdoor space or reflects your personal style. Here are a few popular color combinations to consider:
Pastel Paradise: Combine soft hues like pink, lavender, and light blue for a serene and dreamy hanging basket.
Bold and Bright: Mix vibrant colors like red, orange, and yellow for a lively and energetic display.
Monochromatic Magic: Stick to a single color, but vary the shades and tones for a sophisticated and elegant look.
Textural Contrast
To add visual interest to your hanging basket, incorporate plants with different leaf shapes and textures. Pair plants with delicate, lacy foliage like ferns or asparagus ferns with those sporting broad, sturdy leaves like coleus or sweet potato vine. This contrast creates a dynamic and captivating display.
Caring for Your Hanging Plants: Watering, Fertilizing, and Pruning
Hanging plants have unique care requirements compared to in-ground plants. To ensure your hanging baskets thrive, follow these essential care tips:
Watering
Hanging plants in baskets have limited root space, so they rely on you for regular watering. While the watering needs may vary for different plants, a general rule of thumb is to keep the soil evenly moist. Avoid overwatering, as it can lead to root rot, and underwatering can cause the plants to wilt. Check the soil moisture regularly and adjust your watering schedule accordingly.
Fertilizing
Hanging plants benefit from regular feeding to support their lush growth and abundant blooms. Consider using a balanced, water-soluble fertilizer like a 20-20-20 formulation. Follow the manufacturer's instructions for application rates and frequency.
Pruning and Deadheading
To maintain the shape and appearance of your hanging basket, regular pruning is essential. Trim back any straggly or leggy growth to encourage fullness and compactness. Deadhead spent flowers to promote continuous blooming and prevent seed production. This process redirects the plant's energy into producing new flowers.
Flower Hanging Baskets: Placement Tips
To maximize the impact of your flower hanging baskets, proper placement is key. Consider the following tips when deciding where to hang your baskets:
Outdoor Placement
Front Porch: Hang your baskets near the entrance of your home to create a warm and welcoming atmosphere. Choose plants that coordinate with the colors of your house or porch.
Patio or Balcony: Transform your outdoor living space by suspending hanging baskets from pergolas, railings, or hooks. Create a mini garden oasis by mixing different basket sizes and heights.
Tree Branches: Utilize sturdy tree branches to hang baskets and add vertical interest to your garden. Ensure the branches can support the weight of the baskets.
Indoor Placement
Sunny Windowsills: Hang small, lightweight baskets near sunny windows to bring the beauty of the outdoors inside. Choose plants that thrive in bright light conditions.
Bright Corners: If you have a bright corner in your living room or dining area, consider hanging a statement basket to add a pop of color and life to the space.
Bathroom Bliss: Some hanging plants, like ferns and spider plants, thrive in humid environments. Hang baskets in your bathroom for a touch of greenery and a spa-like ambiance.
Choosing Complementary Companions: Mixing Plants in Your Hanging Baskets
If you're feeling even more adventurous, consider mixing different plant species in a single hanging basket. However, keep in mind that all plants in the basket should have similar light, water, and soil requirements. Here are a few inspiring combinations to get you started:
Tropical Paradise: Combine colorful Calibrachoa, trailing Vinca, and lush Boston Fern for a vibrant tropical display.
Cottage Garden Charm: Pair delicate Lobelia, trailing Sweet Alyssum, and fragrant Sweet Pea for a romantic and nostalgic hanging basket.
Succulent Sensation: Create a low-maintenance hanging basket with trailing Sedum, Echeveria, and String of Pearls for a touch of desert beauty.
Remember to consider the growth habits of the plants when mixing. Choose plants that will complement each other in terms of height, form, and vigor.
Also Read: Transform Your Outdoor Decor with These ‍Exquisite Foliage Plants for Hanging Baskets
Perennials for Year-Round Beauty
While most hanging basket plants are annuals, you can experiment with perennials if you live in a mild winter climate. Perennials offer the advantage of returning year after year, saving you time and effort in replanting. Here are some perennial options for hanging baskets:
Fuchsia: Certain Fuchsia varieties, like 'Gartenmeister Bonstedt' and 'Mrs. Popple,' can survive mild winters and continue to bloom in hanging baskets.
Ivy Geranium: This hardy perennial thrives in hanging baskets, offering a cascade of flowers year after year. Look for varieties like 'Balcon Royale' and 'Tornado Red.'
Sweet Alyssum: Although typically grown as an annual, some Sweet Alyssum varieties, like 'Snow Princess,' can withstand mild winters and provide year-round blooms.
Consult with local gardening experts or nurseries to determine which perennials are suitable for your climate zone.
Aesthetics and Drainage: Choosing the Right Hanging Basket
Selecting the right hanging basket is crucial for the health and longevity of your plants. Consider the following factors when choosing your basket:
Material: Hanging baskets come in various materials like plastic, wire, or natural fiber. Each has its pros and cons. Plastic baskets retain moisture better, while wire baskets allow for more airflow. Natural fiber baskets like coconut coir provide an organic and rustic look.
Size: Choose a basket size that matches the mature size of your plants. Remember to account for the trailing growth habit of certain species.
Drainage: Proper drainage is essential to prevent waterlogged soil. Ensure your basket has ample drainage holes to allow excess water to escape.
Liners: Consider using liners like sphagnum moss or cocoa fiber liners to help retain moisture and provide insulation for the roots.
TrustBasket Weave Hanging Basket Mixed Colours (Set of 5)-Multicolour Hanging Basket,Hanging Flower…
Colours May Vary
LIGHTWEIGHT MATERIALS –TrustBasket Weave Hanging Basket made from durable recyclable plastic and…
OUTDOOR AND WEATHER RESISTANT – Allow you to enjoy these hanging planters for outdoor plants in all…
CONTEMPORARY INDUSTRIAL STYLE – With a classic sense of style, the hanging basket planter features a…
MODERN INDOOR DECOR AND OUTDOOR DECOR -The hanging basket is for environmental protection and…
Additional Tips for Success
To wrap up our guide, here are a few additional tips for creating beautiful hanging baskets:
Rotate your baskets: To ensure even growth and prevent one side from becoming leggy, rotate your hanging baskets every few weeks.
Monitor soil moisture: Check the moisture level of the soil regularly by inserting your finger about an inch deep. Water when the soil feels dry to the touch.
Protect from extreme weather: During heatwaves or cold spells, consider bringing your hanging baskets indoors or providing shade or frost protection when necessary.
Regularly inspect for pests: Keep an eye out for common pests like aphids, whiteflies, or spider mites. Address any infestations promptly to prevent damage to your plants.
Remember, gardening is a continuous learning process. Don't be afraid to experiment and try new plant combinations in your hanging baskets. So go ahead and create new possibilities for your garden or balcony, and unlock the captivating beauty of these floating floral wonders. Happy gardening!
Last update on 2023-09-19 / Affiliate links / Images from Amazon Product Advertising API