Epsom Salt also known as hydrated magnesium sulphate, is a naturally occurring mineral that was first discovered in the well waters in Epsom, England. You may have used Epsom Salt as a laxative to relieve constipation but what you probably don't know is that Epsom Salt has a number of uses in organic gardening too! Let's check out the benefits of Epsom Salt for your organic garden.
Epsom Salt can help you produce lush, healthy plants, sweeter vegetables and bigger flowers. They contain 2 essential elements for plants to maintain optimum growth.
Magnesium, which plays a vital role during photosynthesis; and
Sulphur, which helps plants in root growth, amino acid production and chlorophyll production.
Benefits of Epsom Salt for your Garden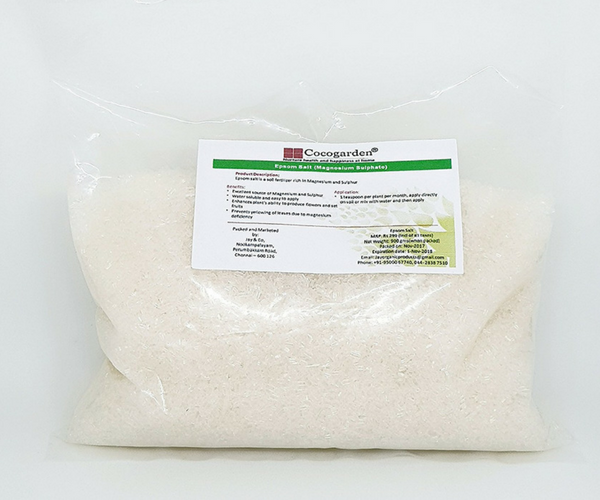 1. Improves Seed Germination
If you want to boost the chances of your seeds germinating quickly, your soil needs a good dose of magnesium, which helps strengthen cell walls leading to stronger seedlings. For best results, you can mix a tablespoon or two of Epsom Salt at the bottom of the hole before dropping the seeds.
2. Protects During Transplantation
When you're transplanting your seedlings or tender plants from a small pot to a larger one, most often the plants go into shock, wilting under the changed conditions. Feeding the transplanted plants with a tablespoon of Epsom Salt will help the roots overcome this shock. When doing so, make sure to avoid direct contact of the salt with the roots. Just add a layer of soil over the salt before transplanting.
3. Promote Greener Leaves
Magnesium is an important component needed for the production of chlorophyll. If you start to notice a yellowing of leaves, or whitening of the veins, it is an indication of magnesium deficiency. Sprinkle a tablespoon of Epsom Salt around the plant to promote greener foliage. You can do this once a month.
4. Prevent Leaf Curling
Leaf curling in plants is a sign of magnesium deficiency. Again, sprinkling Epsom salt around the base of the sick plant will help. Better still, if you mix 2 tablespoons of Epsom salt in about 4 litres of water and spray it directly on the leaves, it will get absorbed faster into the plant system and revive your plant.
5. Pest Protection
Epsom salts are basically crystals so an application around the base of the plant will prevent garden pests like slugs and snails from making your container their home. Although watering the salts will dilute its efficiency, it can still act as a pest deterrent when dry.
6. Improves Taste
You can use Epsom Salts on certain vegetables like onions and cabbage to produce better tasting vegetables. Epsom boosts chlorophyll production inside the plant cells, boosting its energy and increasing the levels of sugar, which in turn produces sweeter fruit.
7. Sweeter Tomatoes
Epsom Salts need a specific mention when it comes to tomato plants. That's because Tomato plants are particularly prone to suffer from magnesium deficiency. Tomatoes often suffer from blossom end rot, due to calcium deficiency. Application of calcium rich fertilizers affects the absorption of magnesium, which is equally needed by the plant. That's why a good foliar spray of Epsom salts helps the tomato plant better absorb magnesium directly into the system. This must be done every two weeks for better tomato production.
8. Increase Capsicum Production
If you're growing capsicum in your garden and want a very good yield, feed it with Epsom salt twice a week. You can sprinkle a tablespoon of Epsom salt for a plant that's about 1 foot tall. If taller, for every extra foot, add another tablespoon of salt.
9. Grow Gorgeous Roses
Want your rose bushes to be fuller, more lush and filled with fragrant blossoms? Feed your plants with Epsom salt at the time of planting, at the first signs of new growth, as well as when the flowers are in full bloom. The rose bush will produce bigger flowers with deeper, darker colors.
How to Apply Epsom Salts to Plants
Mix one tablespoon of Epsom Salt to about 4 liters of water. Spray it on the leaves once every two weeks.
In the case of application on vegetables, sprinkle a tablespoon of Epsom salt around each seedling as soon as they are transplanted to a pot. You can repeat the application during the first bloom and when fruiting.
Epsom salts are a cheap organic way to give a healthy boost of nutrients for your garden. They are extremely safe to use and easy to apply. Epsom works pretty quickly in correcting a number of problems with plant growth, blossom and fruit production. If you want to increase the overall health of your garden, there's nothing that a good dose of Epsom salt won't fix.
I purchased Mandy's Epsom Salt from Amazon and applied it to my roses and capsicum plants. The results were amazing. Unlike previous years, my capsicums grew to big sizes and yielded plenty. The rose flowers also started blooming more bigger and fuller.
If you want to enjoy a lush green organic garden, you simply must try Epsom salts. They are a marvelous treat for the soil and its a joy to reap its benefits.
Here are some quick shopping options you can check out!
DIGITAL GARDENING Organic Epsom Salt Crystals for Bath, For Muscle Relief, Feet Soak, Relieves Aches…
Epsom salt is a highly soluble form of magnesium sulfate, two elements that play vital roles in the…
Epsom Salt is best for Body Bathing, Feet Soak and Skin Glow, Cracked Feet Healing.
It also is responsible for crop formulation and quality.
Plants that are heavy feeders of magnesium, such as roses (Rosa spp.), tomatoes (Solanum spp.) and…
For best results, incorporate 1 cup of salt per 100 square feet of tilled soil or mix 1 – 2…
Mini Storify Epsom Salt 400gm: Leg Pain Relief, Plant Booster, Spa Experience – Organic, Pure, and…
Mini Storify Epsom Salt helps for Fast leg pain relief and rejuvenation for tired muscles and…
Boost plant growth with our aluminium sulphate-infused Epsom salts – perfect for healthier, thriving…
Indulge in a luxurious and relaxing bath experience with our organic and pure epsum salts.
Support your liver's natural cleansing process with Epsom salt, aiding in detoxification and overall…
Pamper your feet with a revitalizing foot spa using our Mini Storify Truly Organic Epsom salt….
Naturally Green Epsom Salt (1kg) All Purpose Magnesium Sulphate | Vigorous Growth of Flowering…
How can Epsom Salt help plants ? Naturally Green Epsom Salt for plants is a completely natural and…
Does Epsom Salt dissolve easily ? Yes it dissolves quickly . The expertly selected grain size of…
What is the colour & texture of Epsom Salt ? It's transparent / slightly white in color, and is…
Can I use Epsom Salt as a Body Scrub ? Mix with shower gel & Natural additions like rose, jasmine…
Last update on 2023-09-09 / Affiliate links / Images from Amazon Product Advertising API