Whether you live in the capital city of India or down south, you know that the quality of air and food in the country has deteriorated considerably.  If you have promised to make a green start to the year, January is the perfect time to get started. Start with a vegetable garden and grow these vegetables to reap a rich harvest in the coming months. Here is a list of the best vegetables to grow in January in India.
Best Vegetables to Grow in January in India
Spinach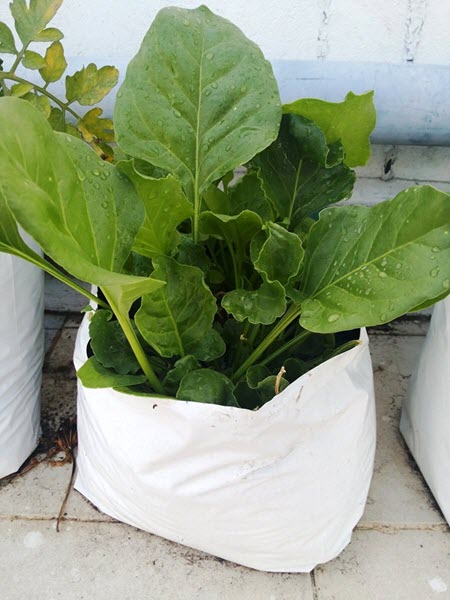 The lush green leafy spinach is rich in iron, vitamins and plenty of antioxidants. Spinach can be harvested in 6-8 weeks after sowing and the cool January weather is a perfect time for starting a spinach garden.
ALSO READ : How to Grow Spinach in Containers
Brinjals
Whether fat, long, white, or striped, brinjals are a great vegetable to grow in January. They need at least 6 hours of sunlight, rich loamy soil, and good drainage. I have about 4 pots of brinjals, each plant carrying at least 4-5 brinjals. They grow quick and you can harvest them in a matter of weeks.
Okra
Another must have in your vegetable garden is the Okra. It grows well in any type of soil and enjoys warm humid conditions for fertile growth. If you're having frosty conditions in your area, it is best to avoid growing it for now. Ideally the best times to grow are from Jan-Mar. Make sure to also include highly rich compost soil for growing okras.
Cucumbers
Cucumbers require at least a month to bear fruit, which makes January an ideal time to start planting them. Cucumbers grow quickly and are climbers so make sure you have a trellis on which they can climb. Cucumbers need full sun and plenty of water so make sure you have these conditions before you sow the seeds.
Capsicums or Bell Peppers
Capsicum is a cool season crop and January is still a reasonably good time to start growing them. Make sure you transplant the seedlings once they have 4 to 5 leaves on them. You can learn more about the growing conditions for capsicum before sowing. I used seeds from a store bought vegetable but you need to make sure the seeds are wholesome and dry before sowing.
Bottle Gourd and Bitter Gourd
Bitter gourds and bottle gourds are also ideal to sow in January.  By the time the warm and hot weather starts, the plants will be ready to deliver their best yield. These are easy to grow plants. Just give them a well drained soil, proper sunlight and they'll be happy.
Both plants don't like the frost so if you live up in the north of India, this may not be an ideal planting time yet. However, if you live in the plains with little chances of frost, go ahead and start sowing them for a summer harvest. Remember to set up a trellis for the plants to climb up when they grow.
Also Read : How to Grow Bitter Gourd in Pots – Tips and Plant Care
Do you plan to grow any of these vegetables this month? Let us know in the comments section.