If you are looking for a way to add some life and personality to your home décor, look no further than indoor plants! Decorating with indoor plants is a wonderful way to bring a touch of nature indoors and create a stylish and vibrant living space. With so many different varieties of indoor plants available, the possibilities are endless. Whether you're a seasoned plant parent or just starting out, this guide will provide you with some stylish ideas for incorporating indoor plants into your home décor. So, let's get started!
Decorating with indoor plants is an excellent way to bring life into your home while also benefiting your overall well-being. Understanding the different types of indoor plants along with their characteristics and proper care requirements will ensure that you choose the right species for your space and keep them thriving beautifully.
Choosing the Right Indoor Plants
Indoor plants are a popular choice for adding a touch of nature and beauty to any space. Choosing the right indoor plants, however, can be challenging with so many options available. Here are some factors to consider when selecting indoor plants for your home.
Factors to Consider When Selecting Indoor Plants
Light
The first factor to consider is the amount of light your home receives. Different plants require different amounts of light, so it's essential to choose plants that match your home's lighting conditions.
For example, low-light tolerant plants like snake plant or ZZ plant thrive in low-light environments, while high-light requiring plants like fiddle leaf figs need bright sunlight.
Space
The second factor is the space available in your home. Some indoor plants grow quite large and require plenty of room, while others stay small and can fit on a windowsill or small table. It is essential to choose indoor plant species that fit within your space limitations.
Level of Care
You should also consider your lifestyle and schedule when choosing indoor plants. If you're often away from home or forgetful about watering your plants regularly, opt for low-maintenance species such as cacti or succulents.
Matching Plant Types to Your Home's Décor Style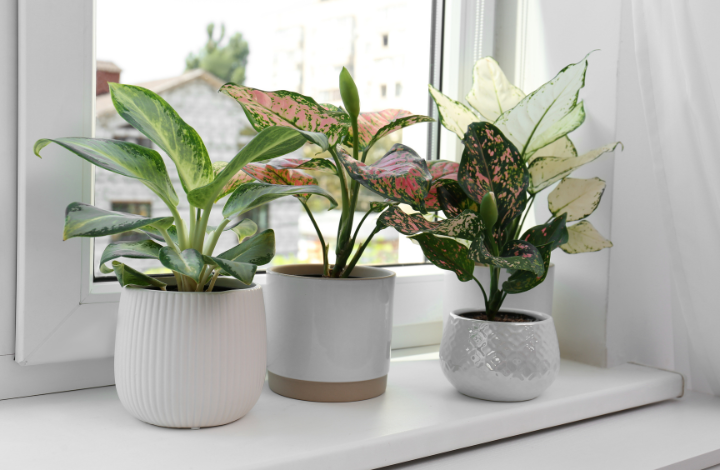 Indoor plants not only help purify the air but also add life and color to your home. It's essential to choose plants that complement your décor style. For example, if you have a minimalist style, consider a snake plant with its straight lines and simplicity.
Or, if you have a bohemian aesthetic, consider an eclectic mix of ferns, succulents, and cacti in various pottery styles. Matching plant types to your décor isn't just about aesthetics; it's also about creating balance and harmony within your space.
Now that we've discussed how to choose indoor plants based on various factors let's dive deeper into how you can stylishly arrange them in your home.
Arranging Indoor Plants in Your Home
Indoor plants can be arranged in a variety of ways to add interest and style to your living space. Whether you're working with a large or small area, there are many creative ways to showcase your greenery. Here are some tips for arranging indoor plants in your home:
Position Based on Light and Humidity Requirements
Lighting
Plants have different lighting requirements depending on their species. Some need full sun exposure, while others prefer shade or indirect light. When grouping your indoor plants based on lighting needs, keep these in mind:
Full-sun-loving plants
These include succulents, cacti, and herbs such as basil and rosemary that require at least six hours of direct sunlight.
Partial-sun-loving plants
Species like snake plants, pothos, and spider plants thrive in bright but indirect light.
Shade-loving plants
Ferns, peace lilies, and Chinese evergreens are examples of shade-loving species that prefer low to medium light conditions.
Pairing plants with similar sunlight requirements ensures they receive the necessary amount of light to grow healthy. However, you can also create an interesting contrast by pairing species with different lighting needs.
Humidity Needs
Humidity levels play a crucial role in determining which plants thrive together. Some indoor plants prefer high humidity levels while others prefer low humidity levels. When grouping your indoor plants based on humidity needs:
High-humidity loving plants
These include tropical species such as ferns, calatheas, and peace lilies that need moisture-retentive soil and regular misting.
Low-humidity loving plants
Cacti, succulents, and snake plants are examples of low-humidity-loving species that require well-draining soil and infrequent watering.
##Note: When decorating with indoor plants, grouping high-humidity-loving species with low-humidity-loving ones can cause problems for both groups. High-humidity-loving plants can develop fungal diseases, while low-humidity-loving species can dry out and wilt.
By taking into account the moisture levels and lighting conditions of different areas in your home, you can create a beautiful arrangement of healthy indoor plants that will bring life into any room.
So go ahead and get creative with arranging your greenery – just remember to keep their needs in mind!
The Rule of Three
The Rule of Three is a design principle that suggests grouping items in odd numbers for maximum impact. It's based on the idea that odd numbers are more interesting to the eye than even numbers and create a sense of balance in a space. This principle applies to many areas of design, including interior design and landscaping.
Clustering Indoor Plants in Groups of Three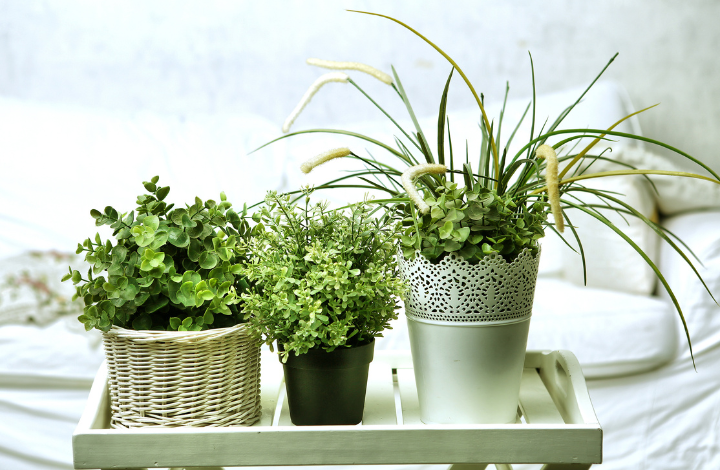 Clustering indoor plants in groups of three creates a visually appealing effect that draws attention to the plants' beauty. Grouping plants in threes can help fill empty spaces and create a cohesive look throughout your home. Clustering indoor plants allows you to mix different types of plants while maintaining balance and harmony.
When arranging indoor plants using the Rule of Three principle, consider varying their sizes and shapes for added interest. For example:
Cluster one large plant with two smaller ones
Group two medium-sized plants with one small plant
Combine three small potted succulents or cacti
Apply the Rule of Three
The Rule of Three can be applied to different types of indoor plants regardless of their size or shape. Here are some examples:
Hanging Plants: Hang three macrame hangers at varying heights from your ceiling or wall bracket.
Tabletop Plants: Place three small pots on a tray or saucer.
Corner Plants: Arrange three tall floor-standing potted trees in one corner.
Shelf Plants: Display three sets of small potted herbs on a shelf.
Experiment with Texture, Size, and Shape
Arranging indoor plants in your home is a great way to bring life and color into your living space. However, simply placing plants on a shelf or table may not create the visual impact you desire. To take your plant display to the next level, consider experimenting with texture, size, and shape.
Textures
One way to make your indoor plant arrangement visually interesting is by incorporating different textures of plants. Mixing up textures can add depth and contrast to your display. For example:
Pair smooth-leaved plants like snake plants or rubber trees with fuzzy-leaved ferns or begonias.
Combine spiky succulents like cacti with soft-leaved ivies or pothos.
Add interest by mixing shiny-leaved plants like peace lilies with matte-finished foliage such as ZZ plants.
Size
Varying the size of your indoor plants is another way to add dimension to your arrangement. Grouping together several small pots can create a cohesive look while adding visual interest. Alternatively, try grouping larger statement pieces together for a dramatic effect. Here are some ideas:
Create a mini garden by grouping small succulents in various shapes and sizes on a tray.
Make an impact by placing one large statement plant in the center of a table or shelf surrounded by smaller potted varieties.
Create height variation using tall floor-standing plants such as fiddle leaf figs paired with shorter tabletop varieties like spider plants.
Consider Using Unconventional Items
Don't limit yourself to traditional pots when displaying your indoor plants – think outside the box! Repurposing unconventional items can add charm and character to an otherwise mundane display. Here are some examples:
Use vintage teacups or mugs as miniature planters for small herbs or flowers.
Showcase trailing vines like pothos or string of pearls in a hanging macrame planter.
Create a unique display by arranging plants on a decorative saucer or bowl.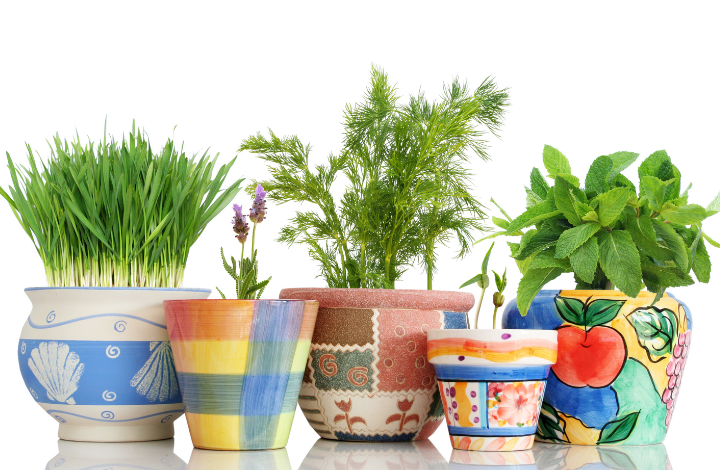 Mix and Match Different Shapes of Plants
Playing with different shapes of indoor plants can create an eye-catching display. Combining different leaf shapes and sizes can add depth and interest to your arrangement. Don't be afraid to mix and match! Here are some ideas:
Pair round-leaved plants like Chinese money plants with spiky cacti for a fun contrast.
Add drama by grouping together tall, thin-leaved snake plants with fuller, bushier varieties such as Boston ferns.
Use trailing ivies or spider plants to create a cascading effect when paired with upright, structured varieties like rubber trees.
Add Colorful Leaves for Visual Interest
Indoor plants are a great way to add life and beauty to your home décor. They come in all shapes and sizes, but one of the best ways to make them stand out is by adding colorful leaves. Here are some tips on how to do it:
Use Foliage for a Pop of Color
Foliage is an excellent way to add color and texture to your indoor plant display. Whether you choose plants with variegated leaves or ones with solid colors, they can add visual interest and depth to your décor.
Consider using plants like the croton, which has vibrant reds, yellows, and oranges in its foliage. Or try the calathea, which has intricate patterns on its leaves that resemble feathers or waves.
Choose the Right Pot
The right pot can make all the difference in how your colorful leafy plants look in your home. Consider choosing a decorative pot that complements the colors of your plant's foliage.
For example, if you have a plant with red or orange leaves, consider using a pot with warm tones like terracotta or copper. If you have a plant with blue-green leaves, try using a pot with cool tones like blue or green.
Play With Shades and Colors
Leaves come in many shades and colors, so don't be afraid to mix things up! You can create an eye-catching display by grouping plants with different leaf colors together.
For example, pair a plant with deep green leaves next to one with bright yellow leaves. Or place a plant with purple foliage next to one with pink or red leaves.
Make Your Own Jungle
If you want to create an indoor jungle full of color and life, consider adding several plants with colorful foliage together. You can use pots of different sizes and heights for added variety.
Create layers by placing taller plants at the back and shorter ones in front. This will give your display depth and make it more visually interesting.
Draw Attention to Your Plants
Colorful leaves can draw attention to your indoor plants, making them the focal point of any room. Use lighting to highlight your plants and make them stand out even more.
Consider using a spotlight or uplight to shine on your plants from below. This will create dramatic shadows and highlights that will make your colorful foliage pop.
Adding colorful leaves to your indoor plant display can transform the overall décor of your home. They add life, color, and texture in a way that no other decorative element can.
Tips on Grouping by Color
You can choose hues that complement or contrast each other depending on the look you want to achieve. For example:
Complementary colors
Pairing green foliage with red or pink flowers creates a striking contrast.
Analogous colors
Combining shades of green like ferns and snake plants with lighter greens like succulents or herbs creates a calming effect.
Monochromatic colors
Using different shades of one color like white orchids with pale green leaves creates an elegant display.
When selecting plants based on their color, consider the lighting conditions in your home as well. Some plants may lose their vibrant hues if exposed to direct sunlight for too long.
Use Height to Your Advantage
Using height to your advantage can add depth and dimension to your space. By varying the heights of your plants, you can create visual interest and a layered effect. Here are some tips on how to use height when arranging indoor plants:
Use Plant Stands to Create Visual Interest
Plant stands are a great way to add height and create visual interest in your indoor plant arrangement. They come in lots of different shapes, sizes, and materials – from metal and wood to wicker and ceramic. You can choose a stand that complements the style of your room or adds a pop of color.
Consider placing taller plants on the floor with shorter plants on top of plant stands for added dimension. You can also group several smaller plants together on one stand for a cohesive look.
Vary the Heights of Your Plants for Depth and Dimension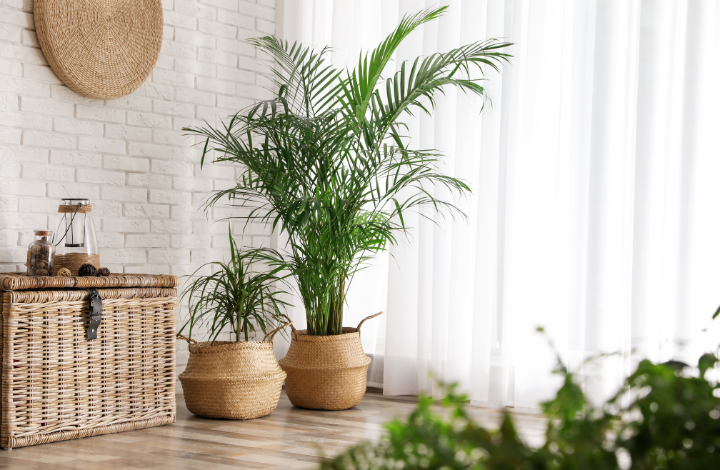 Varying the heights of your plants is key when creating an interesting indoor plant arrangement. Consider grouping tall plants together with shorter ones for added depth. You can also place trailing vines or hanging plants at different levels for a cascading effect.
When choosing which plants to group together, consider their natural height as well as their growth rate. Some fast-growing varieties may need more space than others over time.
Consider Natural Height When Arranging Plants
It's important to take into account each plant's natural height when arranging them in your home. Taller plants should be placed towards the back of an arrangement while shorter ones should be placed towards the front.
If you have limited floor space, consider hanging some taller varieties from ceiling hooks or placing them on high shelves.
Ensure Each Plant Has Enough Space and Proper Drainage Holes at Each Level
When arranging indoor plants at different levels, make sure each plant has enough space for its roots as well as proper drainage holes at each level. Overcrowding can lead to poor plant health and root rot.
Consider using pots with built-in drainage holes or adding a layer of rocks at the bottom of each pot for proper drainage. You can also use saucers underneath each pot to catch excess water.
By using height to your advantage, you can create a visually interesting indoor plant arrangement that adds depth and dimension to your space.
Conclusion
Incorporating indoor plants into your home can add life and beauty to any space. By following the rule of three, experimenting with texture, size, and shape, adding colorful leaves for visual interest, and using height to your advantage, you can create a stunning display that enhances your living space.
Don't be afraid to get creative with your arrangements – mix different plant types and colors to create a unique look that suits your personal style. And remember to take care of your plants properly by providing them with the right amount of water, light, and nutrients.
By arranging indoor plants in your home using these tips and tricks, you'll not only improve the look of your living space but also enjoy the benefits of cleaner air and reduced stress levels.
So why wait? Start decorating with indoor plants today! You might be surprised at how much of a difference it can make!