If you are planning to set up a terrace garden, chances are you need a ton of things to help you get started. Pots, containers, grow bags, soil, potting mix, fertilisers, tools like rakes, cutters and weeders, as well as seeds, live plants, and so on. Oftentimes, we simply become so excited with our garden plans, we lose track of the amount of money we spend in setting it up. If you're thinking about buying cheap grow bags that are of top quality, you ought to check out Grow Bag Bazaar – an online destination that sells top quality grow bags at the best prices you can get. After buying Grow bags from a variety of online shops, I have found this place to offer the best quality bags at great prices.
Grow Bag Bazaar
GrowBag Bazaar is a small sole proprietorship firm set up in the SIPCOT Industrial Estate in Vellore district in Tamilnadu. The company is run entirely by women entrepreneurs who seem to be doing a great job with manufacturing and delivering high quality grow bags at affordable prices, all across India.
Top Quality Grow Bags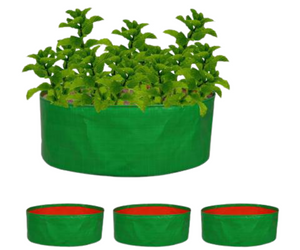 When searching for good quality grow bags online, you probably won't find this company in your top Google results. I did have doubts when I placed the order for 10 grow bags from them, because at the prices they were offering, I wondered how the quality would turn out. But I was pleasantly surprised when I finally opened and inspected the bags. The bags are sturdy, made with good quality 200 GSM HDPE tarpaulin material. They are UV treated to ensure they don't wear out or fade away easily, especially since they are going to be out in the sunshine for their lifetime.
Grow Bags in Any Size
Another impressive feature with these bags is that they are quite big when compared to previous bags. That's because a 12×12 bag actually measures 12×12 inches. Usually you'll find that bags from other companies measure 11×11 or less to accommodate the piping material around the edges. Grow Bag Bazaar's bags are of the full length giving you a bigger, fuller look compared to bags purchased from other stores.
Another cool feature is that you can buy bags in any conceivable size you want. From a 9×9 inch to a 144x48x24 inch size and plenty in between, you can choose bags from a variety of sizes depending on your garden needs.
They sell circular bags, rectangular bags and also bags to use for your vertical gardens. If you wish to do a big of composting and need a huge bag for it, say a 120x24x12 inch or a 144x48x24 inch bag, you can order that too!
In all they have over 50 varieties of grow bags so you are sure to find one to meet your needs.
Cheap Grow Bags – Great Price
If you are looking for grow bags at affordable prices, the prices at Grow Bag Bazaar definitely stands out.
Rectangular Grow bags
The rectangular grow bags are priced between ₹60 and ₹1344. That is, a 12x12x12 inch bag will cost you ₹60 while a 144x48x24 inch bag costs ₹1344.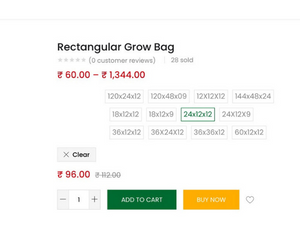 Circular Grow bags
Circular Grow bags cost anything between ₹35 to ₹160. A 9×9 inch bag is ₹35 while a 24×24 inch bag costs ₹160.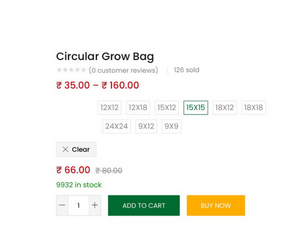 Special Bags
The company also makes bags for growing greens like spinach and bags for tubers like potatoes.
The spinach grow bags are available in 5 different sizes at prices between ₹41 and ₹85.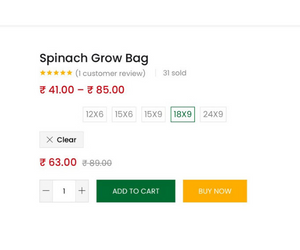 Potato bags are ₹100 for a 15×15 inch size.
You can even get custom grow bags at sizes you want. Just call and speak to them regarding your requirements.
Overall, the prices at Grow Bag Bazaar are one of the cheapest I have seen online. You'll definitely save a lot of money investing in these bags as there is no compromise on quality.
Extras – Garden Kit Tools
While the company specialises in selling grow bags they also sell a few extra tools on their website. Take your pick from drain mats, sprayers, gloves, water cans and weeders – all at reasonable prices.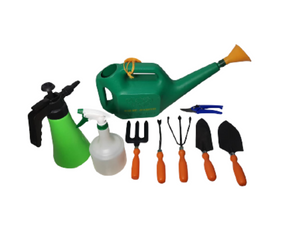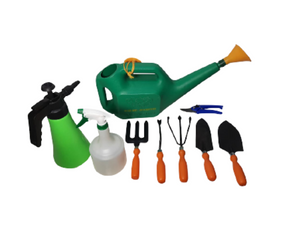 Ordering and Delivery
You can head over to growbagbazaar.com to shop for your grow bags. Or you can call them and place your order. The company doesn't offer free shipping but their flexible shipping policy lets you get a reasonable rate for your orders.
As far as delivery goes, you'll need to wait it out a bit. If you're an an Amazon or Flipkart shopper, you'll get instant updates and notifications on dispatch and delivery. But this is a small firm so you'll have to be a bit patient with delivery. It took about 6 days for me to get my order but it was worth the wait. You do get a notification when the bags are dispatched. Depending on your location you can judge how soon you'll get your bags.
Surprise!
There was one little happy surprise sitting right underneath my goodie bag (which I failed to notice at first) – some really cool complimentary seed packets. I'm not sure if this is dispatched for every customer regularly or it is on a first order basis, but it was a really nice surprise to find the seeds in my bag. Who wouldn't be!
Conclusion
Grow bags are getting pricier by the day, not to mention smaller in size. If you looking to buy grow bags the next time around, give this women-centric small business a try. You won't be disappointed.
P.S: The prices indicated here are current as of March 2022. They are likely to change in the future depending on market factors. Please check before purchase.