If you are growing plants in pots and containers, one of the biggest challenges you face is plants getting root bound. This means they have to be transplanted frequently to bigger pots. One way to overcome this problem is by using a revolutionary new technology that is implemented in Air Pots. Just like how going to the gym helps people grow stronger and healthier, using Air-Pots helps plants grow stronger and healthier by providing them with the ideal conditions for root development. If you are keen to learn more about Air Pots, read on.
What are Air-Pots?
Air pots are a type of plant pot that has a series of small holes in the sides and bottom. These holes allow air to circulate around the roots of the plant, which helps to improve the health and growth of the plant.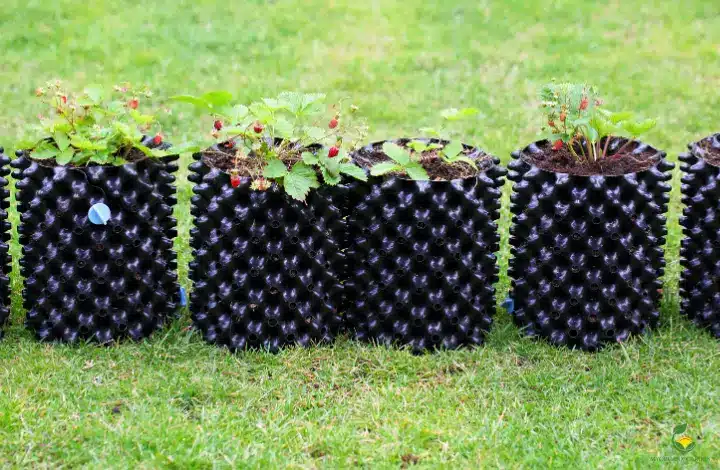 Also known as Air Pruning pots, they work by creating a "root pruning" effect. When the roots of the plant grow into the holes in the pot, they are exposed to air. This causes the tips of the roots to dry out and die, which stimulates the plant to grow new roots. This process results in a mass of healthy, fibrous roots that are better able to absorb water and nutrients.
#NicetoKnow: The Royal Botanic Gardens, Kew grows over 3000 different species of plants in Air-Pot containers.
These pots are usually made from recycled plastic that are reusable and built to last for many years.
Advantages of Air Pots
Air pots have a number of advantages over traditional plant pots.
Prevents root locking
The unique structure of these pots prevents the locking of roots. The cones and holes throughout the pot's surface area allow the roots to grow freely and avoid becoming tangled or circling. This promotes healthier root development and prevents the need for frequent transplanting.
Oxygenation and strong root growth
Air-Pots feature holes throughout the entire surface area, which encourages oxygenation and promotes strong root growth. The increased amount of air in the pot dehydrates the root tips, stimulating root branching and the development of healthy fibrous roots.
Perfect drainage and aeration
The air holes in Air-Pots ensure perfect drainage and aeration of the growing medium. This creates ideal conditions for healthy bacteria to release more nutrients to the plant, leading to faster growth and bigger yields.
Reusable and long-lasting
Air-Pots are constructed from tough recycled plastic, making them reusable and durable. They can last for many years, providing a cost-effective and sustainable option for plant cultivation.
Suitable for any plant
You can grow most types of plants in these pots. Whether it's flowers, vegetables, herbs, or trees, the unique design of these pots promotes healthy root development and enhances overall plant growth.
Disadvantages of using Air Pots
However, there are also a few disadvantages to these pots.
Initial cost
Air-Pots may have a higher initial cost compared to traditional plant containers. However, they are durable and have a long lifespan. This makes them a cost-effective investment in the long run.
Assembly issues
These pots don't come ready-to-use. They require assembly before use, which can be a bit of a pain. Assembly involves attaching the walls to the base and using screws or fixings to hold them together. While the assembly process is not difficult, it does require some time and effort. When assembling Air-Pot containers, some common issues that people may face include:
Difficulty in aligning the walls and base: Carefully check the walls of the pots to ensure that they are properly aligned with the base during assembly. If the alignment is not correct, it may result in an unstable container.
Tightening the screws: Air-Pot containers typically require screws or fixings to hold the walls and base together. One common issue is overtightening or under-tightening the screws, which can affect the stability of the container. It is important to tighten the screws just enough to secure the walls and base without causing damage.
Limited availability
Depending on the location, Air-Pots may not be readily available in all gardening stores. However, you can purchase them online from various retailers and manufacturers.
Requires Monitoring
They require regular monitoring to ensure proper watering and nutrient levels. The increased drainage and aeration provided by the air holes may cause the growing medium to dry out more quickly, requiring more frequent watering.
Potential for root exposure
The air holes in these pots may expose the roots to more light, which can lead to root damage if the pots are not properly placed or covered. It is important to ensure that the roots are adequately protected from excessive light exposure.
Not suitable for all plants
Some plants may not do well in such pots, such as plants that are sensitive to drying out.
Overall, the advantages of using Air-Pots, such as preventing root locking, promoting strong root growth, and providing perfect drainage, make them a popular choice for plant cultivation. While there are some potential disadvantages, such as the initial cost and the need for monitoring, the benefits outweigh these drawbacks.
Conclusion
Air Pots have only been gaining attention recently in India. This means there are not many nurseries that are selling air pots at the moment. You can find them at online stores, but the prices are on the higher side.
One big issue I personally found with these pots is in the assembly. It is best to see a video demonstration of it before setting up. There is also a bit of a problem with the screws that come with these pots. Some of them don't screw in completely and if that happens, your sand is going to start spilling out. I've had to add additional iron strings to hold the walls together. So before you buy the air-pots make sure you buy them from reliable vendors.
Overall, I feel that until something better comes along, air pots are a good option for plant growers who want to improve the health and growth of their plants. Their unique design, aeration capabilities, and versatility make them a must-have for any avid gardener.
If you are using air-pots for your terrace garden, let us know your experience with it.
Happy gardening!
TrustBasket Air Pot Medium (9 * 11 * 10.5) – Set of 3 – Perfect for Terrace Gardening/Outdoor Indoor…
Air pot is a reusable, recyclable plastic container that actively improves the quality of the…
Air pot gives the result is healthy, beautiful and fertile plants
As pot is easily detachable from plant hence plant transplantation can be done without single root…
It Provides Water drainage through the soil to eliminate over watering. Keeps plant warmer in winter…
Air-Pot container actively enhances the growth and health of plants
Last update on 2023-09-10 / Affiliate links / Images from Amazon Product Advertising API