One of the key ingredients of a good potting mix is compost. Compost is the source of of nutrients for the plants. In my post on how to make a compost from your kitchen waste I showed you how you could make your own organic compost with very little investment of time and money and have an endless supply of nutrition for your plants all year round. We discuss the major benefits of compost tea and show you how you can make your own compost tea at home to nourish your garden.
My method of home composting offers 2 benefits.
1. It creates solid compost; and
2. It gives off a smartbrew, which is a liquid compost packed with good microbes and nutrition that can supplement your plants while the compost is getting ready.
Another way to get the benefits of compost is to make a compost tea. This is usually made from compost that is already aged and ready for use.
In this article, I'll tell you more about what a compost tea is and discuss the benefits of compost tea. I'll also show you how you can make it in your own home.
What is Compost Tea?
Compost tea or Black Liquid Gold as it is often called is a solution that is rich in microbes and nutrients that are available in a readily usable form for plants. Compost tea offers a number of benefits for plants over and above what a normal compost offers. Here are some of its benefits.
1. It is highly soluble making it easy for plants to absorb it compared to normal compost.
2. It is easy to apply. You can add it to a sprayer and spray your plants directly.
3. It builds plant immunity making it grow strong and healthy.
5. Compost tea helps control garden pests. Spraying the tea on the underside of plants gets the microbes to work on the leaves leaving no room for fungicides or pests to lay their eggs.
Ingredients to Make Compost Tea
You'll need to have these ingredients before you make your tea:
1. A 10 litre bin or bucket, preferably with a lid
2. An aquarium pump (similar to the one you use to oxygenate your fish tank) with air stones
3. Compost  – either the organic compost you made at home or one you bought from a store. You can also use shop bought vermicompost.
4. A sock or 3 small cloth bags with strings
5. Jaggery, about 3 tablespoons
6. A spray can
How to Make Compost Tea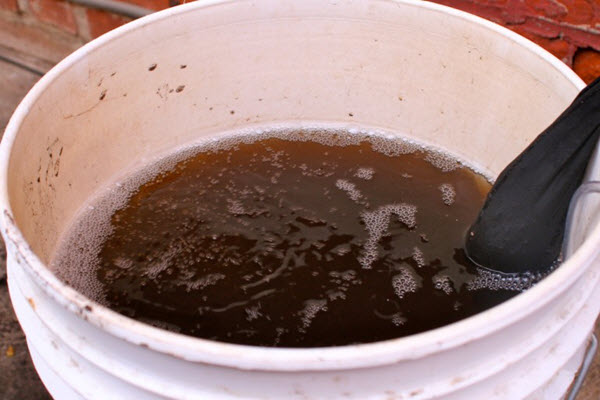 image credit – unclejimswormfarm.com
1. Fill the bin with water and dissolve 3 tablespoons of jaggery in it.
2. Fill the cloth bags or an old sock with compost right up to the brim and tie it up so that the filling doesn't spill out.
3. Drop the filled up bags or sock in the bin.
4. Now insert the air pipe into the bin and weigh it down with the stone.
5. Connect the pipe to a power outlet and turn it on.
6. Leave it overnight to oxygenate the water and help the microbes in the compost to multiply.
Your compost tea is ready the next day.
Things to Keep in Mind When Making Compost Tea
1. Make your compost tea at room temperature and avoid direct sunlight. Make sure you use the aeration equipment. Failure to use it will make the brew toxic to plants.
2. Don't let the oxygen supplying bubble run for more than 48 hours. 24 hours is best otherwise the microbes will die.
3. Use the tea immediately or the microbes will die.
4. Don't spray it on the plants in direct sunlight as the microbes will not survive.
5. And as with any natural fertilizer, don't apply too much of it. Once in 2 weeks is ideal.
Personally, I have not felt the need to use compost tea for my plants but there are those who will swear by it.
Are you a compost tea advocate? Do share your experience with us and tell us if the mixture made a difference to plant growth.