The key to making any good compost is to find a proper balance between the greens and the browns. In my previous post, I discussed the key ingredients to making a good compost and items you should never use for composting. If you are new to composting, you may be concerned about getting the whole process right. In this post, I show you how to make compost from kitchen waste. It is cheap, easy to do and requires less investment but brings in a lot of returns.
The good news is that there are plenty of composting techniques that can suit every lifestyle. If you're living in an apartment or a rented place and don't have a lot of space, you can still compost right inside your house, like I do. Here's my technique to making compost from kitchen waste.
Composting with SmartBin Air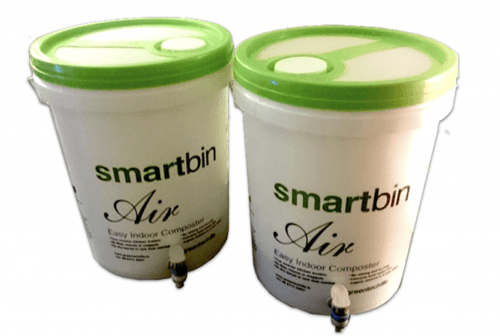 There's no great mystery to what I do for home composting. I use the SmartBin technique from Green Tech Life to compost my kitchen waste.
This technique makes use of specially made bins and a compost enhancer. The essentials of the package consist of one or more bins along with microbe packs called Bio Bloom Air. All you need to do is mix the kitchen waste with the Bio Bloom and set it to compost.
With SmartBin Air, the composting process is the fastest I've ever seen. So here's how to make great compost in just under a month using SmartBin Air.
How to Make Compost from Kitchen Waste
1. To get started with the home composting process, you first need to purchase SmartBin Air from Green Tech Life. It would cost you between Rs. 1800 to Rs. 4000 depending on the bins you order.
2. Unpack the smartbins you purchased. Fit the taps as mentioned in the manual (its just screwing the taps in place), add water to the bins and check if there are any leakages. This should take about 15 minutes or less to get done.
3. Place the strainer inside the bin and adjust the cutout under the strainer so that it is facing the tap.
4. Place a single layer of newspaper over the strainer and add a handful of Bio Bloom Air that comes with the package.
5. Now you can start adding your kitchen waste to the bin. First collect all your fruit and vegetable scraps and chop them into small pieces if they are big. Drop a handful of scrap, then add a handful of Bio Bloom Air.
6. When its done, close the lid tight.
Note: The SmartBin manual says you can add meat, dairy, some types of leftover food, but I suggest you don't do that. Only add the fruit and vegetable waste, coffee grounds, washed used tea bags and tea dregs.
7. Keep adding the kitchen waste until the bin is full. Take care not to let the kitchen waste touch the lid. When full, keep the bin aside for 10 days. You can now repeat the filling process for the second bin and so on.
QUICK TIP: You can also pick up a bagful of fresh vegetable waste from your local vendor and fill up the first bin to speed up the process.
8. After the 10 days are up, you can transfer the contents of the first SmartBin Air to a curing bag and seal it tight. The bag will come as part of the package. Or, you can simply set the bin aside for another 20 days for the composting to happen in the bin itself.
Keep this bin/bag away from rain and direct sunlight. Open it up after 20 days and you should get a beautiful, earthy smelling soil that feels light and crumbly to the touch.
Meanwhile, your second bin of vegetable waste should be ready or already set to pickle. After 10 days, you can set it aside for composting.
SmartBin Air makes the whole process of composting easy, less smelly and perfect for anyone who is short of time and space.
Here's my compost after 2 weeks.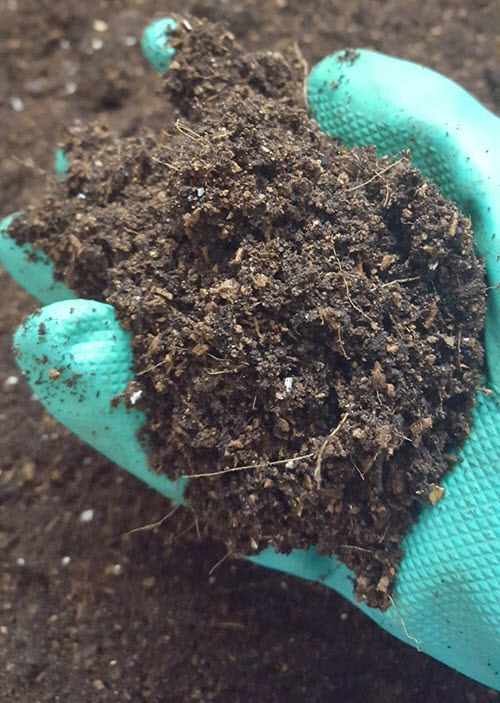 What Not to Add in Your SmartBin
There are some items that should not be added to the SmartBin. They include:
Plastic
Paper
Electronic waste
Gravies and remains of cooked food
Garden waste
Woody shells
Hard stems
Strings from puja flowers
I also suggest leaving out meat, fish, dairy products
SmartBrew
SmartBrew is the liquid that the pickling kitchen waste gives out during the process. It is a rich concoction filled with beneficial microbes that break down matter to their most basic form.
Plants can easily absorb this liquid and it helps boost their growth. SmartBrew must be mixed with water before it is added to the plants. Here's how to harvest the SmartBrew.
1. 15 days after starting your first bin, you can open the tap and drain out the liquid that is collected at the bottom. The quantity of brew you get depends on the type of waste you put into the bin. I usually collect about 200 ml (a cup) of brew every week.
2. You'll need to dilute this with water in the proportion of 1: 40 ( 1 cup brew to 40 cups of water) and pour it directly into the soil once every 10 days. You can also pour this in clogged drains to clear them.
Note: Don't store your SmartBrew. It is best used immediately after collecting from the bin.
Advantages of Using SmartBin for Composting
1. Non messy
One of the big perks of using SmartBin Air is that it is a completely non-messy and non-stinky way of composting. You do get a smell when you open the bin, but its a pickle-like smell, not a stink. Plus, you don't have to keep turning and mixing the stuff every few weeks. Its a set and forget system that works in semi automation mode.
2. Time Saver
Composting with a SmartBin Air is a real time saver. It takes 2-3 minutes to mix the BioBloom and kitchen waste in the bin everyday. Your compost will be ready in about a months time.
3. Quick Healthy Compost
If you buy your first bag of vegetable and fruit scraps for binning, the compost will be ready within 30 days. For a small family, it will take you about a month to fill the bin, 10 days to keep it aside and a further 20 days to compost it, that's about 2 months in all. A big family who uses a bigger bin may have to wait a little longer to get the compost.
4. Bonus Liquid Fertilizer
One of the big perks of using SmartBin Air is that you get a SmartBrew every 15 days or so that acts as a liquid fertilizer for the plants. So this method of composting actually starts to give you returns in just 15 days.
5. Takes Up Less Space
This method of composting takes up less space. This is because all your composting needs are taken care of within 2 bins that can be placed in any corner of the house. You will need another big bag to store the compost and that should take up very little space as well.
6. Endless Supply of Organic Compost
Compost is the key ingredient for a thriving garden. With SmartBin Air and kitchen waste you'll have an endless supply or organic compost to keep your plants healthy and happy.
7. Cost Effective Solution
Once you invest in a SmartBin Air (prices vary from Rs.1790 to 3499), the only investment you will make is a periodic purchase of BioBloom (Rs.344) every 2-3 months depending on usage. That's it! You get an endless supply of the best organic compost for use at a minimal cost. The bins last for as long as 10 years.
8. Support
Green Tech Life has a vibrant community of garden enthusiasts who share their experiences on the Facebook page. You can get in touch with the support team at all times and they are quick to respond and help you should you have any problems.
Downsides to Using the SmartBin
1. Wear and Tear
The bins are subject to wear and tear. The taps especially tend to get clogged and may need to be replaced.
2. Bio Bloom Gets Bad
The Bio Bloom package sometimes tends to get mouldy rendering it unusable. My advice is to restock one package at a time.
3. Compost May Get Worms
You need to follow the composting guidelines very precisely. If water or direct sunlight gets in, the compost may develop worms. Make sure you keep the compost bins indoors and well covered. If you follow the guidelines correctly, you shouldn't have any problems with the compost.
Final Thoughts
SmartBin Air offers a complete composting solution for people with busy lifestyles. If you want your flowers to bloom well, your vegetable plants to yield more, your garden to look lush green and want to save on spending on growth mixes, SmartBin Air is a great composting option to try out.
Check out this 5 minute video on how the whole process works.
You can pick up a SmartBin Air package from Green Tech Life.