Roses are a symbol of love, beauty, and purity. In India, roses play a significant role in religious ceremonies, weddings, and other celebrations. In Hindu mythology, Goddess Lakshmi is said to shower blessings on the home that has roses blooming in their garden. The rose is also well known for its medicinal properties. Rose water has been used for centuries as a natural remedy for skin problems and is also used as an ingredient in many traditional sweets and beverages. In India, a diverse range of rose varieties is available, each showcasing unique colors, fragrances, and characteristics. This article explores the top rose varieties to grow in India. Add them to your garden and enjoy these exquisite blooms every season.
Top Rose Varieties to Grow in India
Hybrid Tea Roses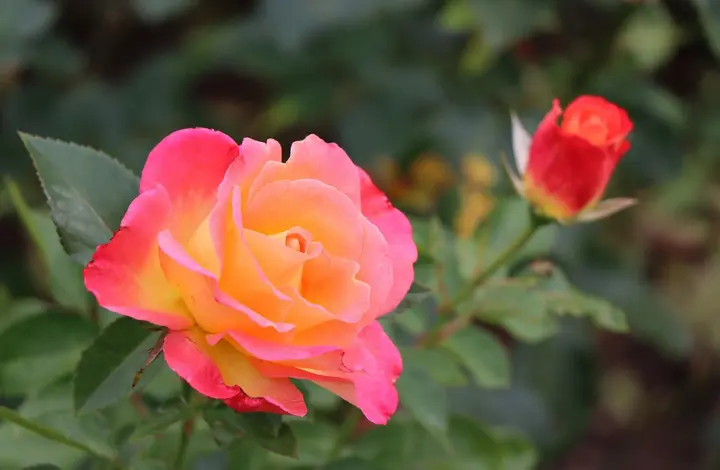 A Popular Choice for Cut Flowers
Hybrid Tea Roses, commonly abbreviated as HT, are among the most popular of the top rose varieties to grow in India. Boasting a bushy nature, these roses feature flowers with 30-50 petals, making them ideal for use as cut flowers. A hybrid of tea and perpetual roses, some popular HT varieties include:
Indian Summer
Double Delight
Evening Star
Dil-ki-Rani
Happiness
Golden Giant
Love
Disco
Kiss of Fire
Sea Pearl
Paradise
Grandiflora Roses
Enchanting Hues and Large Blooms
A cross between Floribunda roses and HT, Grandiflora roses are characterized by their captivating shades of yellow, orange, red, pink, and purple, as well as their large blooms. Some examples of Grandiflora roses are:
Floribunda Roses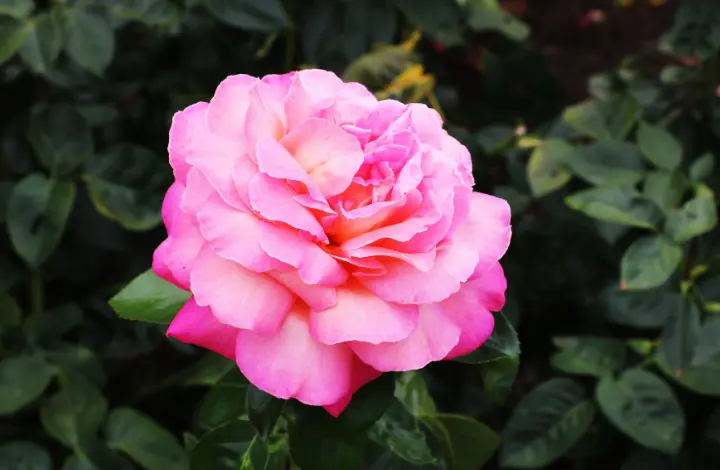 Vibrant Clusters Ideal for Hedges
Floribunda roses, a cross between Polyantha roses and HT, feature dense clusters of large flowers in stunning shades of yellow, white, pink, purple, and orange. This low-growing shrub is perfect for hedge planting. Some popular Floribunda rose varieties include:
Mahak
Kusum
Prema
Rajamani
Sindoor
Chandrama
Golden
Rays
Summer Snow
Sunil Gavaskar
Polyanthas Roses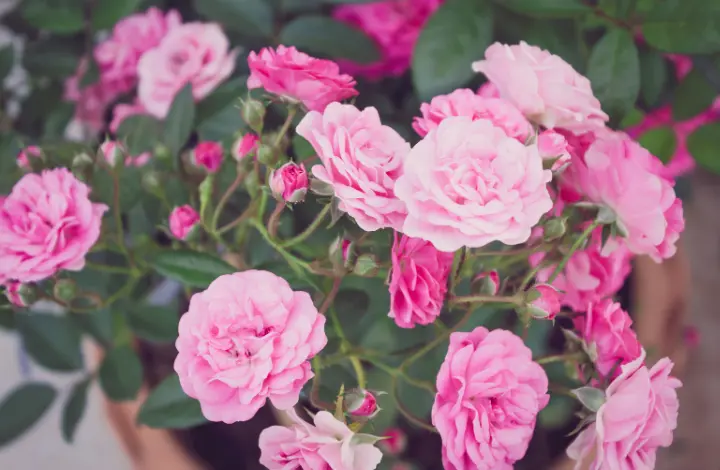 Low-Maintenance and Disease-Resistant
Polyanthas roses are known for their disease resistance and low-maintenance requirements. They create a breathtaking sight when grown along hedges or in a row of pots, displaying enchanting shades of red, pink, and white. Some Polyanthas rose varieties are:
Sneezy
Rashmi
Pink Spray
Fairy Rose
Climbing and Rambler Roses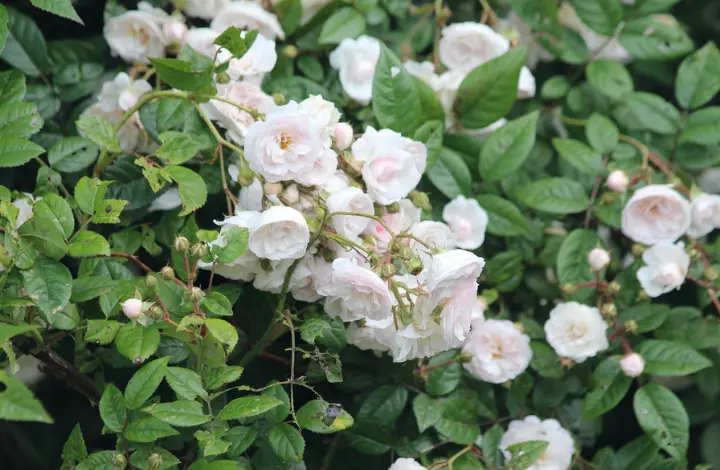 Stunning Garden Décor
Climbing roses resemble vines but are not true vines. They feature long, stiff canes that can be trained using support, and horizontal training promotes better blossoming. Repeatedly blooming large flowers throughout the growing season, some Climbing rose examples are:
Kanyakumari
Eden
May Queen
Rambler roses are similar to climbers but are more vigorous, with flexible stems and dense blooms. These roses can be easily trained on arches and pergolas, making them excellent for garden décor and enhancing your garden's aesthetics. Examples of Rambler roses are:
American Pillar
Snow Goose
Shrub Roses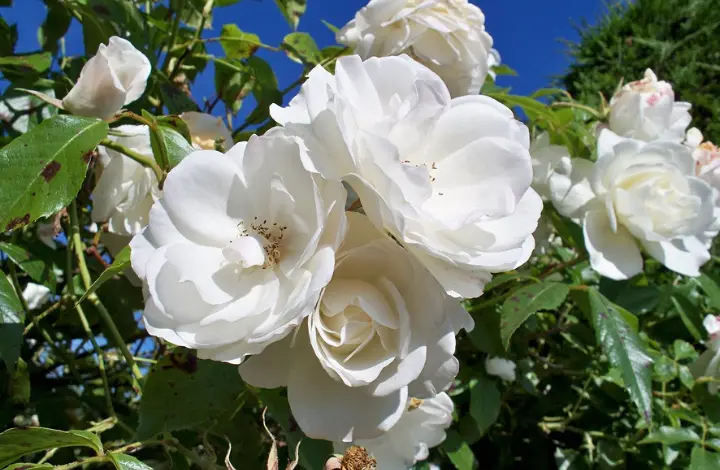 Traditional and Modern Attributes
Shrub roses showcase features of both traditional and modern roses. Their flowers have double petals, closely fitted to one another, giving them a small cabbage-like appearance. Shrub roses can be found in a spectrum of colors, excluding green and blue. Some examples are:
Bourbon Roses
Fragrant and Used for Rose Oil
Bourbon roses are a cross between old blush China roses and Damask roses, primarily grown in the Haldighatti and Pushkar regions of India. Known for their pleasant fragrance, these roses are used to produce rose oil and gulkand. Bourbon roses can be found in snow-white or dark pink shades. An example of a Bourbon rose is:
Damask Roses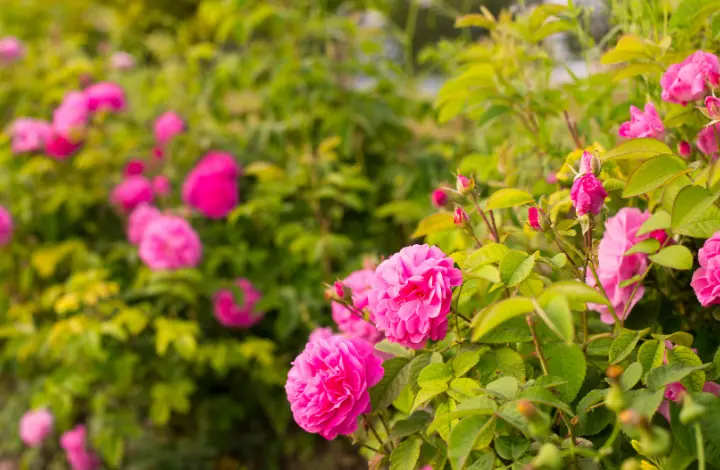 Edible Petals and Used for Attar
Damask roses are a cross between Rosa moschata and Rosa gallica, featuring deep pink to light pink flowers. In India, this variety is used to make "attar," a type of rose oil. Their petals are edible and can be used for herbal teas, flavoring dishes, and making preservative gulkand. Some examples of Damask roses are:
Noorjaha
Him Jwala
Him Himroz
Alba Roses
Ancient Variety with Sweet Aroma
Alba roses are one of the oldest rose varieties. They can withstand shady environments and are resistant to diseases. The flowers display lovely pink to white shades and emit a sweet aroma that soothes the senses.
Kashmiri Roses
Velvety Soft and Ideal for Cut Flowers
Kashmiri roses are perfect for cut flowers, featuring a light scent and eye-catching bright red petals. This variety resembles HT roses, and their velvety soft petals make them an excellent choice as a cut flower gift.
Miniature Roses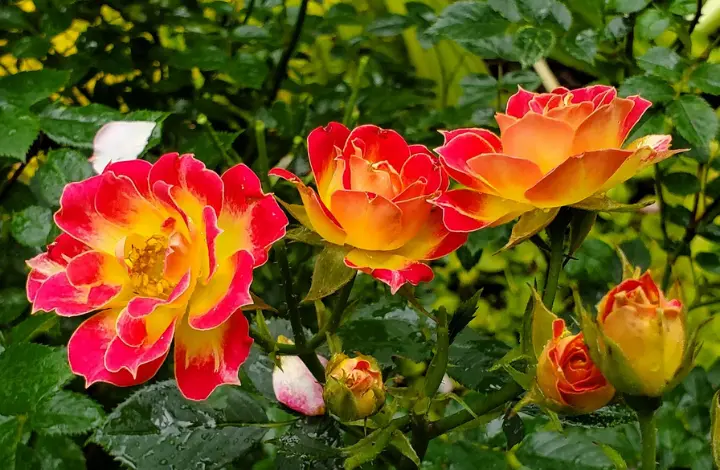 Hardy and Perfect for Fencing
Miniature roses, as the name suggests, are small in size, with flowers that are no more than 5cm in diameter. They come in different colors like pink, red, white and yellow. These miniature roses have a lot of features similar to their larger counterparts such as fragrance and petal count.
They are perfect for container gardening as they do not require much space. One of the most significant advantages of miniature roses is that they require very little maintenance.
They are hardy and disease-resistant which makes them an ideal choice for beginners who want to try their hands at gardening. Miniature roses bloom continuously throughout the year making them attractive when grown indoors. Some varieties of miniature roses are:
Baby Love
Dazler
Lavender Jewel
Beauty Scarlet
Conclusion
Growing roses in India is not only easy but also rewarding as there are plenty of varieties to choose from. Hybrid Tea Roses, Floribunda Roses, Climbing Roses, and Miniature Roses are some of the top rose varieties to grow in India. They offer unique features that make them perfect for different situations such as container gardens or trellises.
Also Read:
With proper care and attention, anyone can grow these beautiful plants right in their own backyard or even indoors! Give it a try – you won't be disappointed!
##RoseWaterDelight
I always make fresh rose water at home from the Damask roses that grow in my garden. If this is something that interests you, here's a quick guide on how to do it.
How to Make Rose Water from Home Grown Damask Roses
Step 1: Collect the Roses
Pick fresh roses from your garden. Early morning is the best time to do this, as the roses are most aromatic and hydrated. You'll need about 4-5 full-blooming roses.
Step 2: Rinse the Petals
Rinse the rose petals thoroughly under cool water to remove any dirt or bugs.
Step 3: Place Petals in a Pot
Place the rose petals in a large pot. The petals should fill the pot up to half.
Step 4: Add Distilled Water
Pour enough distilled water into the pot to just cover the rose petals, but no more, to ensure your rose water won't be diluted.
Step 5: Heat the Petals
Place the pot on the stove and bring the water to a simmer over low heat. Then, let the petals simmer until they lose their color.
Step 6: Strain the Water
The petals will lose their color and the water will take on the color of the petals. Strain it and pour it into a bottle or jar using a cloth or fine mesh sieve.
Step 7: Store Properly
Cover the jar or bottle and let the rose water cool. Afterwards, store it in the refrigerator. It should last for about a month.
Please remember to use only roses that haven't been treated with pesticides or other chemicals.
We'd love to know which roses you have in your garden and if you have any special care routine for them. Please share them in the comments section.
EdensField Live RED Rose Plant
A Quality Product From EdensField.
Material:Natural plant & best quality plastic pot
Plants subjected to extreme cold and heat across a 24-hour period do not grow as well as greenhouse…
If kept in the shade, these plants become leggy and weak-stemmed.
Safe Packaging and Secure Delivery all across India..
Last update on 2023-09-09 / Affiliate links / Images from Amazon Product Advertising API