Originating from the sunny and rich soils of South India, specifically the coastal town of Mangalore in Karnataka, the Kalapadi Mango is a hidden gem among the many varieties of mangoes out there. This medium-sized fruit transitions from a deep green to a radiant yellow as it ripens, packing a punch of delicious sweetness with a hint of spice that sets it apart from the rest. The Kalapadi variety is one of the best mangoes to grow in pots or containers. In this article, we'll show you all growing requirements of Kalapadi Mango so that you can consider growing it your own terrace garden.
Origin of Kalapadi Mango
Kalapadi Mango finds its roots in the Konkan region, specifically in the village of Kalappadi, located in the Bodinaikkannur area of Tamil Nadu, near the border of Kerala.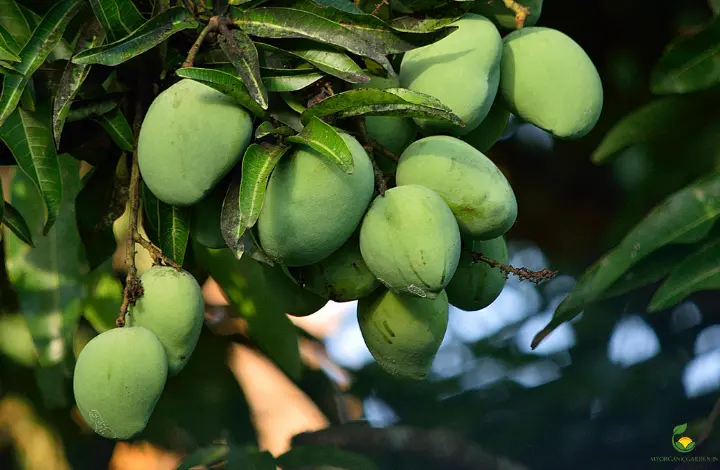 Characteristics of Kalapadi Mango
Fruit Size and Shape:
Kalapadi Mango typically weighs around 100-200 gms per piece. The fruit of the Kalapadi mango is medium-sized with a slightly oval shape. When ripe, the skin exhibits a beautiful gradation of green and yellow colors.
Color:
The flesh is succulent, mildly fibrous, and deep orange in color.
Appearance of Leaves:
Mango leaves are typically lanceolate (long and narrow like a lance) or elliptical in shape. They are pointed at the tip and broader at the base. Young leaves of the mango tree, including the Kalapadi mango, usually emerge in flushes and are reddish or purplish in color. As they mature, they turn dark green with a glossy surface.
Flavor:
Unlike some other mango varieties, Kalapadi mangoes do not exude a strong aroma until they are fully ripe. The flavor is unique, blending sweetness and tartness with a distinctive underlying spice note.
Fruit Season and Shelf Life:
The fruiting season of Kalapadi Mango spans from March to June. Freshly harvested Kalapadi mangoes can last for a week or two at room temperature until they're fully ripe. Once ripe, they should be consumed within a day or two for the best taste and texture.
Gestational Period and Tree Height:
The grafted varieties of Kalapadi Mango trees take 3-5 years to bear fruit. It can grow to about 10 to 15 meters (around 33 to 50 feet) in height. When pruned and maintained properly, or when grown in a pot, the tree can be kept to a more manageable size, making it suitable for home gardens and urban settings. Despite being a bit smaller, these well-maintained trees can still produce a generous crop of mangoes.
Powdery Residue:
This mango has a distinct white powder on its skin. This is said to keep off certain pests such as fruit flies.
#ProTip: When you buy a grafted plant from a nursery, pick up a plant that has at least 3 nodes, or a tree that is about 2 feet tall. This will ensure quicker fruiting.
Cultivation of Kalapadi Mango
Climate Requirements
To successfully cultivate Kalapadi Mango, it is essential to understand its climate and soil preferences.
Kalapadi mangoes, like most mango varieties, thrive in a tropical or subtropical climate. They require ample sunlight and prefer temperatures between 24°C and 27°C (75°F – 80°F), but can tolerate a wider range.
While mango trees can withstand occasional cooler temperatures, they are sensitive to frost and extremely cold weather, which can damage the plant.
The tree needs a dry period, especially in the months preceding flowering, as excessive rainfall or humidity can lead to fungal diseases and affect fruit production.
Soil Requirements
The potting mix for mangoes should be well-draining, as mango trees do not tolerate waterlogging.
The ideal pH range for the soil is between 5.5 and 7.5. Mango trees can tolerate slightly alkaline or acidic soils, but they do best in a neutral pH.
The soil should be fertile and rich in organic matter. Regular applications of compost or well-rotted manure can help maintain soil fertility.
The soil should be light and airy to allow the roots to breathe and grow properly.
Pot Requirements
Growing mango trees, including the Kalapadi variety, in pots requires thoughtful consideration of the pot size. Here's a general guideline:
Initial Planting: When you're starting out with a young sapling or a grafted tree, you can begin with a pot that is about 20-24 inches (50-60 cm) in diameter and depth. This size provides enough room for the roots to grow and develop in the initial years.
Repotting: As the tree grows, it will need more room for its expanding root system. Generally, it's a good idea to repot the tree into a larger pot every 2-3 years until it reaches the maximum manageable size for your space. Mature potted mango trees can grow quite large, and might eventually need a pot that's 45-48 inches (114-122 cm) in diameter.
When choosing a pot, besides size, consider the material. Clay or air pots are excellent for maintaining soil temperature and preventing overheating.
Make sure the pot has good drainage to avoid waterlogging, which mango trees don't tolerate well. A pot with built-in wheels or a plant caddy can be useful for moving your tree around to catch the sun, or bring it indoors in cold weather if you live in a non-tropical region.
Remember, growing Kalapadi mangoes in pots requires attention to watering and feeding. Water regularly, but make sure the soil doesn't become waterlogged. Feed the tree with a balanced fertilizer to ensure it gets the nutrients it needs for healthy growth and fruit production. Regular pruning will also help maintain a manageable size for pot cultivation.
Kalapadi Mango Care
#ProTip: Young fruiting Kalapadi mango trees may require temporary stake support to establish stability during the initial growth phase.
Kalapadi Mango cultivation requires proper care and attention to ensure healthy growth and a bountiful harvest. Here are some essential tips for plant care:
Watering: Maintain moderate moisture levels throughout the year, with increased watering during flowering and fruiting. However, reduce watering during the winter months to prevent waterlogging.
Fertilization: Apply organic fertilizers, such as compost or well-rotted manure, during the growing season to promote healthy growth and fruit development.
Pruning: Regularly prune the mango trees to maintain their shape, remove dead or diseased branches, and improve air circulation.
Pest and Disease Control: Monitor the trees for common pests and diseases, such as mango hoppers, fruit flies, and anthracnose. Take appropriate measures, such as using organic pesticides to control and prevent infestations.
Conclusion
Kalapadi Mango is a delightful variety known for its distinctive flavor, juicy flesh, and beautiful golden yellow color. With proper cultivation techniques and care, you can enjoy the sweetness of this mango in your own terrace garden. So, embark on your journey of Kalapadi Mango cultivation and experience the joy of growing and savoring this delectable fruit.
Happy gardening and mango feasting!