Growing mango trees in pots can be a rewarding experience for any avid gardener. Not only does it allow you to enjoy the beauty of these tropical trees in your own backyard, but it also gives you the opportunity to savor the delicious fruits they produce. However, many of us get disappointed when our potted mango trees fail to yield as much fruit as we had hoped. If you're facing a similar problem, don't worry! In this article, we'll explore the secrets to boosting mango tree yield through effective fertilization techniques. By understanding the nutritional needs of mango trees and choosing the right fertilizers, you can ensure that your potted mango tree thrives and produces a bountiful harvest.
Why is fertilization important for mango tree yield?
Fertilization plays a crucial role in enhancing the yield of mango trees, especially when they are grown in pots. Mango trees require a combination of macro and micronutrients to grow and produce fruit. In natural settings, these nutrients are provided by the soil. However, potted mango trees have limited access to nutrients, as the soil volume is restricted. Therefore, it becomes essential to supplement the soil with fertilizers to meet the nutritional requirements of the tree. Fertilizers provide an additional source of nutrients, ensuring that the mango tree has all the elements it needs to grow vigorously and bear an abundant harvest.
Understanding the nutritional needs of mango trees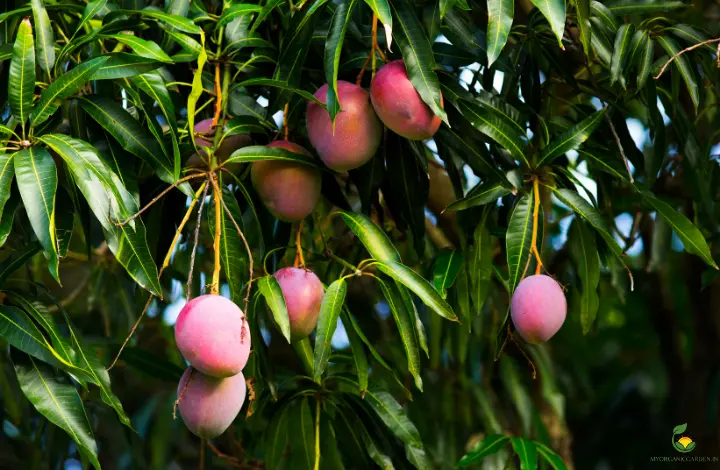 Before diving into the world of fertilization, it's important to understand the specific nutritional needs of mango trees. The three primary macronutrients required by mango trees are nitrogen (N), phosphorus (P), and potassium (K).
Nitrogen promotes leaf and stem growth. Phosphorus aids in root development and flower formation. Potassium enhances fruit production and quality.
Additionally, mango trees require secondary macronutrients such as calcium, magnesium, and sulfur, as well as various micronutrients like iron, manganese, and zinc. By ensuring that your potted mango tree receives an adequate supply of these nutrients, you can significantly increase its yield.
| | | |
| --- | --- | --- |
| Nutrient Type | Nutrient | Organic Sources |
| Macronutrients | Nitrogen (N) | Compost, Manure, Mustard Cake, Neem Cake |
| | Phosphorus (P) | Bone Meal, Rock Phosphate |
| | Potassium (K) | Wood Ash, Compost |
| Secondary Macronutrients | Calcium (Ca) | Gypsum, Lime, Bone Meal |
| | Magnesium (Mg) | Epsom Salts, Dolomitic Lime |
| | Sulfur (S) | Gypsum, Epsom Salts |
| Micronutrients | Boron (B), Chlorine (Cl), Copper (Cu), Iron (Fe), Manganese (Mn), Molybdenum (Mo), Zinc (Zn) | Compost, Rock Dusts, Foliar sprays like seaweed extract |
Choosing the right fertilizer for mango trees
Selecting the right fertilizer is crucial for maximizing the yield of your potted mango tree.
For young trees in pots, use small applications of liquid fertilizer every month or so. Look for a fertilizer that's low in nitrogen, higher in potassium and phosphorus, and contains magnesium, like a 6-6-6-2 (N-P-K-Mg)
For mature trees (3 years and older), fertilize three to four times a year with a balanced fertilizer 10-10-10 or 12-12-12.
This balanced formulation ensures that all the essential nutrients are provided in appropriate proportions.
#ExpertTip: Cut, dry and grind banana peel. Soak a tsp of this in water and spray on the mango tree to boost blooming.
Look for fertilizers that are specifically formulated for fruit trees or tropical plants. These fertilizers often contain micronutrients that are vital for mango tree growth.
Erwon® Mango Growth Booster, Premium Essential Powerful Organic Fertilizer for Overall Growth of…
Complete Nutrition for Healthy Mango Plants : Increases active microbes in the soil, maximises…
All In One mango organic Plant growth fertilizer with micronutrients, active iron – for better plant…
Very Effective on all varieties of mango plants: fast growth of Plants, balances pH, nitrogen and…
Very Popular choice of mango farmers – Easy to Use and Store: it comes in reusable zip lock pouch,…
Immunity Booster and Disease Control : Improves the immunity of mango plants very fast and helps in…
Garden King™ Npk For Mango Plant Growth (200 Gm), Essential Npk Fertilizer For Fast Growth And A…
Mango fruits, Bigger size, Brighter Leaves, healthy Stems and Stronger Roots. Full and Complete…
Brighter Leaves, healthy Stems and Stronger Roots. Full and Complete Balanced diet for Healthy…
Nitrogen, phosphorous and Potassium and for better overall growth of plants.
Long Lasting, Easy to use and store ; comes in reusable box for easy to use and store as per…
Prepared and packed as per international standard under the direct supervision of gardening experts.
Additionally, slow-release fertilizers are beneficial for potted mango trees as they provide a steady supply of nutrients over an extended period. Remember to always follow the instructions provided on the fertilizer packaging for the correct dosage and application method.
Timing and frequency of fertilization
The timing and frequency of fertilization are key factors in boosting mango tree yield. It's best to fertilize your potted mango tree during its active growing season, which is typically in spring and summer.
Start fertilizing when new growth begins and continue until the end of the growing season. For established potted mango trees, a general guideline is to fertilize every 4-6 weeks.
#ExpertTip: The best time to fertilize mango trees is during the rainy season, as the roots of the tree can absorb more nutrients from the soil during this time.
However, always monitor your tree's growth and adjust the frequency if needed. During the winter months, reduce or stop fertilization as the tree enters its dormant phase. This allows the tree to rest and prepare for the next growing season.
Techniques for applying fertilizer to potted mango trees
When it comes to applying fertilizer to potted mango trees, there are a few techniques that can help you achieve optimal results.
Firstly, ensure that the fertilizer is evenly distributed around the tree's root zone. This can be done by sprinkling the fertilizer on the soil surface or by creating small holes around the tree and placing the fertilizer inside.
Secondly, avoid applying fertilizer directly to the trunk or foliage, as it can cause burns or damage. Watering the tree after fertilization helps to dissolve the nutrients and carry them down to the root zone.
Lastly, consider using organic fertilizers or compost to supplement the nutrition of your potted mango tree. Organic fertilizers improve soil health and provide a slow and steady release of nutrients.
#ExpertTip: If your mango tree is affected by fungal disease, mix a spoon of sour curd and Asafoetida/Hing (preferably Paal Perungayam that is available in Herbal (Naatu Marundhu) stores) in one litre of water and spray on the affected area.
Additional tips for boosting mango tree yield
In addition to proper fertilization, there are a few other tips that can help you boost the yield of your potted mango tree. Firstly, ensure that your tree receives adequate sunlight. Mango trees thrive in full sun, so make sure to place your pot in a location that receives at least 6-8 hours of direct sunlight per day.
Secondly, provide regular and consistent watering to keep the soil moist but not waterlogged. Mango trees require well-draining soil, so avoid overwatering as it can lead to root rot.
Lastly, consider pruning your mango tree to promote airflow and remove any dead or diseased branches. Pruning helps to maintain the overall health and vigor of the tree, resulting in increased fruit production.
Common mistakes to avoid when fertilizing mango trees
While fertilization is crucial for mango tree yield, there are some common mistakes that gardeners should avoid.
Overfertilization can be detrimental to the health of your potted mango tree. Excessive amounts of fertilizer can cause nutrient burn, leading to leaf scorch and poor fruit production. It's important to follow the recommended dosage and not exceed it.
Neglecting to water your mango tree after fertilization can result in nutrient imbalances and potential fertilizer burn. Always water the tree thoroughly after applying fertilizer to ensure proper nutrient absorption.
Lastly, using the wrong type of fertilizer or applying it at the wrong time can also hinder the growth and yield of your mango tree.
Take the time to research and choose the appropriate fertilizer for your potted mango tree, and follow the recommended timing and frequency guidelines.
Monitoring and assessing the success of your fertilization techniques
To gauge the effectiveness of your fertilization techniques and track the success of your efforts, it's important to monitor and assess the growth and yield of your potted mango tree.
Keep a record of the fertilizers used, their application dates, and the dosages applied. Regularly observe the tree for signs of healthy growth, such as vibrant foliage, strong branches, and an abundance of flowers. Once the fruit sets, monitor the development and size of the mangoes.
By comparing the current year's yield with previous years, you can determine if your fertilization techniques have been successful in increasing the mango tree yield.
Conclusion
In conclusion, if you're struggling with low fruit yield from your potted mango tree, fertilization is the key to unlocking its true potential. By understanding the nutritional needs of mango trees, choosing the right fertilizer, and following proper application techniques, you can significantly increase the yield of your potted mango tree.
Remember to fertilize during the active growing season, monitor the timing and frequency of fertilization, and apply the fertilizer evenly around the root zone. Additionally, consider other factors such as sunlight, watering, and pruning to optimize the growth and fruit production of your mango tree. With these secrets in hand, you'll be able to enjoy a bountiful harvest of delicious mangoes right from your own backyard.
Happy gardening!
Last update on 2023-09-16 / Affiliate links / Images from Amazon Product Advertising API