Morning glories (Ipomoea purpurea) are stunning vines that are known for their vibrant, trumpet-shaped flowers. These annual beauties can bring a touch of old-fashioned charm to any garden. Whether you have limited space or simply want to keep these vigorous climbers in check, growing morning glory in containers is a convenient and rewarding option.
In this comprehensive guide, we will walk you through the process of planting, growing, and caring for morning glory flowers in containers. From selecting the right container to providing the ideal growing conditions, we'll cover everything you need to know to successfully cultivate these delightful vines. So let's dive in and discover how you can enjoy the beauty of morning glory in a compact yet captivating way.
Growing Morning Glory in Containers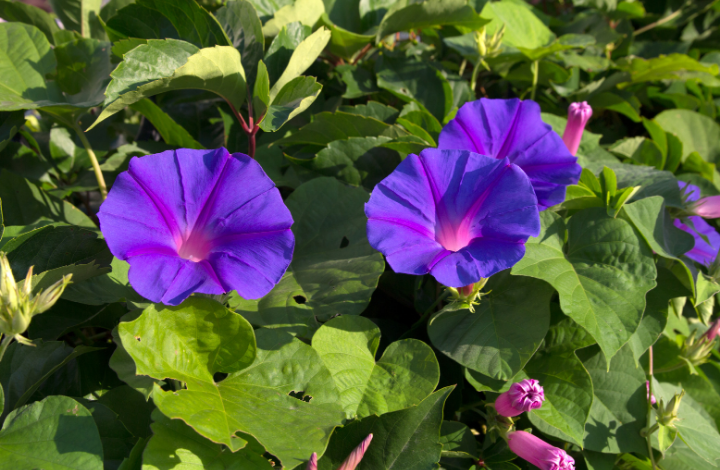 Container growing offers several advantages when it comes to cultivating morning glories. Whether you're concerned about these vigorous vines taking over your garden or you simply want the flexibility to move them around, growing morning glories in containers can be a game-changer. Here are some benefits of container gardening with morning glories:
Control Over Growth
Morning glories are quick-growing and have a tendency to spread rapidly. By growing them in containers, you can easily control their growth and prevent them from taking over your garden. This allows you to enjoy their beauty without worrying about their aggressive nature.
Versatility of Placement
Containers give you the freedom to place your morning glory vines anywhere you desire. Whether you have a balcony, patio, or limited garden space, you can create a stunning vertical display by training these vines up trellises or other support structures. This versatility allows you to enjoy morning glories in even the smallest of spaces.
Overwintering Options
In warmer climates, morning glories are perennial plants. By growing them in containers, you can easily move the pots indoors during winter or inclement weather, ensuring their survival and allowing you to enjoy their beauty year after year.
#Symbolism: In Victorian flower language, morning glories represent love, affection, and mortality.
Now that we've explored the advantages of container growing, let's dive into the step-by-step process of planting morning glories in containers.
1. Selecting the Right Container
Choosing the right container is crucial for the successful growth of morning glories. Here are some factors to consider when selecting a container:
Size
Morning glories have deep roots and require ample space to grow. Aim for a container that is at least eight to ten inches wide and six inches deep to provide enough room for their roots to spread.
Drainage
Proper drainage is essential for the health of your morning glory plants. Look for containers with drainage holes to ensure excess water can escape and prevent waterlogging, which can lead to root rot.
Material
Containers can be made from various materials, including plastic, clay, or wood. Each material has its own advantages and considerations. Plastic containers are lightweight and retain moisture well, while clay pots are more porous and can help with soil aeration. Wood containers can offer a more natural aesthetic but may require more frequent watering.
Whatever material you choose, make sure it is suitable for outdoor use and can withstand the elements.
2. Choosing the Right Potting Soil
Morning glories thrive in well-draining soil that is rich in organic matter.
Choose a potting soil mix that is enriched with organic matter or compost to provide the necessary nutrients for healthy growth.
Morning glories prefer slightly acidic to neutral soil with a pH range of 6.0 to 6.8. Test the pH of your potting soil and make adjustments if necessary using organic soil amendments.
Ugaoo Organic Potting Garden Soil Mix for Plants Home Garden 5 Kg
Garden Soil Mix – Organic potting soil mixture for indoor plants, outdoor plants, flowering plants,…
An organic mixture of nutrient rich Red Soil and Cow Manure.
Ready to Use, No further mixing required.
Good all purpose soil for plants & growing vegetabels, flowers, herbs.
Custom blended soil mix for all varieties of pot plants and beddings.
3. Planting Morning Glory Seeds
Once you have your container and potting soil ready, it's time to plant your morning glory seeds. Follow these steps for successful seed planting:
1. Preparing the Seeds
Morning glory seeds have a hard outer coat that can benefit from some pre-planting preparation. To improve germination rates, you can soak the seeds in warm water overnight before planting. This softens the seed coat and promotes faster sprouting.
#Nocturnal Blooms: Many morning glory species exhibit a fascinating characteristic known as "photoperiodism." Their flowers open in the morning but typically close by midday. However, some species, like the moonflower (Ipomoea alba), bloom in the evening and remain open throughout the night, releasing a sweet fragrance to attract night-flying pollinators.
2. Sowing the Seeds
Fill your container with the prepared potting soil, leaving about an inch of space below the rim. Make small indentations in the soil, about a quarter-inch deep, and place one or two seeds in each indentation. Cover the seeds with soil and lightly press down to ensure good seed-to-soil contact.
3. Watering
After sowing the seeds, give them a thorough watering. Ensure the soil is evenly moist but not waterlogged. Morning glories prefer consistent moisture, so monitor the soil moisture levels and water whenever the top inch of soil feels dry.
4. Germination
Place your container in a warm location with ample sunlight. Morning glories require full sun to thrive, so choose a spot that receives at least six to eight hours of direct sunlight each day. With proper care, the seeds should germinate within 5 to 21 days.
5. Thinning Seedlings
Once the seedlings emerge, it's important to thin them to ensure healthy growth. Remove any weak or crowded seedlings, leaving only the strongest two or three plants per container. This allows the remaining seedlings to have enough space and resources to grow into robust vines.
Providing the Right Growing Conditions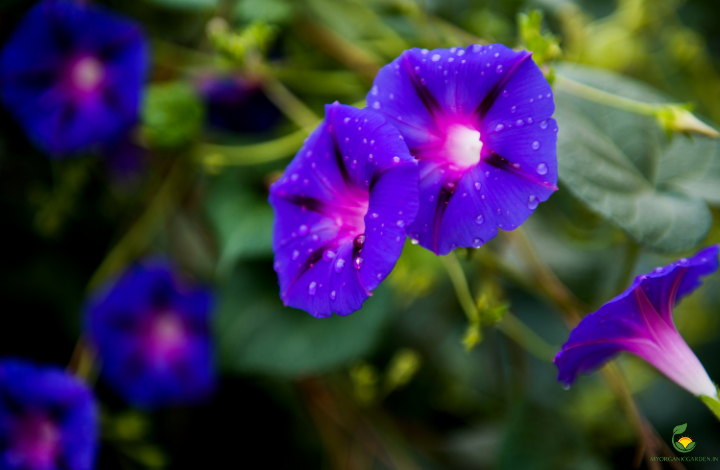 Morning glories have specific requirements when it comes to their growing conditions. By providing the right environment, you can help your container-grown morning glories thrive. Here are some factors to consider:
Sunlight
Morning glories are sun-loving plants and require full sun to bloom at their best. Ensure your container is placed in a location that receives ample sunlight throughout the day. If you have a balcony or patio, position the container in a spot that gets maximum sun exposure.
Watering
Morning glories prefer consistent moisture, so regular watering is essential. Check the moisture levels in the soil regularly and water whenever the top inch of soil feels dry. Aim to provide about an inch of water per week, adjusting the frequency based on weather conditions.
Temperature and Humidity
Morning glories are hardy plants that can tolerate a wide range of temperatures. They grow as annuals in cooler regions, while in tropical and subtropical areas, they can be perennials. These plants are adaptable and do not have specific humidity requirements, making them suitable for various climates.
Fertilizing
To promote healthy growth and abundant blooms, it's beneficial to fertilize your container-grown morning glories. Use a balanced, slow-release fertilizer or an organic fertilizer specifically formulated for flowering plants. Apply the fertilizer according to the package instructions, usually every four to six weeks during the growing season.
Training Morning Glory Vines
Morning glories are vigorous climbers that require support to reach their full potential. By training the vines, you can create a stunning vertical display in your container garden. Here's how to train your morning glory vines:
1. Provide a Trellis or Support Structure
Install a trellis, fence, or other support structure in your container to give the morning glory vines something to climb on. Ensure the support is sturdy and tall enough to accommodate the potential height of the vines.
2. Introduce the Vines to the Support
As the morning glory vines grow, gently guide them towards the support structure. Encourage them to wrap around the trellis or weave through the openings of a fence. You can use plant ties or soft twine to secure the vines to the support if needed.
3. Regular Maintenance
Monitor the growth of your morning glory vines and adjust their positioning as necessary. Prune any excessive growth or wayward branches to maintain the desired shape and prevent overcrowding.
Common Pests and Diseases
While morning glories are relatively resistant to pests and diseases, a few issues may arise. Here are some common problems and how to address them:
Pests
Aphids and leaf miners are occasional pests that can affect morning glories. Monitor your plants regularly and take action if you notice an infestation. You can remove pests by hand or use organic pest control methods such as releasing beneficial insects or applying neem oil.
Diseases
Morning glories can be susceptible to fungal diseases such as leaf spot, rust, and Fusarium wilt. To prevent these diseases, avoid overhead watering and provide adequate spacing between plants for good air circulation. If necessary, apply copper or sulfur sprays to prevent further infection.
Popular Morning Glory Varieties
Morning glories come in a wide range of colors and cultivars, each with its own unique charm. Here are some popular morning glory varieties you might consider for your container garden:
Heavenly Blue (Ipomoea tricolor)
This cultivar features large, blue flowers and heart-shaped leaves, creating a striking visual display.
Moonflower (Ipomoea alba)
Moonflowers are night-blooming morning glories with stunning white flowers that open in the evening and close during the day. They add a touch of enchantment to any garden.
Cardinal Climber (Ipomoea x multifida)
This hybrid variety produces vibrant red flowers and is a favorite among hummingbirds.
Star of Yelta (Ipomoea purpurea)
Star of Yelta features deep purple flowers with dark red stars and small white throats, creating a captivating contrast.
Kniola's Black (Ipomoea purpurea)
This variety stands out with its deep purple blooms, which are even darker than those of the Star of Yelta.
Experiment with different morning glory varieties to create a stunning display of colors in your container garden.
Golden Hills Farm® (AVG 50-500) seeds IPOMEA MORNING GLORY FLOWER SEEDS
HYBRID QUALITY Ipomea Morning Glory FLOWER SEED
HIGH QUALITY (AVG 50 -500) seeds
Seeds may treated with Thiram, a fungicide just used for seeds safety to increase seeds dormancy…
High germination rates – the seeds in your growing kit are open pollinated with good germination…
You Get The Results In Under 40 to 50 Days .For More Information About the Flower Read Our…
FAQ About Morning Glory Plants
Q. Why is my morning glory plant not flowering?
A. Morning glory plants require full sun to bloom. If your plant is not getting enough sun, it may not flower. They also prefer well-draining soil and may not bloom if the soil is too wet.
Q. Are morning glory plants toxic to pets?
A. Morning glory plants can be toxic to pets if ingested. The seeds and leaves contain a chemical called lysergic alkaloids, which can cause vomiting, diarrhea, and other symptoms.
Q. How do I propagate morning glory plants?
A. If you want to propagate morning glory plants, you can collect the seeds from the pods that form after the flowers have faded. Simply let the pods dry out on the vine, then collect the seeds and store them in a cool, dry place until you are ready to plant them.
Q: How long does it take for morning glory seeds to germinate?
A: Morning glory seeds typically germinate within 5 to 10 days if provided with the right conditions, including warm soil and sufficient moisture.
Q: Can morning glories be grown indoors?
A: While morning glories are primarily outdoor plants, they can be grown indoors if provided with ample sunlight and a large container. However, they tend to thrive best in outdoor environments.
Q: Are morning glories invasive?
A: Some morning glory species, such as field bindweed (Convolvulus arvensis), can be invasive and difficult to control. However, many cultivated morning glory varieties are not invasive.
Conclusion
Growing morning glories in containers is a fantastic way to bring the beauty of these vibrant flowers into your garden, regardless of space limitations.
By following the steps outlined in this comprehensive guide, you can successfully plant, grow, and care for morning glory vines in containers. With their captivating flowers and versatility, morning glories are sure to bring joy and charm to your outdoor space. So why not embark on a container gardening adventure with these delightful climbers and enjoy their beauty year after year?
Last update on 2023-09-09 / Affiliate links / Images from Amazon Product Advertising API