Coriandrum sativum popularly known as coriander or cilantro is a wonderfully fragrant herb that is a staple in most Indian kitchens. But you won't find this plant in most home gardens. That may be due to the perception that the coriander plant is difficult to grow. But that's not the case at all. If you follow these simple planting instructions, you can have the freshest, cleanest coriander to garnish your meals everyday. Here are some tips on how to grow cilantro or coriander in containers in your home garden.
Cilantro is usually grown from the coriander seeds, which are encased inside a tough casing. If you sow the seeds as is, they will take a very long time to germinate. On the other hand, if you crush the seeds and soak them in warm water for about 24 to 48 hours , you increase their chances of germinating quickly. After a couple of days, take the seeds out from the water and allow them to dry.
Now you can plant the seeds either indoors or outdoors. Place the seeds in the soil and cover them with about a  quarter inch layer of soil. You can grow the seeds in a bunch as the leaves will offer some cool shade to the tender roots in the initial stages of their growth.
If you are growing cilantro indoors, wait for the seeds to grow about 2-3 inches tall and when there are few leaves you can transplant them outdoors. When transplanting outdoors, make sure you do it in the evening and water the plant thoroughly. Cilantro plants usually don;t like to be moved around, so it is best to sow them in the pot you plan to grow them.
Conditions for Growing Cilantro or Coriander in Containers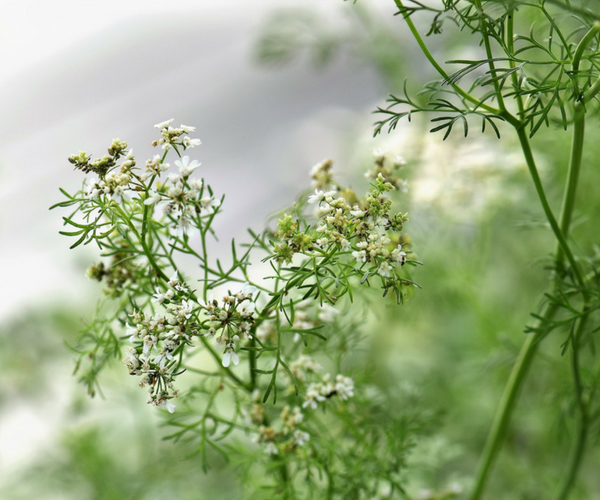 Sun
Cilantro is not a sun loving plant. It hates hot weather so if you attempt to grow it in conditions that are hot, they will bolt and go to seed. However, when you sow the seeds, place them in full sun until they germinate. This will take about 7-10 days. Ensure that you grow you plants in a cool area in your garden, preferably under the shade of other plants. Provide the plant with early morning or late evening sun and make sure it is well protected from the midday sun.
Soil
Cilantro requires a fertile soil that is well drained. Add plenty of organic compost and manure in your soil before sowing the seeds.
Water
Cilantro requires a good moist soil for growing so make sure you keep the soil moist. Also take care not to overwater and turn the soil wet.
Pot
Choose a deep pot, at least 10 inches deep and 18 inches wide.
Fertilizer
Once the seeds germinate, cilantro will start growing very quickly. Apply a liquid fertilizer every week to promote growth and once a month add an organic slow release fertilizer into the soil.
Harvesting
Keep harvesting the leaves once they reach a height of about 4 inches. You can cut off about one third of the leaves for cooking. If you don't harvest the leaves often, they will quickly bolt and go to seed. If you harvest the crop frequently, it will continue to produce leaves for a longer period of time.
Sooner or later the coriander plant will start blooming. When this happens it will start producing leaves and focus on producing seeds. You can leave the seeds for re-seeding and showing fresh new plants or you can pluck them and use them in your cooking. If you want an uninterrupted supply of coriander, plant a fresh crop of coriander seeds every month.