Bougainvillea is a beautiful and hardy tropical plant that thrives well in our Indian climate. With its vibrant hues and low maintenance nature, bougainvillea makes an excellent addition to your garden, balcony, or terrace. In this comprehensive guide, we will cover everything you need to know about growing bougainvillea in India, including propagation, pot selection, care requirements, and more.
Introduction to Bougainvillea
Bougainvillea is a sun-loving plant that blooms best in a warm and well-lit environment. Its vibrant colors and low maintenance nature make it a popular choice among Indian gardeners. Bougainvillea comes in a variety of colors, including white, pink, red, and orange, with double-flowered varieties also available.
#Fun Fact: The Bougainvillea plant is named after Louis Antoine de Bougainville, a French admiral and explorer who discovered the plant in Brazil during his voyage of circumnavigation in the late 18th century. The story goes that Bougainville was about to leave Brazil when his botanist, Philibert Commerçon, found a beautiful, vibrant flowering vine. Philibert named the plant 'Bougainvillea' in honor of his commander, and the name has stuck ever since.
Best Time to Plant Bougainvillea in India
The ideal time to plant bougainvillea in India is during the spring season when the plant grows rapidly. The second-best time is just before the arrival of summer. Avoid planting bougainvillea close to the winter season, as the plant needs a fully developed root system to handle the cold weather.
In India, bougainvillea flowers for almost ten months of the year, except during the cold months of January and February. To enjoy its vibrant blooms throughout the year, it's essential to plant and care for it properly.
Bougainvillea: Symbolism and Use in Festivals
Bougainvillea is an important symbol in various cultures. In the Philippines, for example, the plant is a common decoration during the Holy Week and Easter because its peak blooming season coincides with these religious celebrations. The vibrancy of the Bougainvillea symbolizes joy and celebration. Also, in India, the plant is used in traditional medicine and rituals.
Propagation Methods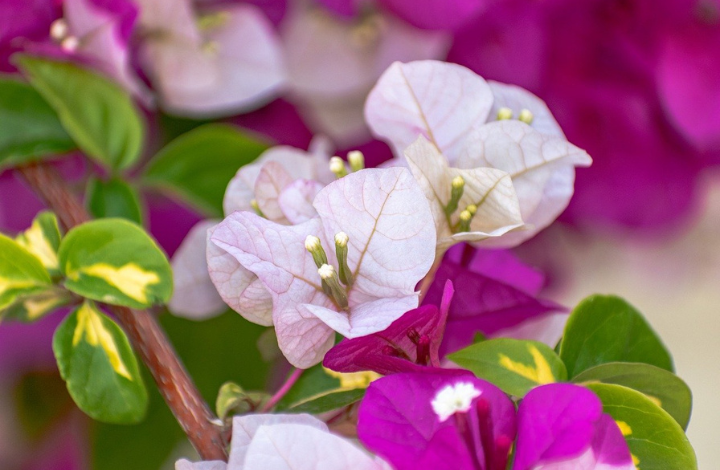 Image credit: Pixabay
You can either purchase a bougainvillea sapling from a local nursery or propagate the plant through stem cuttings. Both methods have their advantages, but propagating bougainvillea from cuttings allows you to select the desired variety and control the growth process more effectively.
Propagating from Cuttings
To propagate bougainvillea from cuttings, follow these steps:
During the spring or summer season, look for a semi-hard stem on the bougainvillea plant. These branches are neither too fresh nor too woody and can break easily when bent.
Cut a 6-8 inch section of the semi-ripe stem using sanitized pruning shears and remove the lower leaves. The cutting should have at least 7-8 nodes or buds.
Dip the base of the cutting in a rooting hormone to encourage root growth and plant it in a pot filled with nutrient-rich, fast-draining potting soil.
Keep the pot in a shaded area for a few months, then move it to a location with direct sunlight once the cutting has developed roots and new leaves.
Choosing the Right Pot
Selecting the appropriate pot for your bougainvillea is essential for its growth and overall health. A 6-inch pot is suitable for cuttings, but you will need to transfer the plant to a larger pot as it grows. Bougainvillea prefers to be slightly root-bound, so be sure to re-pot the plant every two years to prevent overcrowding.
Terracotta or ceramic pots with a glazed surface are ideal choices for bougainvillea, as they help keep the roots cool during the hot Indian summers. Make sure the pot has sufficient drainage holes to prevent waterlogging and promote healthy root development.
Nelesa Gardening Live White Bougainvillea Flower Plant for Garden, Terrace, Balcony, for Gifting
Dazzling White Blooms: Abundant, pure white papery bracts create a mesmerizing display.
Long-Lasting Color: Enjoy vivid white blooms of white bougainvillea flower plant throughout the warm…
Low Maintenance: Ideal for both beginners and experienced gardeners, requiring minimal care.
Versatile Planting: White Bougainvillea Flower Plant Can be grown as a hanging basket, trellis…
Drought Tolerant: This Bougainvillea Plant Thrives in dry conditions, making it perfect for…
Best Bougainvillea Varieties for Pots
When choosing a bougainvillea variety for pots, opt for one with bushy or compact growth. These plants may still require some pruning to maintain their size and shape. Some popular dwarf varieties suitable for pots include Helen Johnson (pink), Rosenka (pink), Miss Alice (white), Singapore Pink (pink), Crimson Jewel (red), and La Jolla (red).
#Fun Fact: The city of Alhambra, California, boasts the world's largest Bougainvillea in the United States. It was planted by the owner of the Champion Motor Coach Company around 1901 and covers more than 1000 square meters.
Growing Requirements for Bougainvillea
To ensure your bougainvillea thrives and blooms profusely, pay attention to its essential growing requirements.
Soil
Bougainvillea prefers well-draining and porous soil. A mixture of loamy soil amended with organic compost is an excellent choice. You can also use a mix of three parts regular potting soil and one part succulent and cactus mix. Ensure the soil does not contain a high amount of peat moss, as this can lead to water retention.
Sunlight
Bougainvillea requires a minimum of 5-6 hours of direct sunlight per day to produce its vibrant colors. More sunlight will result in more blooms, while less light may cause fewer or no flowers. If you plan to grow the plant indoors, a south or west-facing window is an ideal location.
Water
Water your plants deeply and consistently until they are well-established. Check the topsoil for dryness before watering again. During the growing and flowering season, as well as warm summer days, you may need to water potted plants more frequently.
Temperature
This is a hardy plant that can tolerate a wide range of temperatures, from 5 to 28 degrees Celsius. However, it thrives best in warmer climates and may struggle during cold winters.
Aiden Gardens Bougainvillea Flower Plant 'Imperial Thai Delight' pink white Color Paper Flower 1…
Healthy Live Plants
It is best to plant your bougainvillea in spring or early summer to allow its roots to become…
Bougainvillea should be planted on higher ground or hillsides, not in water-logged or low areas…
Soil: Well-drained acidic soil is best for bougainvillea. If soil is too alkaline, chlorosis (pale…
How to plant: Bougainvillea shrubs have delicate, fibrous root systems, so be careful not to damage…
Bougainvillea Container Care
Caring for these potted plants involves several essential steps to ensure their health and longevity.
Pruning
Prune your bougainvillea plants regularly to maintain their shape and encourage new growth. The best time to prune is during the start of the monsoon season of June-July and in early spring, typically after February. Use sanitized shears or scissors to trim the branches to half of their length. You can trim the plants 3 months after doing the pruning.
| | | |
| --- | --- | --- |
| Feature | Trimming | Pruning |
| Purpose | To maintain the plant's shape and size, and control overgrowth. | To promote plant health, enhance blooming, and improve air and light access. |
| Intensity | Lighter and more frequent. | More severe and less frequent. |
| Technique | Cutting back overgrown branches or shoots. | Removing dead/diseased branches, thinning crowded areas. |
| Effect on Plant | Encourages bushier growth by stimulating new shoots near the cut. | Stimulates new wood production, leading to more colorful bracts. |
| Best Time | Can be done as needed, typically more frequently. | Best done in early spring (late February or early March in India). |
Fertilizing Bougainvillea Plants
Bougainvillea plants are heavy feeders and require regular fertilization to promote flowering. Apply a balanced liquid fertilizer (10:10:10) every two weeks during the growing season, or use a slow-release fertilizer occasionally in early summer. Avoid fertilizing during the winter months.
If your plant has extra-ordinarily green leaves, opt for a fertilizer with less nitrogen content (5:10:10). Apart from this, lightly fertilize the plant every 30-35 days with good quality vermicompost.
Garden King™ Bougainvillea Food Essential Organic Fertilizer for Bougainvillea Plants, Double…
Bougainvillea Food Essential Organic Fertilizer for Bougainvillea Plants, Double Filtered with All…
Prepared By the Best Gardening products Manufacturing Company of India – 'Garden King'.
Bougainvillea food Plants nutrition requirements are very specific, and we manufacture these with…
100% tested and Result Oriented Products.
Provides Healthy Leaves, Healthy Stems with flower Booster Formula.
Rimi Garden® Bougainvillea Promotor Liquid Fertilizer Premium Essential Super Powerful Liquid…
Very Effectively increases flowering, controls early buds Drops and small flowers falling.
Fully Result Oriented Formula for Maximising flowering in plants.
All Essential Ingredients as per the International Standards for Controlling and increasing…
Complete Nutrition of Plants: Increases active microbes in the soil, increases aeration for better…
Organic Growth Booster: Helps in Growth of buds, Roots, stems, Leaves etc. Useful for getting the…
Special Organic Fertilizer Mix for Bougainvillea
If you want to make your own organic fertiliser for bougainvillea, here's a recipe.
Take a mixture of cow-dung, bonemeal, compost, neem cake, and rock phosphate in the ratio 10:5:5:3:2. Give it a good mix and use it as a natural fertilizer for flowering plants. This mixture has all the right ingredients needed to keep your plant blooming throughout the summer in abundance.
Common Pests and Diseases
While bougainvillea plants are relatively pest-resistant, they can still be susceptible to mealybugs, mildew, and aphids. Ensure your plant receives adequate sunlight and ventilation to minimize the risk of these pests. If your plant becomes infested, treat the affected areas with insecticidal or neem oil solution applied using a cotton ball.
Conclusion
Bougainvillea is an attractive and low-maintenance plant that can easily be grown in pots in India. By following this comprehensive guide, you will be well-equipped to grow and care for your bougainvillea plant, ensuring vibrant blooms throughout the year. Remember to pay attention to essential factors such as sunlight, watering, and fertilization to help your plant thrive. With proper care and maintenance, your bougainvillea will be a beautiful addition to your garden, balcony, or terrace for years to come.
Last update on 2023-09-10 / Affiliate links / Images from Amazon Product Advertising API