Organic gardening is a wonderful outdoor activity that stimulates your mind and senses. But it can become downright aggravating when you see clusters of pests sucking away all the goodness out of your plants. You can always whip out your phone, order a powerful chemical pesticide and be done with the buggers but that's going to do more harm than good. Here are some natural pest control solutions that offer an inexpensive and safe way to get rid of garden pests.
Synthetic fertilizers do one thing and do it well. They kill. But they kill the good bugs along with the bad ones. What's worse is the pests soon become immune to the chemicals unlike the beneficial insects which simply die out. So by using chemical sprays we are killing the good ones and making the bad guys stronger. Horrible isn't it?
That's why it is best to use any of these natural remedies suggested below. I've used them with success in driving away pests in my garden and it should help you out as well.
Natural Pest Control Solutions for Your Garden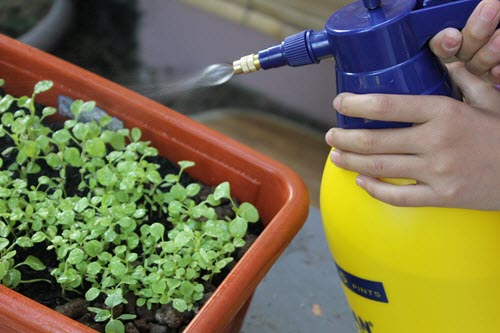 Neem Oil
Neem oil is one of the best organic pesticides you can use on your plants and is very effective against 200 known species of chewing or sucking insects including Aphids Mealybugs, and Whiteflies. . It is non-toxic, leaving no dangerous residue on the soil or leaves, and kills or reduces pest.
It is also an effective anti fungal solution helping to prevent incidence of powdery mildew. Azadirachin, the key compound in the neem seeds from which the oil is extracted is what does the trick.
Tobacco
Tobacco is another handy organic pesticide that helps in targeting caterpillars, aphids, and worms. However, it should never be applied to peppers, tomatoes, and eggplants. Mix about 1 cup of tobacco in 4 litres of water and let it to steep in water for 24 hours.
Place this solution in a warm place or under the sun. The mixture will have the color of light tea. Shake the solution well and spray it all over the plants until is it drenched. Most websites recommend adding a tablespoon or two of mild soap or dish wash, but I avoid using soap altogether and the solution works just as well. You can also find another tobacco tea pesticide recipe here.
Orange Peel
Orange peel is a fantastic pest repellent. Boil the peel of an orange in about 2 cups of water and let it steep for about 24 hours. Strain the solution and spray it all over the plant. Orange peel works on soft-bodied pests like slugs, aphids, fungus gnats, and mealy bugs.
Onion Garlic Spray
Mince one clove of garlic and one medium sized onion. Add this mix to about 1liter of water. Let it sit for about an hour. Then add one teaspoon of red chilli powder and mix it well. You can now spray this on the plants.
Alternately, you can blend 10-12 cloves of garlic, add the mix to a liter of water and strain it. Add a cup of cooking oil to this mix and let it stand aside for 2 days. Spray this solution on your plants every few days to provide protection against mealy bugs, aphids, and other sucking pests.
Also Read : The Complete Guide to Using Organic Fertilizers in Your Garden
Salt
A slat spray is effective against spider mites. Mix about 2 tablespoons of table/rock salt in 4 litres of warm water and spray on the infected areas.
Chrysanthemum
The gloriously beautiful Chrysanthemum contains a chemical component called pyrethrum, which permeates the nervous system of the insects paralyzing them. Boil about 100 grams of dried Chrysanthemums in a liter of water for about 20 minutes. Strain the solution, let it to cool down and then spray it all over the plant including under the plant leaves.
Most of the organic pesticide recipes call for adding a tablespoon or two of mild dish wash solution. However, I have used recipes without them and found them to be still effective.
Even better, applying a foliar spray of a compost tea once a month will keep your leaves healthy and strong and discourage pests from making it their feeding ground. A healthy plant has less chances of getting attacked by pests so nurturing your plants will take care of half the problem.
Whichever solution you choose, remember to keep the following points in mind when applying organic pesticides:
Tips for Applying Organic Pesticides to Your Plants
1. Start the treatment as soon as you notice signs of an infestation. If you let the infestation spread it may take longer to get rid of them, you may have to cut off infected parts of the plant or use chemical fertilizers, which is totally not recommended.
2. Before applying the solution, first test the spray in a small part of the plant and wait for a few hours to make sure there is no damage to the plant. If the sprayed area has wilted, burnt or changed color, dilute the spray and try again. If it still affects the plant, use another recipe.
3. Don't forget to apply the solution underneath the leaves, because that's a favorite haunt for most pests.
4. Avoid spraying on rainy days as the rain will wash away the application or dilute it.
5. Spray the solution after the sun has set and don't spray the solution on hot and sunny day as it can burn the leaves.
6. Don't overdo the spraying. Spray every couple of days and see the progress.
Organic pesticides won't work overnight! Its a slow ongoing process so be patient and you'll see the results within a week or two.
Hand Pick the Pests
Sometimes I just find it easier to hand pick the creatures and drop them in a bowl of soapy water.
Attract Beneficial Insects
Make sure to add a lot of annuals and herbs to your garden. This is the easiest way to attract beneficial insects like ladybugs to your garden who will do the cleaning up work for you.
What solution do you use to get rid of pests in your garden? We'd love to hear your thoughts.