Fungal pathogens are microorganisms that can cause various diseases in plants. These pathogens belong to different fungal groups and can affect plants in different ways. Fungal infections in plants can be effectively managed using organic solutions that are safe for the environment and promote plant health. These natural remedies help suppress fungal pathogens and prevent further spread without relying on harmful chemicals. In this article, we take a look at some common fungal pathogens affecting plants and some of the best organic solutions for combating fungal infections in plants.
Fungal Pathogens that Affect Plants
Powdery Mildew
Powdery mildew appears as a white, powdery growth on the leaves, stems, and flowers of plants. It affects a wide range of plant species and thrives in humid conditions.
Downy Mildew
Downy mildew manifests as yellowish or purplish patches on the leaves, often accompanied by a fuzzy growth on the underside. It commonly affects vegetables, ornamental plants, and crops.
Anthracnose
Anthracnose causes dark, sunken lesions on leaves, stems, fruits, and seeds. It is prevalent in warm and humid climates and affects a variety of plants, including trees, vegetables, and fruits.
Botrytis Blight
Botrytis blight, also known as gray mold, leads to a fuzzy gray or brown decay on plant tissues, including flowers, leaves, and fruits. It thrives in cool and moist environments and affects a wide range of plants.
Fusarium
Fusarium fungi cause wilting, yellowing, and browning of plant tissues. They can infect the roots, stems, and vascular system of plants, leading to significant damage. Fusarium can affect various crops, including vegetables, fruits, and grains.
Rhizoctonia
Rhizoctonia fungi cause damping-off, root rot, and crown rot in plants. They attack the lower stems, roots, and basal parts of seedlings, often leading to plant death. Rhizoctonia affects a wide range of plants, including vegetables, ornamentals, and turfgrass.
Phytophthora
Phytophthora pathogens cause root rot, crown rot, and stem lesions in plants. They thrive in waterlogged soils and can affect a variety of crops, including trees, vegetables, and ornamentals.
These are just a few examples of fungal pathogens that can harm plants. Just know that specific fungal species within each group may have variations in their preferred host plants and disease symptoms.
Proper identification and timely management will help you to prevent and control fungal infections and ensure the health and vitality of plants.
Now onto the best organic solutions for fungal infections. This list includes a mix of both organic and biofertilizers.
Organic Fertilizers and Biofertilizers
Organic Solutions to Prevent Fungal Infection in Plants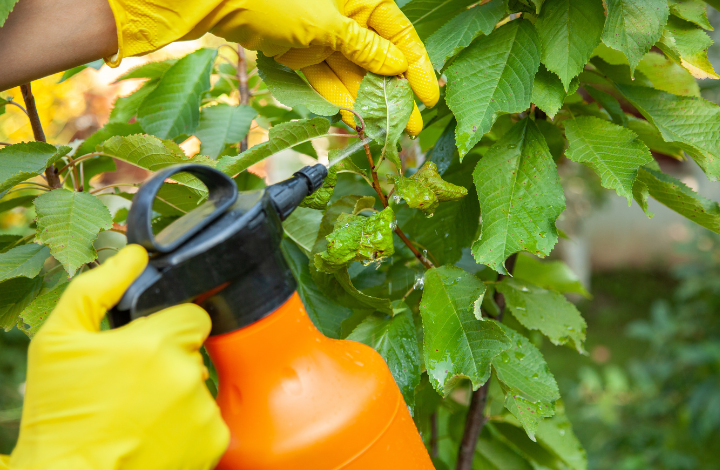 Here are a few options to try:
Here are a few biofertilizers that can help prevent and control fungal infections in plants:
Trichoderma
Trichoderma is a beneficial fungus used as a biofertilizer and biocontrol agent. It colonizes the plant's root system, promoting growth and suppressing fungal pathogens. To use Trichoderma, you can apply it as a soil amendment or seed treatment. Follow the instructions on the product label for the recommended dosage and application method. Trichoderma-based products are available in various forms such as granules, powders, or liquid formulations.
Mycorrhizal Fungi
Mycorrhizal fungi establish a symbiotic relationship with plant roots, enhancing nutrient uptake and overall plant health.
To use mycorrhizal fungi, apply them as a soil inoculant when transplanting or seeding. Mix the inoculant with the soil or sprinkle it near the root zone. The fungi will colonize the roots and extend their filaments into the soil, facilitating nutrient absorption. Mycorrhizal inoculants are typically available as granules or powdered formulations.
Bacillus subtilis
Bacillus subtilis is a beneficial bacterium used as a biofertilizer and biocontrol agent. It produces antimicrobial compounds that inhibit the growth of fungal pathogens. Bacillus subtilis-based products can be applied as a foliar spray or soil drench. Dilute the product according to the instructions and apply it to the foliage or soil around the plant. Ensure thorough coverage to maximize the effectiveness of the bacterium.
Pseudomonas fluorescens
Pseudomonas fluorescens is a beneficial bacterium known for its biocontrol properties against fungal diseases. To use Pseudomonas fluorescens, mix the product with water according to the recommended dosage. Apply it as a foliar spray or soil drench, targeting the affected areas or the entire plant. Repeat the application as needed, following the instructions provided with the product.
Azospirillum
Azospirillum is a nitrogen-fixing bacterium that promotes plant growth and improves nutrient uptake. It can be applied as a seed inoculant or soil amendment. Before sowing or transplanting, coat the seeds with Azospirillum or mix the inoculant with the soil. Ensure good seed-to-inoculant contact to facilitate colonization. Alternatively, apply it as a liquid inoculant near the root zone. Follow the recommended application rates and procedures specified by the product manufacturer.
Prevention is the key in managing fungal infections. Regularly inspect your plants, maintain good plant hygiene, and provide optimal growing conditions to minimize the risk of fungal infections. These organic solutions can be used as part of an integrated approach to plant care, promoting a healthy and thriving garden.
Finally, always follow the instructions on the product labels. And, perform a patch test on a small portion of the plant before applying any organic solution to the entire plant.
Have any questions? Ask us in the comments below!
Last update on 2023-11-29 / Affiliate links / Images from Amazon Product Advertising API