If you want to proudly display your collection of indoor plants to your friends and neighbors, there is one particular plant that definitely deserves a spot – the Philodendron Birkin. Why, you ask? Because this plant is actually a hybrid that doesn't exist in the wild. It is a relatively new cultivar of Philodendron Rojo Congo that was specifically bred to be a designer cultivar within the Araceae family. Some sources even suggest that it got its name from the fashion brand "Birkin" since its leaves resemble the Birkin tote bags.
If you plan to have the Philodendron Birkin in your indoor space, go through this guide to know the ideal light and watering conditions, best potting soil and fertilizers, and all the stuff necessary to successfully care and maintain your fashion icon. So, grab your gardening gloves and let's dive in!
Understanding Philodendron Birkin Variegation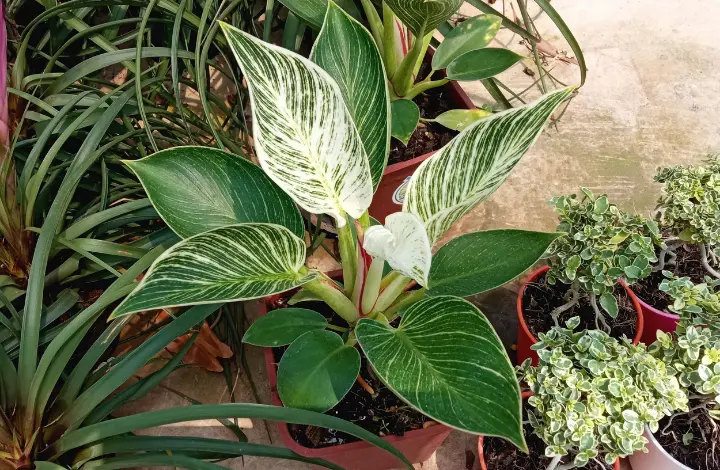 Philodendron Birkin is a popular choice for foliage plants due to its unique variegated leaves. The variegation in Philodendron Birkin is characterized by white pinstripes on dark green leaves, creating an eye-catching contrast that makes it stand out from other plants.
The stripes on the leaves of Philodendron Birkin are not present when the plant first emerges from the soil. Instead, they begin to appear as new leaves grow and mature. As the plant ages, the stripes become more prominent and pronounced.
Proper Care and Maintenance for Variegated Leaves
To maintain the unique patterns of Philodendron Birkin variegation, it is important to provide proper care and maintenance. Here are some tips to keep your plant healthy and thriving:
Quick Overview of Growing Requirements for Philodendron Birkin
| | |
| --- | --- |
| Name | Philodendron Birkin |
| Light | Bright, indirect light or filtered sun |
| Watering | Water once the top inch of soil dries out |
| Temperature (India) | Warm and humid |
| Humidity | 40-70% humidity, preferably near 50% |
| Soil Type | Well-draining soil |
| Soil pH | 5.5-7.0 |
| Fertilizing | Fertilize every 2-4 weeks during the growing season |
| Repotting | Repot every 2-3 years |
| Pruning | Prune to control size and shape |
| Propagation | Propagate through stem cuttings |
| Toxicity | Toxic to pets and humans if ingested |
Soil Requirements for Philodendron Birkin
Choosing the right type of soil for your Philodendron Birkin is crucial for its growth. The best soil for this plant should have good drainage and moisture retention properties. A well-draining potting mix with a pH range between 5.5 and 7.0 works well with Philodendron Birkin.
The ideal potting mix should be composed of peat moss, perlite, and vermiculite. Peat moss helps retain moisture while perlite improves drainage by creating air pockets in the soil. Vermiculite also helps retain moisture while improving drainage.
You can also add some organic matter such as compost or aged manure to enrich the soil with nutrients and improve its water-holding capacity.
Sunlight Requirements for Philodendron Birkin
Philodendron Birkin is a tropical plant that requires bright, indirect sunlight to thrive. Direct sunlight can scorch the leaves of Philodendron Birkin, while insufficient light can lead to stunted growth.
To ensure your Philodendron Birkin gets enough sunlight, place it near a window with filtered light or under a sheer curtain. You can also opt for areas with bright but indirect light like north-facing windowsills or shaded patios.
This way, you'll provide enough light without exposing the plant to direct sun rays.
If you live in an area with limited natural light, consider using artificial grow lights.
Ideal Humidity Levels for Philodendron Birkin
Philodendron Birkin requires high humidity levels to thrive – somewhere between 60-70%. Anything below this range can cause leaf browning and curling, while anything above it can lead to fungal growth and other diseases.
One way to increase the humidity levels around your Philodendron Birkin is by misting its leaves regularly. This will help to keep the leaves moist and prevent them from drying out. You can use a spray bottle filled with water to mist the leaves once or twice a day.
Another way to maintain optimal humidity levels around your Philodendron Birkin is by placing a humidifier near it. A humidifier will release moisture into the air, creating an environment that is perfect for this plant. Make sure that you choose a humidifier that has adjustable settings so you can control the amount of moisture it releases.
Temperature Requirements for Philodendron Birkin
In addition to high humidity levels, Philodendron Birkin also requires warm temperatures to grow well. Ideally, temperatures should be kept between 65-85°F (18-29°C) during the day and no lower than 55°F (13°C) at night.
It's important to avoid exposing your Philodendron Birkin to extreme temperatures or sudden fluctuations in temperature as this can damage its delicate foliage. Keep your plant away from cold drafts or hot spots such as heaters or radiators.
Water Requirements for Philodendron Birkin
This plant requires consistent watering, but it's important not to overwater it. Overwatering can lead to root rot, which can be fatal for the plant. To water your plant, follow these steps:
Check the soil: Before watering your plant, check the top inch of soil by inserting your finger into it. If the soil feels dry, it's time to water your plant.
Use room temperature water: When watering your Philodendron Birkin, use room temperature water that has been sitting out for at least 24 hours. This allows chlorine and other chemicals in tap water to evaporate.
Water thoroughly: Water your plant until you see water coming out of the drainage holes at the bottom of the pot.
Allow excess water to drain: After watering, allow excess water to drain from the pot before returning it to its saucer or decorative container.
Monitor humidity levels: Philodendron Birkins thrive in humid environments, so consider using a humidifier or placing a tray of pebbles filled with water beneath the pot.
Fertilizing Philodendron Birkin
Here are some tips on fertilizing your Philodendron Birkin:
Use a balanced houseplant fertilizer: Choose a balanced houseplant fertilizer with equal parts nitrogen, phosphorus, and potassium.
Fertilize every 2-3 months: During the growing season (spring and summer), fertilize your Philodendron Birkin every 2-3 months to promote healthy growth.
Consider using neem oil: Neem oil is an organic pesticide that can be used to prevent pests from harming your plant.
Avoid over-fertilizing: Over-fertilizing can lead to salt build-up in the soil, which can cause root burn and other issues.
GreenLoop Indoor Plant Food – Liquid Fertilizer for Indoor Plants, Two Bottles, Each 30 ml
For INDOOR Plants in SOIL pots / Coco peat / Mix media bed. For faster growth, and healthier greener…
We cannot use any smell causing or bug-inviting manure for indoor plants. And Indoor plants are…
Each set contains TWO Identical bottles – each 30 ml. Each bottle provides more than 6 months of…
For Indoor plants in soil / coco peat mix : Add 10-15 drops in a bathroom mug (1 liter) of water,…
Contains maximum nutrients – N, P, K, S, NH4, B, Zn, Cu, Cl, Na, Mo, Mn, Fe. Composition is…
How Big Do Philodendron Birkins Grow?
Philodendron Birkins can grow up to 2 feet tall and 1.5 feet wide, making them a perfect indoor plant for those who want a touch of greenery in their homes without taking up too much space. The size of the plant is determined by several factors, including lighting conditions, soil quality, and temperature.
As the plant grows, you may need to stake it to provide support for its stems. Use bamboo stakes or moss poles and gently tie the stems to them using twine or plant ties.
Moderate growth rate
These plants are known for their moderate growth rate, with new leaves appearing every few weeks. This makes it easy to maintain the plant's size by pruning or repotting as needed.
Pruning involves cutting back any dead or damaged foliage while also trimming back any stems or leaves that have grown too long. This helps promote healthy growth while also keeping the plant at a manageable size.
Repotting is another way to control the size of your Philodendron Birkin. As these plants grow larger, they will eventually outgrow their container and need to be transplanted into a larger pot. By doing this every year or two, you can help ensure that your plant stays healthy while also preventing it from becoming too large for your space.
Best Time to Propagate Philodendron Birkin
The best time to propagate Philodendron Birkin is during its growing season, which typically runs from spring through summer. During this time, the plant is actively growing and producing new shoots, making it easier for cuttings to root successfully. Make sure that you are propagating from a healthy parent plant that has not been stressed by environmental factors such as extreme temperatures or lack of water.
How to Propagate Philodendron Birkin Using Stem Cuttings
Philodendron Birkin can be propagated through cuttings, making it easy to grow new plants from an existing one. Here are the steps to propagate your Philodendron Birkin:
Select a healthy stem with at least two leaves.
Cut the stem just below a node (the point where a leaf meets the stem).
Remove the bottom leaves from the stem, leaving only two or three at the top.
Dip the cut end of the stem in rooting hormone powder.
Plant the stem in sphagnum moss or well-draining soil.
Place the plant in bright, indirect light and keep it moist until roots begin to form.
Once your Philodendron Birkin has rooted, you can transfer it to a pot filled with well-draining soil and continue caring for it as outlined above.
Water Propagation Method
If you prefer water propagation over soil propagation for your Philodendron Birkin cuttings, simply place the cutting into a container filled with clean water so that only the bottom third of the stem is submerged. Change out the water every few days and wait until roots have developed before transplanting into soil.
Best Practices for Potting and Repotting Philodendron Birkin
Choosing the Right Pot
The first thing you should consider when repotting is the size of the pot. Choose a pot that is only slightly larger than the current one to avoid overpotting. Overpotting can lead to waterlogging, which can cause root rot and other issues.
Another important factor is drainage. Make sure that the pot has good drainage holes at the bottom to prevent water from accumulating in the soil. Using a pot with good drainage will help keep your plant healthy and prevent root rot.
How to Pot Your Philodendron Birkin
Now that you have chosen the right pot for your Philodendron Birkin, it's time to plant it. First, add a layer of gravel or pebbles at the bottom of the pot. This will help with drainage and prevent water from accumulating in the soil.
Next, fill half of the pot with well-draining soil mix. You can use a commercial houseplant mix or make your own by mixing equal parts perlite, peat moss, and vermiculite.
Carefully remove your plant from its old container and loosen any tangled roots gently. Place it in the center of the new container and fill in around it with more soil until it reaches about an inch below the rim of the container.
Finally, give your plant a thorough watering until water drains out from its bottom hole. Place it back into a bright spot with indirect sunlight.
Common Problems with Philodendron Birkin
Key Takeaways
| | | |
| --- | --- | --- |
| Issue | Cause | Solution |
| Variegation Loss | Normal, can occur due to inadequate light or nutrient deficiencies. | Prevent by providing proper care and adjusting light or fertilizer as necessary. |
| Root rot | Overwatering | Ensure the soil is completely dry before watering again. Avoid leaving the plant sitting in standing water. |
| Yellowing leaves | Too little light | Move the plant to a location with bright but indirect light, such as a north-facing window or an area near an east-facing window. |
| Yellowing leaves | Too much light | As above, adjust the plant's location to ensure it is receiving adequate, indirect light. |
| Yellowing leaves persistent after light adjustment | Possible nutrient deficiency | Consider fertilizing your plant with a balanced fertilizer specifically formulated for indoor plants. |
| Brown, crispy leaf tips | Low humidity | Increase humidity around the plant by misting with water once or twice a day, using a humidifier, or grouping it with other plants. Avoid placement near dry heat sources like radiators or heating vents. |
| Pest infestation (e.g. spider mites, mealybugs) | Infestation not detected or treated early | Regularly inspect the plant for signs of pests and treat with insecticidal soap or neem oil spray if infestation is detected. Isolate infested plant from others. |
Variegation Loss
If your Philodendron Birkin starts losing its variegation and begins reverting back to solid green leaves, don't worry – this is normal! The loss of variegation can occur due to several factors such as inadequate lighting or nutrient deficiencies.
To prevent this from happening, make sure you are providing proper care and maintenance as outlined above. If you notice your plant losing its stripes despite proper care, try moving it closer to a window with more natural light or adjusting its fertilizer schedule.
Overwatering can cause root rot in Philodendron Birkin.
One of the most common problems that people face when caring for their Philodendron Birkin is overwatering. These plants require well-draining soil, and if they are left sitting in water for too long, it can lead to root rot. This condition is characterized by brown, mushy roots that are no longer able to absorb nutrients or water effectively.
To avoid overwatering your Philodendron Birkin, it's important to make sure that the soil has had a chance to dry out completely before watering again. You can do this by sticking your finger into the soil up to the second knuckle – if it feels dry at this depth, then it's time to water. Make sure that your plant is not sitting in standing water and that any excess moisture is able to drain away from the pot.
Yellowing leaves may indicate too much or too little light.
Another common issue with Philodendron Birkins is yellowing leaves. This can be caused by a number of factors, but one of the most common culprits is incorrect lighting. If your plant is not getting enough light, its leaves may start to turn yellow and fall off. On the other hand, if your plant is getting too much direct sunlight, its leaves may also start to yellow and become burnt.
To address this problem, try moving your Philodendron Birkin to a location where it will receive bright but indirect light. A north-facing window or an area near an east-facing window are usually good options. If you're still having issues with yellowing leaves after adjusting the lighting conditions, you may want to consider fertilizing your plant with a balanced fertilizer specifically formulated for indoor plants.
Brown, crispy leaf tips can be a sign of low humidity.
If you notice that the tips of your Philodendron Birkin's leaves are turning brown and crispy, it may be a sign that the air in your home is too dry. These plants require relatively high levels of humidity to thrive, and if the air is too dry, their leaves can start to dry out and become damaged.
To address this issue, try misting your plant with water once or twice a day. You can also place a humidifier near your plant or group it together with other plants to create a more humid microclimate. Make sure that your plant is not located near any sources of dry heat, such as radiators or heating vents.
Pests such as spider mites and mealybugs can infest Philodendron Birkin
Finally, another common problem that people face when caring for Philodendron Birkins is pest infestations. These plants are susceptible to a number of different pests, including spider mites and mealybugs. These insects can cause damage to the leaves and stems of your plant and can even spread to other nearby plants if left untreated.
To address this issue, inspect your Philodendron Birkin regularly for signs of pest activity. Look for small webs on the undersides of leaves (a sign of spider mites) or white cottony masses (a sign of mealybugs). If you do spot an infestation, isolate your plant from other nearby plants and treat it with an insecticidal soap or neem oil spray. Be sure to follow the instructions on the product label carefully to avoid damaging your plant further.
Insecticidal soap: Effective and safe for controlling pests
If you notice any signs of pest infestation on your Philodendron Birkin such as yellowing or wilting leaves, webbing or sticky residue on leaves or stems, it's time to take action before they get out of control. One effective way to control pests on your Philodendron Birkin is by using insecticidal soap.
Insecticidal soap is a natural pesticide made from potassium salts of fatty acids that work by disrupting the cell membranes of pests, causing them to dehydrate and die. It's safe for use on most plants, including Philodendron Birkin, and won't harm beneficial insects such as ladybugs or bees.
To use insecticidal soap on your Philodendron Birkin, follow these steps:
Mix the insecticidal soap according to the manufacturer's instructions.
Spray the solution directly onto the affected areas of your plant, making sure to cover both sides of leaves and stems thoroughly.
Repeat every 7-10 days until all signs of pest infestation are gone.
#Note: Insecticidal soap is an effective method for controlling spider mites, but it may not work for all types of pests or severe infestations. In such cases, you may need to consider other methods such as neem oil or chemical pesticides.
Is Philodendron Birkin Toxic to Cats?
Yes, Philodendron Birkin is toxic to cats. This plant contains calcium oxalate crystals that can cause drooling, pawing at the mouth, vomiting, loss of appetite, difficulty swallowing, and even respiratory distress in severe cases.
Exposure to the plant's sap can also cause skin irritation and redness on a cat's paws and feet. Ingesting large amounts of Philodendron Birkin can lead to excess calcium oxalate buildup in a cat's kidneys, which can be fatal.
If you have pets in your family, it's best to avoid using Philodendron Birkin as a houseplant altogether. Instead, opt for non-toxic plants that won't harm your furry friends if they happen to nibble on them.
In case your cat comes into contact with Philodendron Birkin, rinse their mouth and paws with water immediately. If they're experiencing severe symptoms, take them to the vet as soon as possible.
Conclusion
Now that you know how to care for your Philodendron Birkin, you can enjoy your new indoor plant with little-to-no effort. With a little weekly attention, Philodendron Birkin will thrive and bring beauty to your home.
Do you have a Philodendron Birkin at home? We'd love to hear from you in the comments section.
Garden Art Philodendron Birkin-White Wave Healthy Matured Rare Live Plant Indoor For…
Like many other aroids (plants in the philodendron family), this Birkin sensitive to overwatering….
Birkin philodendron likes average to above-average relative humidity levels. If your environment has…
Fertilize Birkin philodendron in spring and summer, if you wish. Use a fertilizer formulated for use…
Pruning Birkin philodendron is not necessary except to remove any old or damaged leaves.
Birkin philodendron grows best in medium to bright indirect light. Not sure what that means? In a…
Last update on 2023-09-08 / Affiliate links / Images from Amazon Product Advertising API