Have you ever come across a rather ugly looking plant with unique, beautiful bell-shaped flowers that you can't take your eyes off? Chances are, you were looking at an Adenium Obesum, commonly known as the Desert Rose. Desert Rose plants are native to Africa and the Middle East, but they can be grown in gardens all around the world. In this guide, we'll dive into everything you need to know about growing Adenium Obesum in your own terrace garden. From planting tips to watering schedules and pest control methods, we've got you covered. But first, a little bit of history!
History and Cultural Significance of Adenium Obesum
The cultivation of Adenium obesum dates back to ancient times. It is believed that the ancient Egyptians were among the first people to cultivate this plant. They used it for medicinal purposes and also grew it as an ornamental plant.
Over time, the cultivation of Adenium obesum spread throughout the Middle East. The plant was highly prized for its beautiful flowers and its ability to thrive in hot, dry climates. As a result, it became an important part of many cultures in this region.
Cultural Significance of Adenium Obesum
In desert regions where water is scarce and temperatures are high, Adenium obesum has significant cultural importance. For example:
In Saudi Arabia, Adenium obesum is known as "Al Shajar Al Sabir" or "the patient tree." This name reflects the fact that the plant can survive for long periods without water.
In Yemen, Adenium obesum is used in traditional medicine to treat a variety of ailments including headaches, stomach problems, and skin rashes.
In Israel, it is associated with Jewish culture. It is often planted near synagogues or other religious sites.
In addition to its medicinal uses and religious significance, Adenium obesum has also been used for decorative purposes throughout history. For example:
In ancient Egypt, Adenium was often depicted in art and used as a decorative plant.
In Saudi Arabia, the plant is commonly grown as a bonsai tree or trained to grow on walls.
People in Oman often plant the desert rose in gardens and used it as a hedge.
Adeniums are known as "wealth plants" in Chinese culture and are a lucky plant for the Chinese Spring Festival.
According to Vastu Shastra, Adeniums are also considered good luck plants that can boost your decor and bring positive energy home. Their association with wealth, luck, and positive energy has made them a popular plant in many cultures.
Fascinating, isn't it?
Desert Rose plants are low-maintenance plants – perfect for those who want to add lots of color and life to their garden without spending too much time on upkeep. They also bloom throughout the year, making them a great addition to any garden.
Now let's take a look at the important factors you need to keep in mind when growing adeniums.
Key Factors to Keep in Mind When Growing Adeniums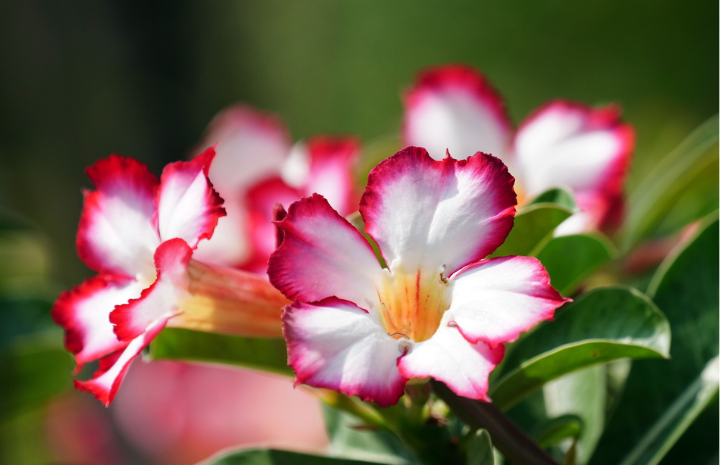 Choosing the Right Container for Your Desert Rose Plant
Opt for a Terra Cotta Pot
Desert rose plants are succulents that require enough water to survive but cannot tolerate excess water or humidity. A terra cotta pot provides adequate drainage by allowing excess water to evaporate through its porous walls. This material also helps regulate soil moisture levels by absorbing some of the excess water and releasing it back into the soil when needed.
Another advantage of using a terra cotta pot is that it can help prevent root rot in your desert rose plant. The porous nature of terra cotta pots allows air to circulate around the roots, preventing them from becoming waterlogged and promoting healthy growth.
Choose a Container That Is at Least 10 Inches in Diameter
Desert rose plants have a swollen base called a caudex that stores water during periods of drought. As such, they require containers that are large enough to accommodate this unique feature. When selecting a container for your desert rose plant, choose one with a diameter of at least 10 inches to ensure there is enough room for your plant's caudex to grow.
Also, choose a container that matches the size of your plant. A container that is too small will restrict root growth and limit nutrient uptake. One that is too large may cause excess soil moisture levels and lead to root rot.
Ensure That Your Container Has Drainage Holes
Drainage holes are essential for preventing water from accumulating in the bottom of your container and causing root rot. When selecting a container, ensure that it has drainage holes to allow excess water to escape. If you're using a non-porous material such as glass or plastic, you can drill holes in the bottom to promote drainage.
##Note: While drainage holes are necessary, they should not be too large. Small drainage holes prevent soil from escaping while allowing excess water to drain freely. Place a layer of gravel or sand at the bottom of your container. It will improve drainage by creating space for excess water to accumulate before draining away.
Importance of Soil Quality for Desert Rose Plant Care
Well-Draining Soil is Critical to Prevent Root Rot
Desert rose plants require well-draining soil to prevent root rot. Constant exposure to moisture without enough time to dry out between watering sessions causes root rot in plants When this happens, the roots start to decay and turn brown, leading to poor plant growth and even death.
To avoid root rot in your desert rose plant:
Ensure that the soil is well-draining. This means that it should not retain water for too long after watering. You can achieve this by using a soil mixture that contains sand, perlite, and peat moss.
Sand creates air pockets that allow water to drain away from the roots quickly. Perlite helps with aeration while also providing some nutrients for the plant. Peat moss, on the other hand, retains some moisture while still allowing excess water to drain away.
Avoid Using Old Soil
Using old soil can lead to nutrient deficiencies and poor plant growth in your desert rose plant. Harmful pathogens may also be present in old soil, which may cause great harm to the plant.
When preparing new soil for your desert rose plant, ensure that you use fresh potting mix instead of reusing old soil from previous plants. If you must reuse old soil, make sure you sterilize it first before planting your desert rose in it.
You can sterilize old soil by baking it in an oven at 180°F (82°C) for about 30 minutes or microwaving it on high power for 90 seconds per pound of soil.
You can add some slow-release fertilizer to the soil mixture to provide your desert rose plant with a steady supply of nutrients.
DIY Desert Rose Potting Mix
Cactus Soil Is the Best Option for Desert Rose Potting Mix
Desert roses require well-draining soil that can prevent root rot and promote healthy growth. That's why cactus soil is an excellent choice for potting your desert rose plant.
Cactus soil is specifically designed with excellent drainage properties, making it perfect for succulents like desert roses. It contains a blend of sand, perlite, and other organic materials that help retain moisture while allowing excess water to drain away quickly.
Using cactus soil as the base for your desert rose potting mix ensures that your plant has everything it needs to thrive. The blend of organic materials provides essential nutrients while preventing waterlogging in the roots.
To create the perfect potting mix recipe for your desert rose plant, you'll need three main ingredients: cactus soil, perlite, and sand. Mixing them in equal parts will provide optimal growth conditions for your plant.
Ugaoo Cactus and Succulents Potting Soil Mix for Plants – 5 kg
Fast draining soil that that retains the right amount of moisture for your plants No more worrying…
Perfectly formulated to grow strong and healthy succulents, cactus, Bonsai, flowers, vegetables,…
Promotes development of root systems to firmly anchor your plants and provide an optimum foundation…
It is 100% organic potting media for Succulent and cactus and does not contain any harmful chemicals…
Ugaoo Cactus and Succulents Potting Soil mix is excellent for use in container, both indoor and…
TrustBasket Succulent and Cactus Potting Soil Mix – 5 KG (Pack of 1) | Well-Drained and Porous Soil…
Completely organic potting media for Succulent and cactus and doesn't contain any harmful…
Well-drained, porous soil with good aeration which is necessary for the healthy growth of succulents
Soil contains perlite in it, which not only helps in aeration and drainage but also minimizes the…
TrustBasket has introduced a "Succulent and cactus potting soil mix" which meets all the potting…
This soil is more porous which in turn provides better drainage.
Adenium Potting Soil for Cacti/Adenium/Bonsai Plants/Special Formulation Drainage Essential…
Well-Draining Mix: Adeniums thrive in a well-draining soil mix that prevents waterlogging. A blend…
Aeration and Root Health: Adequate aeration is crucial for adenium root health. Incorporating…
Slightly Acidic pH: Adeniums prefer slightly acidic to neutral soil pH, typically around 6.0 to 7.0….
Mineral Enrichment: Adding crushed eggshells or a small amount of crushed limestone to the soil mix…
Avoiding Compaction: Regular repotting and loosening of the soil around the roots prevent soil…
Sunlight Requirements for Desert Rose Plants
Full Sun is Key
Desert rose plants are native to hot, dry climates and require proper sunlight to thrive. These plants prefer full sun, especially during the summer months when they need at least six hours of direct sunlight daily. Without enough light, desert rose plants will not bloom and may develop weak stems that cannot support their weight.
Optimal Outdoor Location
The optimal spot for desert rose plants is outdoors in a location that receives direct sunlight. It's best to choose a location where the plant can receive morning or noon sun as it is less intense than afternoon sun and helps prevent scorching of the leaves. If you live in an area with high temperatures, consider placing your plant in a spot where it can get some shade during the hottest part of the day.
Outdoors vs Indoors
While outdoor locations are ideal for desert rose plants, they can also be grown indoors if given proper care. Indoor desert roses should be placed near windows that receive plenty of sunlight throughout the day or under grow lights if natural light is limited. Keep indoor temperatures between 60-85°F (15-30°C) and maintain humidity levels between 30-50%.
Tips for Proper Sunlight Care
To ensure your desert rose plant gets proper sunlight care:
Choose an outdoor location that receives at least six hours of direct sunlight daily.
Place your plant near windows that receive plenty of natural light if growing indoors.
Protect your plant from scorching by placing it in a spot where it can get morning or noon sun, especially in hot climates.
Cover your plant with shade net during the hottest part of the day to prevent leaves from burning.
Keep indoor temperatures between 60-85°F (15-30°C) and humidity levels between 30-50% if growing indoors.
Best Practices for Watering Desert Rose Plants
Deep and Infrequent Watering
The rule of thumb is to water deeply but infrequently. This means that you should give your plant a good soak when you do water it, but allow the soil to dry out completely before watering again. Overwatering can lead to root rot, which is one of the most common causes of death in desert rose plants.
To determine if your plant needs water, stick your finger into the soil about an inch deep. If it feels dry, it's time to water. If it still feels moist, wait a few more days before checking again.
Avoid Getting Water on Leaves and Flowers
One of the most important things to keep in mind when watering desert rose plants is to avoid getting water on their leaves and flowers. Moisture on these parts of the plant can lead to fungal diseases such as powdery mildew and black spot.
To prevent this from happening, always aim for the base of the plant when watering and try not to get any water on the foliage or flowers. You can also use a watering can with a long spout or a drip irrigation system to ensure that only the roots are getting wet.
Reduce Watering During Winter Months
Desert rose plants are dormant during the winter months and require less water than they do during their active growing season. To prevent overwatering, reduce your watering frequency to once every two to three weeks or when the soil is completely dry.
Fertilizing Your Adenium Obesum: Dos and Don'ts
Here are some points to keep in mind when fertilizing Adenium plants:
Use Slow-Release Fertilizer
Slow-release fertilizer is an excellent option for fertilizing your Adenium Obesum. It provides a steady supply of nutrients to the plant over an extended period, ensuring that it grows healthy and strong. Slow-release fertilizer also reduces the risk of over-fertilization, which can harm your plant.
Choose a Balanced Fertilizer
Adenium Obesum requires a balanced mix of nutrients to thrive. When choosing a fertilizer, ensure that it contains equal amounts of nitrogen, phosphorus, and potassium (NPK). These three primary macronutrients are essential for plant growth and development.
Follow the Manufacturer's Instructions
Different fertilizers have different application rates and schedules. Always read and follow the manufacturer's instructions when applying fertilizer to your Adenium Obesum. Applying too much or too little fertilizer can harm your plant.
Don'ts of Fertilizing Your Adenium Plants
While there are several things you should do when fertilizing your desert rose, there are also some things you should avoid doing at all costs. Here are some don'ts.
Don't Over-Fertilize with Slow-Release Fertilizer
Although slow-release fertilizer is an excellent option for feeding your desert rose, over-fertilization can cause more harm than good. Too much fertilizer can burn the roots of your plant and cause it to die. Always follow the manufacturer's instructions when applying slow-release fertilizer.
Don't Apply Too Much Liquid Fertilizer
Liquid fertilizer is another great option for fertilizing your Adenium Obesum. However, it's crucial not to apply too much of it. Over-fertilization with liquid fertilizer can also burn the roots of your plant and cause damage. Follow the manufacturer's instructions and use an appropriate amount of liquid fertilizer.
Don't Use Fertilizers with High Concentrations of Nitrogen
Nitrogen is an essential nutrient for plants, but too much of it can be harmful. Avoid using fertilizers with high concentrations of nitrogen, as they can lead to excessive vegetative growth at the expense of flowers or fruits. Instead, choose a balanced fertilizer that contains equal amounts of NPK.
Pruning and Shaping Your Adenium Plants
Pruning is an essential part of caring for your desert rose plant. It helps keep the plant healthy, promotes new growth, and prevents disease and pests from taking hold. The best time to prune your desert rose is in early spring when the plant is coming out of its dormant period.
To prune your desert rose, use a pair of sharp, clean pruning shears. Make sure they are sanitized before use to prevent the spread of disease. Cut at a 45-degree angle just above a leaf node or bud to encourage new growth in that area.
When pruning, remove any dead or damaged branches first. Then focus on shaping the remaining branches by cutting back to a healthy bud or node. You can also remove any crossing or rubbing branches that may cause damage or hinder growth.
After each cut, inspect the wound for signs of disease or pests. If you notice anything unusual, treat it immediately with an appropriate fungicide or insecticide.
Desert Roses Can Be Shaped into Bonsai Trees
Desert roses have thick trunks and interesting shapes that make them ideal candidates for bonsai training. With careful pruning and training techniques, you can shape your desert rose into a miniature tree that can be enjoyed indoors or outdoors.
To start, select a young plant with a thick trunk and interesting shape. Begin by pruning away any unwanted branches and shaping the remaining ones to create the desired form. You can then wire the branches to encourage them to grow in a specific direction.
As your desert rose grows, continue to prune and shape it to maintain its form. Bonsai trees require regular maintenance, so make sure you are up for the task before committing to this type of training.
Common Pests and Diseases Affecting Desert Rose Plants: Prevention and Treatment
Powdery Mildew
Powdery mildew is a fungal disease that affects many plants, including desert rose. It appears as a white or grayish powdery coating on the leaves, stems, and flowers of the plant. This disease can weaken the plant by interfering with photosynthesis and reducing its ability to produce food.
Fortunately, there are several ways to prevent powdery mildew from affecting your desert rose plant.
First, make sure your plant is receiving enough sunlight and has good air circulation around it.
Avoid overcrowding your plants in one area or planting them too close together.
Another way to prevent powdery mildew is by watering your desert rose from below instead of above. This means placing a saucer underneath the pot and filling it with water so that the roots can soak up the moisture. This helps prevent water droplets from sitting on the leaves, which can encourage fungal growth.
If you notice signs of powdery mildew on your desert rose plant, remove the affected leaves immediately. You can also use an insecticidal soap spray to kill off any remaining spores.
Spider Mites
Spider mites are tiny pests that feed on the sap of plants like desert rose. They appear as small red or brown dots on the leaves, usually in clusters. If left untreated, spider mites can cause yellowing of leaves, stunted growth, and even death of the plant.
To prevent spider mites from infesting your desert rose plant, make sure you keep it well-watered but not overwatered. Spider mites thrive in dry conditions.
Regularly inspect your plants for signs of infestation. Look for webbing between leaves or along stems as this is a telltale sign of spider mites. If you find them, remove any affected leaves and spray the plant with a strong stream of water to knock off any remaining mites.
Another option is to use an insecticidal soap or neem oil spray to kill off the pests. Be sure to follow the instructions carefully and avoid using too much as this can harm your plant.
Root Rot
If you see signs of root rot on your desert rose plant, there are several steps you can take to save it.
Make sure you are not overwatering it. Desert roses prefer well-draining soil that allows excess water to drain away from the roots.
Avoid letting your plant sit in standing water for extended periods of time. This can lead to root rot as well as other fungal diseases.
Remove the affected soil from around the roots and replace it with fresh soil that is mixed with sand or perlite for better drainage.
Prune back any affected roots or stems if they have begun to rot. Once you have taken these steps, be sure to monitor your plant closely for any signs of further damage or disease.
Methods of Propagating Adenium Obesum: From Seeds to Cuttings
The Adenium plant is easy to propagate from seeds or cuttings.
Seeds
Seeds are an excellent way to propagate Adenium obesum because they're readily available and relatively easy to germinate. To start, you'll need fresh seeds from a healthy plant. You can purchase these online or collect them yourself if you have access to a mature Adenium obesum.
To germinate the seeds, soak them in water for 24 hours before planting them in seed-starting mix. Keep the soil moist but not overly wet, and place the container in a warm location with plenty of light. The seeds should begin to sprout within two weeks.
Cuttings
Branch cuttings are another popular method of propagating Adenium obesum. To take a cutting, select a healthy branch that's at least six inches long and has no signs of damage or disease. Use a sharp knife or pruning shears to make a clean cut just below a node (a point where leaves attach).
Once you've taken your cutting, allow it to dry out for several days before planting it in well-draining soil mix. You can also dip the end of the cutting in rooting hormone powder before planting it; this will encourage root growth and increase your chances of success.
Cuttings Should be Taken from Healthy Plants with No Damaged Roots
When taking cuttings from an Adenium obesum plant, it's important to select healthy branches that have no signs of damage or disease. This will give your new plant the best chance of thriving once it's established.
In addition to selecting healthy branches, it's also important to take care when removing the cutting from the parent plant. Use a sharp knife or pruning shears to make a clean cut just below a node, and avoid damaging the roots as much as possible.
Repotting can Encourage New Growth in Cuttings
After you've planted your Adenium obesum cutting, it's important to keep an eye on its progress and ensure that it has everything it needs to thrive. One way to encourage new growth is by repotting the plant into fresh soil mix.
When repotting your Adenium obesum cutting, choose a container that's slightly larger than its current pot and fill it with well-draining soil mix. Carefully remove the cutting from its old pot and gently loosen any tangled roots before placing it in its new home.
Water your newly repotted Adenium obesum sparingly at first, allowing the soil to dry out slightly between waterings. As your plant begins to establish itself, you can gradually increase watering frequency.
Companion Plants for Desert Rose
Desert rose prefers hot and dry environments, which means it's compatible with other succulents, cacti, and plants that thrive in arid climates.
Companion planting with desert rose can also help deter pests and improve soil quality. For example, planting garlic or chives near your desert rose can help repel aphids and spider mites. Planting legumes like beans or peas nearby can help fix nitrogen levels in the soil which benefits all plants in the area.
Compatible Species for Desert Rose
If you're looking for some compatible species for desert rose, consider planting aloe vera, agave, or yucca nearby. These plants are all drought-tolerant and have similar growing requirements as desert rose. Another great option is lavender as it has pest-repelling properties while adding a pop of color to your garden.
Avoid High Moisture Plants
While there are many plant species that are compatible with desert rose, there are also some plants you should avoid planting together. Plants that require high levels of moisture or shade should not be planted near desert rose as they have different growing requirements. Some examples include ferns and hostas.
Hybridization and Varieties of Adenium Obesum
Hybridization has played a significant role in developing different varieties of Adenium obesum with varying colors and shapes. By cross-breeding different types of adenium plants, growers have created new hybrids that have unique characteristics not found in their parent plants.
One example of hybridization is the development of Adenium obesum varieties with green leaves with red spots or vice versa. These hybrids are highly coveted for their striking appearance. Other hybrid varieties have been developed with larger flowers or more compact growth habits.
Popular Varieties of Adenium Obesum
Thanks to hybridization efforts, there are now many different Adenium obesum varieties available on the market. Here are some popular ones:
Black Fire – This variety has deep red flowers that contrast beautifully against its dark foliage.
Red Dragon – As its name suggests, this variety has bright red flowers that resemble dragon claws.
Golden Crown – This variety produces large yellow blooms that stand out against its green leaves.
Snow White – This variety features pure white flowers that look stunning against its dark green foliage.
Chocolate – This variety has unique dark brown flowers that are a rare sight in the adenium world.
Indian Gardens – Adenium grafted different colour guarantee double petals (live plant) (Set of 3)
Grafted Adenium live flowering plant (Any 3 different colour) (pot not included)
Package contains 3 live plant in bare root. Plant them with mixture of soil : cocopeat: sand :…
Keep them in direct sunlight and pour less water (once in two or three days ). keep the soil in dry…
Plant Height : 20 to 30 cm Age : 8 to 10 months (Second image for plant reference)
Note : This product does not have the flowers at the time of shipping.
Where to Buy Adenium Plants in India?
You can buy adenium plants from your local nursery, from Amazon, or from other online retailers. We also suggest you try some of the places listed below. You'll have to contact them though, for all the details.
R.V Adenium Farms: Address: Near Indian Oil Petrol Pump, Nithiravilai, Kanyakumari District, Tamilnadu. Contact: 8122686518
Horticulture King Kolkata: WhatsApp : 9038556677
Hriday Nursery: H97C+VM3, Parikshit Roy Ln, Sealdah, Raja Bazar, Kolkata, West Bengal 700014. Contact: 6297719445
Samantha Nursery: Kanaipur, Konnagar, Nabagram Colony, West Bengal 712246; Contact: 89109 69012
Please note that we are not affiliated to any of these sellers and we cannot stand guarantee for their products and services.
Conclusion
Congratulations! You now have all the essential knowledge to grow and care for your very own desert rose plant. From choosing the right container to propagating your plant, we have covered everything you need to know.
And if you still have questions about caring for your plant or want more information on its history or varieties available, ask us in the comments section.
We hope this guide has been helpful in growing a healthy and vibrant desert rose plant that will bring beauty to your home or garden.
Indian Gardens – Adenium seedlings (live plant) (Pack of 10).
Adenium seedling live flowering plant (pot not included)
Package contains 10 live plant in bare root. Plant them with mixture of soil : cocopeat: sand :…
Keep them in direct sunlight and pour less water (once in two or three days ) keep the soil in dry…
Plant Height : 15 to 25 cm Age : 6 to 8 months
Note : This product does not have the flowers at the time of shipping.
Last update on 2023-09-09 / Affiliate links / Images from Amazon Product Advertising API