The Philodendron Pink Princess is a tropical plant known for its stunning variegation on its leaves, ranging from shades of pink to deep green. The Pink Princess is actually a cultivar of the Philodendron Erubescens, which originates from South America. Due to its popularity and rarity, it often comes with a higher price tag.
But what makes this plant so special? Its striking appearance and unusual coloring make it a standout among other houseplants. Plus, caring for the Pink Princess is relatively easy as long as you provide it with proper light, water, and soil conditions.
So whether you're a seasoned plant parent or just starting out with your indoor garden, you can grow this stunning tropical plant in your own home with ease. Read on to learn more!
The Key Factors for Growing Philodendron Pink Princess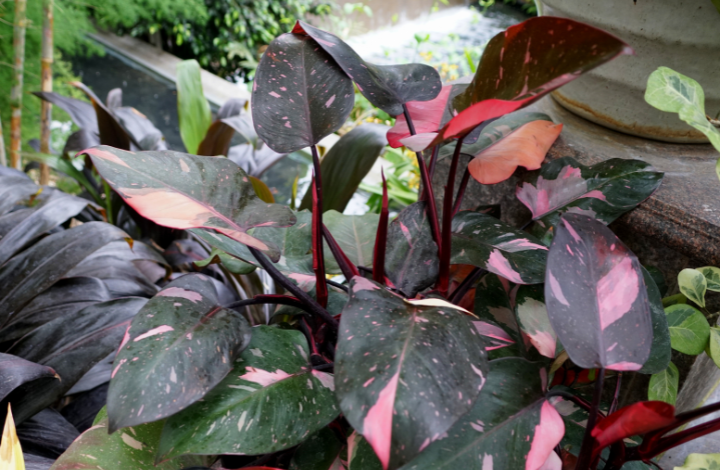 Light, Temperature, and Humidity
Enough Light is Crucial for Growth
Philodendron pink princess is a stunning plant with vibrant pink variegation on its leaves. To maintain its beauty, it requires enough light to thrive. However, direct sunlight can scorch the leaves, so indirect light is the best option for this plant. Place your philodendron pink princess in a bright room where it can get sufficient natural light but not direct sunlight.
If you don't have access to natural light or if the amount of natural light in your home is insufficient, you can use artificial grow lights to supplement it. When using grow lights for your philodendron pink princess, make sure they are not too close to the plant as this can cause leaf burn. A distance of 12-18 inches from the top of the plant is ideal.
Temperature and Humidity Levels
Maintaining suitable temperature and humidity levels is crucial when growing philodendron pink princess. This tropical plant thrives in warm temperatures ranging from 68°F – 86°F (20°C – 30°C). It's important to note that this plant doesn't tolerate cold drafts or sudden changes in temperature.
The Pink Princess thrives in high humidity environments, similar to its natural habitat in South America's rainforests. To maintain high humidity levels around your plant, mist the leaves regularly with room temperature water. Alternatively, place a humidifier near your plant to provide consistent moisture in the air.
Another way to increase humidity levels is by placing a tray filled with pebbles and water under your plant's pot. As the water evaporates from the tray, it provides additional moisture for your plant.
Low humidity levels can cause brown tips on leaves and stunted growth in Philodendron Pink Princess plants. If you notice these symptoms, increase humidity levels immediately.
Add Perlite to the Soil Mix
The soil mix used for growing philodendron pink plays an essential role in its growth and overall health. A well-draining soil mix that retains moisture is ideal for this plant. Adding perlite to the soil mix can improve growing conditions by providing better drainage and aeration.
A good soil mix for the philodendron should include one part perlite, two parts peat moss, and two parts potting soil. You can also add some orchid bark or charcoal to the mix to enhance drainage.
Use Liquid Fertilizer to Boost Growth
This plant requires regular fertilization to maintain its vibrant color and promote healthy growth. A balanced liquid fertilizer applied every month during the growing season (spring and summer) can boost growth.
When using liquid fertilizer, it's important not to over-fertilize your plant as this can lead to burnt roots and leaf tips. Follow the instructions on the label carefully and dilute the fertilizer to half strength before applying it to your plant.
Water and Humidity
Watering Your Philodendron Pink Princess
Proper watering is essential to keep your Philodendron Pink Princess healthy and thriving. The best way to water your plant is by thoroughly soaking the soil once a week. Make sure the top inch of soil is dry before watering again. Overwatering can lead to root rot, which can be fatal for your plant.
To ensure proper drainage, use a pot with drainage holes at the bottom. If you're using a decorative planter without drainage holes, make sure to add a layer of rocks or gravel at the bottom to prevent water from sitting in the soil.
If you notice any yellowing or browning leaves or drooping stems, it may be an indication that you're overwatering your plant. Adjust your watering schedule accordingly and monitor your plant's progress.
Quick Look: Growing Requirements of Philodendron Pink Princess
| | |
| --- | --- |
| Name | Philodendron Pink Princess |
| Light | Bright, indirect light |
| Watering | Moderate, allow soil to dry slightly between waterings |
| Temperature (India) | Warm temperatures, 20-30°C (68-86°F) |
| Humidity | High humidity preferred |
| Soil Type | Well-draining, rich potting mix |
| Soil pH | Slightly acidic to neutral |
| Fertilizing | Regular balanced fertilizer application during the growing season |
| Repotting | As needed when the plant outgrows its current container |
| Pruning | Prune to control size and promote bushier growth |
| Propagation | Stem cuttings, air layering |
| Toxicity | Toxic to pets if ingested |
Common Pests and Plant Diseases in Philodendron Pink Princess
Philodendron Pink Princess is a beautiful tropical plant that can be susceptible to various pests. Some of these common pests include spider mites, mealybugs, scale insects, and thrips. Spider mites are tiny arachnids that feed on the sap of the leaves, causing them to turn yellow and dry out. Mealybugs are small white insects that look like cotton balls and can cause leaf drop if not treated quickly. Scale insects are small brown or black bumps on the stems or leaves of the plant, which can also cause leaf drop. Thrips are tiny flying insects that feed on the leaves and flowers of the plant.
To identify pests on your Philodendron Pink Princess, you should inspect your plant regularly for any signs of infestation. Look for webbing or tiny bugs crawling around your plant's leaves or stem. You may also notice yellowing or browning of the leaves or wilting in severe cases.
How to Deal with Infestations
If you suspect an infestation, take action immediately by isolating your plant from other plants to prevent further spread. Remove any affected leaves or areas with a soft-bristled brush dipped in soapy water.
To treat mealybugs, you can use a mixture of rubbing alcohol and water (1:1 ratio) applied directly onto affected areas using a cotton swab or spray bottle. Spider mites are more challenging to control but can be treated with insecticidal soap or neem oil sprays.
Fungal infections appear as powdery mildew or black spots on leaves and can be treated using a fungicide. For fungal infections, use a fungicide as directed, ensuring it targets the specific fungus affecting your plant.
To prevent pest infestations, keep your plant clean by wiping down its leaves regularly with a damp cloth or spraying it with neem oil solution every two weeks.
Avoid placing your Philodendron Pink Princess near other plants that may have pests or diseases that can spread to it. Quarantine new plants before introducing them into close proximity with existing ones.
Plant Diseases in Philodendron Pink Princess
Besides pests, the Pink Princess is also prone to several diseases such as root rot, bacterial blight, and fungal infections.
Root rot is one of the most common issues that affect this beautiful plant. This problem occurs when the roots of your plant are consistently exposed to water, leading to decay and eventual death. To prevent root rot from occurring, it's important to ensure proper drainage holes in your pot. These holes allow excess water to drain out, preventing it from sitting in the soil around your plant's roots.
Overwatering is another cause of root rot, so be careful not to water too frequently. You should only water your plant when the top inch of soil feels dry to the touch. It's also essential to use well-draining soil that allows excess moisture to escape quickly.
If you suspect that your plant has root rot, you'll need to act quickly. Remove any affected leaves or stems and trim away any decaying roots. Repotting your plant with fresh soil can help prevent further damage.
Bacterial blight causes dark spots on leaves which eventually become holes; it is caused by excess moisture in warm environments but can be treated using copper fungicides.
How to Repot Philodendron Pink Princess
Why Repotting is Important
Repotting your philodendron pink princess plant is crucial for its growth and overall health. When a plant outgrows its pot, the roots become cramped and tangled, leading to stunted growth. Repotting provides more space for the roots to grow and access nutrients from the soil. It also allows you to refresh the soil mix and remove any diseased or damaged roots.
Divide Your Pink Princess During Repotting
Dividing your philodendron pink princess during repotting can help encourage new growth and create multiple plants from one. To divide your plant, carefully remove it from its pot and gently separate the root ball into sections with a clean knife or scissors. Each section should have some leaves, stems, and healthy roots. Plant each section in a new pot with fresh soil mix, water thoroughly, and place in bright indirect light.
How to Propagate Philodendron Pink Princess
Propagating Philodendron Pink Princess is relatively easy compared to other houseplants. You can do this through stem cuttings or division.
Stem Cuttings
Stem cuttings are another way to propagate your philodendron pink princess during repotting. Take a stem cutting that is at least 6 inches long with several leaves attached using clean scissors or pruning shears. Remove any leaves from the bottom half of the stem and dip it in rooting hormone powder before planting it in moist soil mix. Cover the pot with plastic wrap or a clear plastic bag to create a humid environment and place it in bright indirect light until roots form.
By Division
To propagate through division, carefully remove the mother plant from its pot and separate the stems with roots attached using a clean knife or scissors. Transfer each stem into a new pot with fresh soil.
When repotting your philodendron pink princess, choose a pot that is one size larger than its current one. Make sure it has drainage holes at the bottom, and is filled with well-draining soil mix. Water your plant thoroughly after repotting but avoid overwatering, which can lead to root rot. Repot your philodendron pink princess every 1-2 years or when it outgrows its current pot to ensure optimal growth and health.
Where to Buy Philodendron Pink Princess
Online Plant Stores
Philodendron Pink Princess is a highly sought-after plant, making it a bit difficult to find. However, there are online plant stores that sell this beautiful plant. Some of the most popular online stores include Etsy, Amazon, and eBay. It is essential to purchase from reputable sellers with positive reviews to ensure you get a healthy plant.
The Four Seasons Philodendron Pink Princess Rare Natural Live Plant in Pot
Philodendron Pink Princess will be a good add on for your Rare Plant Collection
Product Material : Natural Plant With Pot , Quantity : 1.
Plant Height : 8 Inches to 10 Inches (Minimum)
Plant with Pot Height : 12 Inches to 14 Inches Minimum
Pot : Height : 4 Inches (10 cm) , Diameter : 4 Inches (10 cm) , Pot Colour : Black (Plastic)
Garden art New Exotic Rare Live Plant Philodendron Pink Princess – Live Indoor Plant – Beautiful…
The Pink Princess philodendron does best in moderate light but can also thrive in low light.
This philodendron has a low water requirement, making it easy to care for.
The Pink Princess is a beautiful collectible indoor plant that will make your indoor space light up.
For best results, use high draining soil when potting your Pink Princess philodendron.
Soil : Philodendron Pink Princess prefers loose, well-draining soil that is rich in organic matter….
Local Nurseries
If you prefer seeing the plants in person before purchasing them, local nurseries and garden centers are great options. These places may have limited stock of Philodendron Pink Princess since they are rare plants, but it's worth checking them out. Make sure to call ahead of time or check their website if they have the plant in stock before visiting.
Horticulture King Kolkata: WhatsApp : 9038556677 (They have a brilliant collection of exotic plants. WhatsApp them for your requirements.
Note: We are not affiliated to any nursery and are not responsible for their products and services.
Enjoy the Beauty of the Pink Princess in Your Home
If you're looking for a stunning and unique plant to add to your home, look no further than the philodendron pink princess. This beautiful plant is known for its striking pink variegation and easy care requirements. By following a few simple steps, you can enjoy the beauty of this plant in your own home.
FAQs
Q: Can I grow philodendron pink princess in low light?
A: While this plant prefers bright but indirect light, it can also tolerate lower light conditions. Just be sure not to place it in full sun or deep shade.
Q. What kind of grow light is suitable for philodendron pink princess?
Philodendron pink princess prefers indirect natural light but if you don't have access to natural light or if there isn't enough natural light in your home, you can use artificial grow lights that emit bright white or blue light with a distance of 12-18 inches from the top of the plant.
Q: Is philodendron pink princess toxic to pets?
A: Yes, like many other houseplants, philodendron pink princess is toxic if ingested by pets. Keep it out of reach of dogs and cats who may be tempted to nibble on its leaves.
Q: How often should I fertilize my philodendron pink princess?
A: You can fertilize your plant once every 2-3 months during the growing season (spring/summer) using a balanced fertilizer diluted at half strength.
Q: Can I propagate my philodendron pink princess?
A: Yes! This plant can be propagated through stem cuttings placed in water or soil. Be sure to choose a healthy stem with several leaves attached and keep the cutting moist until roots form.
Q: Why are the leaves on my philodendron pink princess turning brown?
A: Brown leaves can be a sign of overwatering, underwatering, or exposure to cold temperatures. Check the soil moisture levels and adjust your watering schedule as needed.
Q.: How fast does philodendron pink princess grow?
Philodendron pink princess is a slow-growing plant that typically grows about 6 inches per year under optimal growing conditions. However, factors such as temperature, humidity levels, and amount of light exposure can affect its growth rate.
Last update on 2023-09-09 / Affiliate links / Images from Amazon Product Advertising API