Growing exotic orchids in your garden is like baking a special, delicious dessert. Just as each dessert recipe requires specific ingredients, mixed in the right order, and baked at the perfect temperature, every type of orchid needs a unique set of conditions to flourish.
You must balance the light, humidity, and temperature just right, much like adjusting the measurements in a baking recipe to achieve the perfect dessert. Growing orchids may seem daunting at first, but with the right knowledge and care, they can thrive in various climatic conditions.
This guide will provide you with all the information and tips you need to successfully grow these exotic orchids in your home or garden.
Let's roll up our sleeves, put on our gardening apron, and step into this fascinating world of exotic orchids!
Introduction to Orchids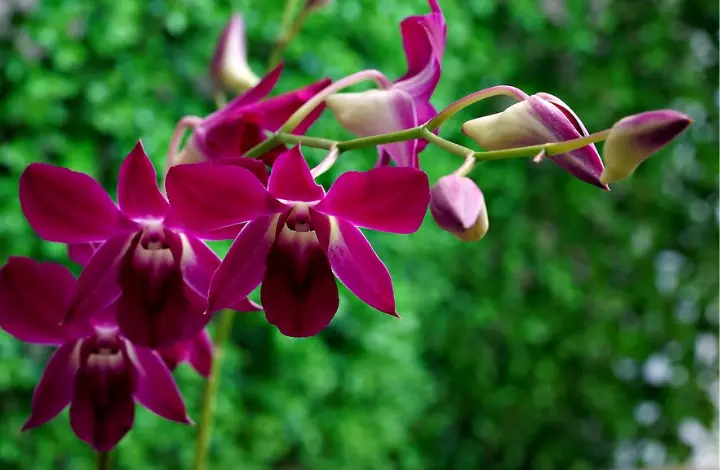 Orchids belong to a large family of beautifully flowering plants with diverse shapes, sizes, colors, and scents. They are known for their long-lasting blooms and are often used in bouquets and decorations. Most orchids are perennial herbs with simple leaves, and if grown under the right conditions, they will produce stunning flowers.
Orchid Species and Hybrids
There are over 1,300 species of orchids found in India, primarily in the Northeast – Assam, Meghalaya, and Arunachal Pradesh – as well as in Sikkim and South India. Orchids available in nurseries are often hybrids, created specifically for their flowers. These hybrids are more forgiving and adaptable than pure species, making them easier to care for in homes and offices.
How to Choose the Right Orchid for Your Home
It is essential to select the appropriate orchid species or hybrid that suits the climatic conditions of your location. Some popular orchids for beginners include Phalaenopsis, Moth Orchid, and Cattleya.
| | |
| --- | --- |
| Name | Orchids |
| Light | Bright, indirect |
| Watering | Moderate |
| Temperature (India) | 21°C – 29°C |
| Humidity | 70% |
| Soil Type | Porous mix |
| Soil pH | Neutral |
| Fertilizing | Balanced N-P-K |
| Repotting | As needed |
| Pruning | Remove dead parts |
| Propagation | Division, stem cuttings |
| Toxicity | Non-toxic |
Requirements for Growing Exotic Orchids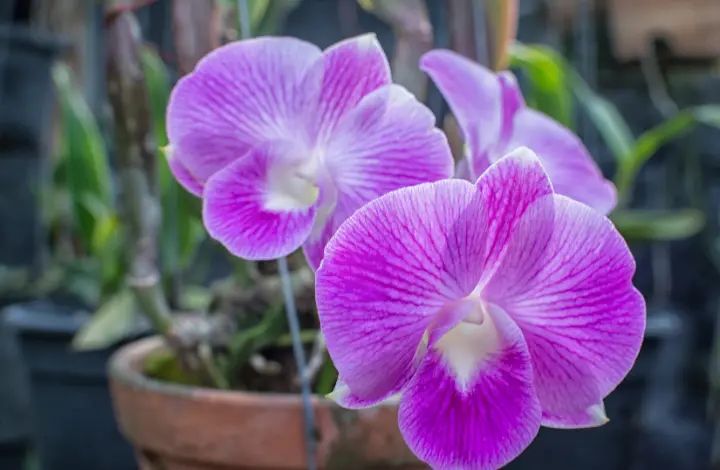 Orchids require specific conditions to grow and flourish. Mimicking their natural habitat is key to ensuring their success in your home or garden.
Light Requirements
Orchids typically need bright, indirect light to thrive. Direct sunlight can be harmful, so it's essential to provide the right amount of light. Place your orchids in a spot where they receive morning or evening sunlight, but are protected from harsh midday rays.
Temperature and Humidity
Orchids prefer warm temperatures between 21°C and 29°C and high humidity levels around 70%. Ensure that your home provides adequate warmth and moisture for your orchids to thrive. Use humidifiers, misting, or trays filled with water and gravel to increase humidity around your plants.
Soil and Potting Mix
Contrary to popular belief, orchids do not require soil to grow. They need a porous potting mix that allows for air circulation around their roots. A combination of tree bark, sphagnum moss, charcoal, perlite, and coco chips is ideal for orchids. Adjust the proportions of the potting mix according to your location's climate.
Planting and Caring for Orchids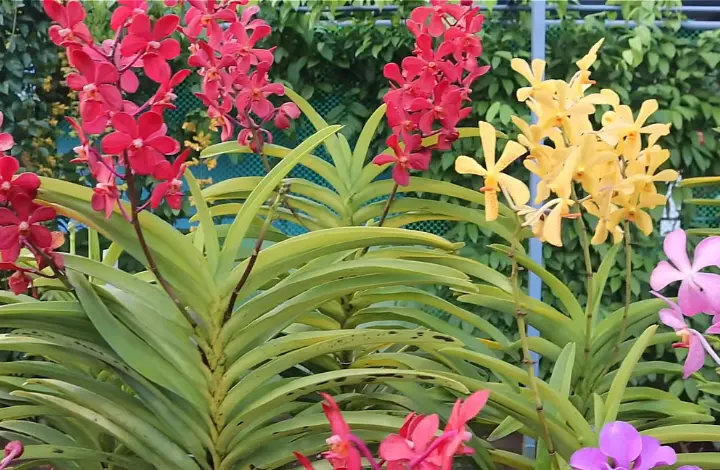 Proper planting and care are vital to ensure your orchids' health and longevity.
Selecting the Right Pot
Choose terracotta or plastic pots with slits or holes on the sides to allow for air circulation and root growth. Hanging pots can also be used for orchids that prefer to sway with the breeze.
Planting Orchids
Plant your orchids in the chosen pot and potting mix, ensuring that the roots are snug and well-supported. Make sure the pot is well-draining to prevent root rot.
Watering Orchids
Avoid overwatering and underwatering your orchids, as both can cause problems. Water your orchids moderately, allowing the potting mix to approach dryness before watering again. Use a spray bottle for misting rather than pouring water directly onto the plant.
Fertilizing Orchids
Orchids require a balanced 20-20-20 nitrogen-phosphorus-potassium (N-P-K) fertilizer. Apply the fertilizer as a spray once every two weeks or diluted to quarter strength every week. Opt for organic fertilizers whenever possible to prolong your plants' lifespan.
Garden King™ Orchid Full Diet, Essential Organic Fertilizer For Orchid Plants, Double Filtered…
Orchid Full Diet, Essential Organic Fertilizer For Orchid Plants, Double Filtered with All Required…
Prepared By the Best Gardening products Manufacturing Company of India – 'Garden King'
Orchid Plants nutrition requirements are very specific, and we manufacture these with all required…
Best Quality with 100% purity as per requirements of the plants
Best for uses in almost all species of Plants
Bombay Greens ; Sow, grow, eat, repeat Bombay Greens Rose & Orchid Liquid Organic Fertilizer For…
Organic fertilizers for plants home garden, fast release liquid plant fertilizer that contains Humic…
Don't use chemical plant fertilizers in your Flowering plants for home garden. Switch to all…
Roses and Orchids need special care than other flowers. They are heavy feeders and appreciate…
1 packet of 200 grams rose fertilizer can make 100 litres of solution. Can be used in Hydroponics…
Can be used as soil drenching or as foliar spray. Mix 2 grams in litre of water. For big pots apply…
Pruning Orchids
Only prune orchids to remove dead leaves, roots, or flower stems. Cut back old flower stems that have turned brown, but leave green stems intact, as they may re-bloom in the future.
Propagating Orchids
Orchids can be propagated through division or stem cuttings. Division involves separating the plant into smaller parts, each with its roots and leaves. Stem cuttings involve removing a healthy stem from the parent plant and planting it to grow new roots.
Conclusion
Growing exotic orchids in your garden is a rewarding and fulfilling hobby, as these fragrant flowering plants bring a touch of tropical beauty to your home. With proper research, selection, and care, you can successfully cultivate these enchanting blooms and enjoy their captivating presence for years to come.
Last update on 2023-09-11 / Affiliate links / Images from Amazon Product Advertising API