‍Azaleas, a beautiful and vibrant flowering shrub belonging to the Rhododendron genus, have long been a favorite among garden enthusiasts for their vivid blooms and lush foliage. These versatile plants are perfect for adding color and charm to any garden. In today's post, we want to share with you a guide on how to grow and maintain Azaleas successfully. From understanding their specific needs to implementing proper care techniques, this guide will help you grow Azaleas that will reward you with an abundance of stunning blossoms year after year.
Choosing the Right Azalea Variety
Azaleas come in a wide range of colors, sizes, and growth habits. When selecting an Azalea variety for your garden, consider factors such as climate, available space, and desired bloom time. Some popular varieties that can be grown in India include the Southern Indian Azalea (Rhododendron macrosepalum) and Indian Azalea (Rhododendron simsii). These species are well-suited to the Indian climate and offer a stunning display of flowers in various shades of pink, purple, red, and white.
#Variety: There are more than 10,000 unique varieties of azaleas. They vary in size, color, and blooming periods.
The Perfect Location to Grow Azaleas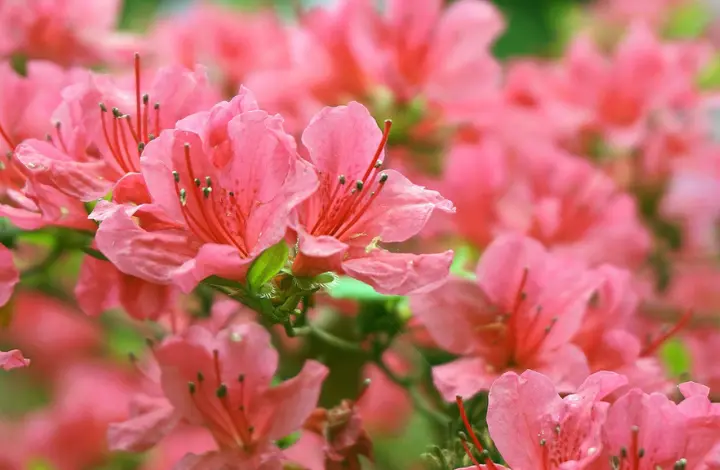 Azaleas prefer a location that offers bright, indirect sunlight. While they can tolerate some direct sun, excessive exposure can lead to scorched leaves and reduced flower production. Conversely, heavy shade can result in weak growth and poor blooming. Select a location that receives dappled sunlight, like under the shade of a tree or on the east/north side of a building.
| | |
| --- | --- |
| Name | Azalea |
| Light | Bright, indirect sunlight |
| Watering | Regular, consistent moisture |
| Temperature | 12-25°C (Ideal for India) |
| Humidity | Moderate to high |
| Soil Type | Well-draining, acidic, and rich in organic content |
| Soil pH | 4.5-6.0 |
| Fertilizing | Balanced, slow-release fertilizer |
| Repotting | Every 2-3 years |
| Pruning | After blooming |
| Propagation | Stem cuttings, layering, or seeds |
| Toxicity | Toxic to dogs and other pets |
Soil Requirements for Azaleas
You can grow azaleas in well-draining, acidic soil that is rich in organic matter. To create the ideal growing environment, mix equal parts of garden soil, leaf mold or compost, and coarse sand or perlite. This mixture will ensure proper drainage while providing the necessary nutrients and acidity for healthy plant growth. Test the soil pH before planting and amend as needed to achieve a pH range of 4.5-6.0.
#Cultural Significance: Azaleas are the national flower of Nepal and the state wildflower of Georgia in the United States. In Japan, there are even azalea bonsai!
How to Plant Azaleas
The best time to plant Azaleas in India is during the spring or fall, when temperatures are mild, and the plants have time to establish their root systems before the hot summer months.
Dig a hole three times the width of the root ball, taking care not to plant the Azalea too deep. The top of the root ball should be level with the surrounding soil.
Fill in the hole with the prepared soil mixture and water thoroughly to settle the soil around the roots.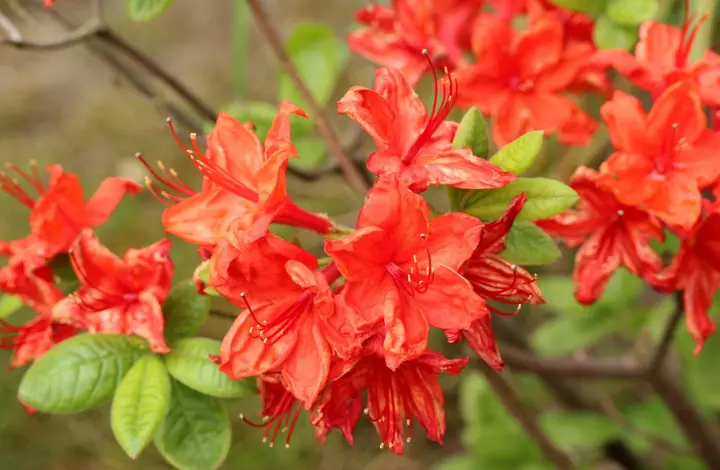 Watering and Maintaining Moisture
Azaleas require consistent moisture to thrive, but they are also sensitive to overwatering, which can lead to root rot. Water your Azaleas regularly, ensuring the soil remains consistently moist but not saturated. Reduce watering frequency during the rainy season to prevent waterlogging.
#Azalea Festival: There's an entire festival dedicated to azaleas in many places around the world. One of the most well-known is the Azalea Festival in Wilmington, North Carolina, which has been celebrated annually since 1948.
Fertilizing Azaleas
Azaleas can benefit from supplemental fertilization, especially if they exhibit signs of nutrient deficiency, such as yellowing leaves or stunted growth. Apply a slow-release, balanced fertilizer formulated for acid-loving plants in early fall and late spring. Avoid excessive fertilization, as this can harm the plants and reduce flower production.
Home Garden Azelea Food Essential Organic Fertilizer For Azelea Plant (900 gm)
Complete Nutrition for the overall growth of Azelea Food : Organic Azelea Food Fertilizer Increases…
Flower Growth Booster: Helps in Growth of Flowers, Buds, Healthy Roots, Stronger stems, Shiny Leaves…
Immunity Booster and Disease Control: Improves the immunity of Azelea Food plants very fast and…
Proven & Popular for many years & Easy to Use and Store: Contains nutrients – Ca, NPK, S, NH4, Mg,…
Premium Azelea Food fertilizer: Prepared by premium quality Organic Fertilizer for Azelea Food under…
Are Azaleas Toxic?
Despite their beauty, azaleas are toxic to both humans and many animals. Ingestion can cause nausea, vomiting, difficulty breathing, and other symptoms. Always keep them out of reach of pets and small children.
#Natural Remedy: While they are beautiful to look at, azaleas have also been used in traditional medicine. In China, for instance, azalea root was used to treat arthritis and other joint-related conditions. Please note that information regarding azaleas as a natural remedy should be considered with caution.
Mulching and Weed Control
Applying a layer of organic mulch around the base of your Azalea plants to maintain soil temperature, conserve moisture, and suppress weed growth. Replenish the mulch annually to ensure continued benefits and to provide the plants with a slow-release source of nutrients.
Coco Fiber Mulch MAT for Plants – 6 INCH 5 Pieces – Weed MAT – COIR GARDEN
Mulch mat also called as coco tree rings can absorb and retain water up to 5 times its own weight.
coco tree rings is used for suppressing weeds and also helps in maintaining soil humidity.
There is a handy slit in the disc to make the disc lay nice and easy. You can enlarge the central…
It is a herbicide by itself and source of manual weeding.Being bio-degradable it decomposes over…
The advantages of mulch mat: decreases evaporation of water from pot. Holds moisture, keeping the…
Pruning and Shaping Azaleas
Prune Azaleas immediately after they have finished blooming to encourage bushier growth and a more compact appearance. Remove spent flower clusters, dead or diseased branches, and any excessively long or misshapen growth to improve air circulation and maintain the desired shape. Regular pruning also helps rejuvenate older, overgrown plants.
How to Propagate Azaleas
Azaleas can be propagated through stem cuttings, layering, or seeds. The easiest option is by way of stem cuttings. Here's how you do it.
By Stem Cuttings
Selecting a plant: Choose a mature, healthy azalea plant as the source for your cuttings.
Timing: The best time to take cuttings is during the spring or early summer when the plant is actively growing.
Prepare the tools: Gather a sharp, sterilized pruning shears or a knife, a clean container with a well-draining potting mix, and rooting hormone (optional).
Take the cuttings: Locate a non-flowering stem that is approximately 4-6 inches long. Make a clean cut just below a leaf node, removing any flowers or buds.
Remove lower leaves: Trim off the lower leaves, leaving only a few sets of leaves at the top.
Optional: Apply rooting hormone: If desired, dip the cut end of the stem in rooting hormone to promote root development.
Plant the cuttings: Insert the cut end of the stem into the potting mix, making sure at least one or two leaf nodes are below the surface.
Provide proper care: Place the container in a warm, bright location with indirect sunlight. Keep the soil consistently moist but not waterlogged.
Monitor and wait: Check the cuttings regularly for signs of new growth, indicating that rooting has occurred. This process may take several weeks to a few months.
Transplanting: Once the cuttings have developed strong root systems, usually after a few months, transplant them into individual pots or desired planting locations.
Continue care: Provide regular watering, partial shade, and protection from extreme weather conditions as the newly propagated azaleas establish themselves.
10. Pest and Disease Management
With proper care, Azaleas are generally resistant to pests and diseases. However, they can be susceptible to issues such as lace bugs, spider mites, leaf spot, petal blight, and root rot. Implementing good cultural practices, such as proper watering, mulching, and pruning, can help prevent these problems. If necessary, treat pests with insecticidal soap or neem oil and apply fungicides to manage diseases.
Final Thoughts
Growing Azaleas in your balcony garden is a rewarding experience, as these stunning plants offer vibrant color and beauty to any garden.
With their radiant blooms and versatility, azaleas have the power to create breathtaking displays that captivate both the eye and the heart.
Embrace the joy of nurturing azaleas and watch your garden flourish with their vibrant colors. Happy gardening!
Green Horizon Azalea flower Plant 006 (1-1.5 Ft Size)
Azalea flowers are famous for their beautiful appearance and an intense, calming fragrance. The…
A healthy shrub in a favorable location can live for many decades. Lifespans of 50 years
Azaleas. Pretty pink Azaleas are bright and cheery and when placed next to your front door, they…
Water your azalea up to twice a week. It likes to drink, but if the soil gets too waterlogged –…
1 Healthy Live Plants Comes With Nicely Packing , Suitable for Indian Climate.
Vamsha Nature Care Azalea Flower Plant for Indoor Garden
Best flowering shrub with beautiful flowers, hardy and easy maintenance
Placing a tray of pebbles filled with water beneath the christmas cactus container is a good way to…
Useful for garden, table top plants, balcony plants
Comes In Safe And Secure Packing.
Last update on 2023-09-16 / Affiliate links / Images from Amazon Product Advertising API