Want a showy terrace garden with pomp and color? Add the glorious, colorful annuals called Cosmos and be the envy of your neighbors. These easy to grow plants are great for containers, require very little maintenance and attract bees, birds and butterflies as well. Cosmos plants are native to Mexico and come in an array of colors, including orange, pink, purple, red, and white. From choosing the right container and soil to providing the necessary care and maintenance, you'll learn everything you need to know to create a stunning display of cosmos flowers in your own home.
#Fact: Cosmos plants will make for good cut blossoms. If you cut the flowers from a sturdy stem and place them in a vase, they will stay good for a few days.
How to Grow Cosmos in Containers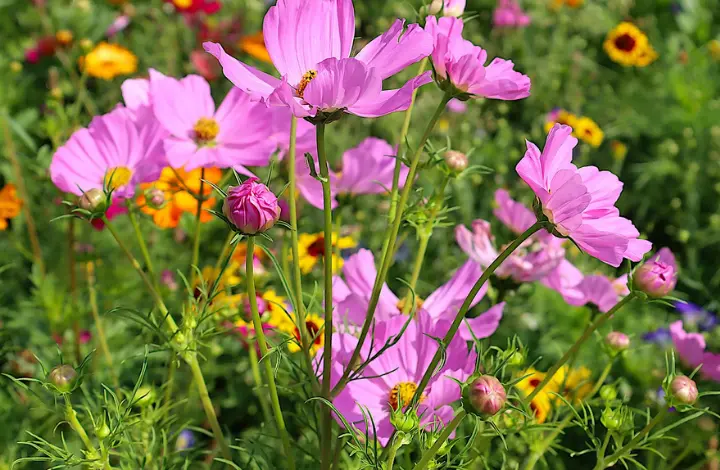 Choosing the Ideal Container Size
When it comes to growing cosmos in containers, selecting the right size is crucial. Cosmos plants have a deep root system, so it's important to choose a container that will allow for proper root development. A container with a depth of at least 12 inches (30 cm) is recommended to accommodate the roots and provide stability for the plant.
Consider Drainage
Proper drainage is essential for container-grown cosmos plants. Without adequate drainage, excess water can accumulate in the container and lead to root rot. Ensure that your chosen container has drainage holes at the bottom to allow water to freely escape. If your container does not have drainage holes, you can drill some yourself.
#FunFact: There are over 20 annual and perennial varieties of cosmos, which are part of the aster family and are related to daisies and sunflowers.
Selecting the Right Soil
Cosmos plants thrive in well-draining soil that allows excess water to flow out easily. Heavy or compacted soil can lead to waterlogged roots and hinder the plant's growth. Cosmos plants are usually adaptable, but providing them with the right soil conditions will ensure optimal growth and blooming.
Recommended Potting Mix
To create a suitable potting mix for your cosmos plants, combine equal parts of garden soil, peat moss, and perlite or vermiculite. This mixture will provide the necessary nutrients, moisture retention, and aeration for healthy root development. Alternatively, you can use a commercial potting mix formulated for flowering plants.
Starting Cosmos Seeds Indoors
Starting cosmos seeds indoors gives you a head start on the growing season and allows you to control the seedlings' environment. By starting seeds indoors, you can ensure that your cosmos plants are strong and well-established before transplanting them into containers.
Indoor Seed Starting Process
Fill seed trays or small pots with the potting mix mentioned earlier. Moisten the soil lightly before sowing the seeds.
Scatter the cosmos seeds evenly over the soil surface, leaving about 1 cm of space between each seed. Gently press the seeds into the soil, ensuring good seed-to-soil contact.
Cover the seeds with a thin layer of potting mix or vermiculite to protect them and provide moisture retention.
Place the seed trays or pots in a warm and well-lit area, such as near a south-facing window or under grow lights. Maintain a temperature of around 21-24°C for optimal germination.
Keep the soil consistently moist but not waterlogged. Water from the bottom by placing the seed trays or pots in shallow trays filled with water, allowing the soil to absorb moisture.
Once the seedlings have developed their second set of true leaves, thin them out to ensure proper spacing. Remove the weaker seedlings, leaving only the strongest ones to grow.
#FunFact: Cosmos is October's birth flower
Transplanting Seedlings into Containers
Preparing the Containers
Before transplanting your cosmos seedlings, make sure the containers are clean and have proper drainage holes. Rinse the containers with water and a mild detergent if they have been previously used. This will help prevent the spread of any potential diseases or pests.
Transplanting Process
Fill the containers with the prepared potting mix, leaving about an inch of space at the top.
Create a hole in the center of the container, slightly larger than the root ball of the seedling.
Carefully remove the seedling from its original container, taking care not to damage the roots.
Place the seedling in the hole, ensuring that the top of the root ball is level with the soil surface.
Gently backfill the hole with soil, pressing lightly to secure the seedling in place.
Water the newly transplanted seedlings thoroughly, allowing the water to reach the roots.
Cosmos Plants: Care and Maintenance
Watering
Cosmos plants require regular watering to maintain healthy growth and blooming. Water the plants when the top inch of soil feels dry to the touch. Avoid overwatering, as it can lead to root rot. Water at the base of the plant to keep the foliage dry and prevent fungal diseases.
Fertilizing
Cosmos plants are relatively low-maintenance and do not require heavy fertilization. However, a light application of a balanced organic fertilizer can promote healthier growth and more abundant flowering. Apply the fertilizer according to the manufacturer's instructions.
Pruning and Deadheading
Regular pruning and deadheading are essential for maintaining the appearance and prolonging the blooming period of cosmos plants. Remove any dead or faded flowers to encourage the plant to produce new blooms. Additionally, you can pinch back the tips of the stems to promote branching and bushier growth.
Stake Support
Tall varieties of cosmos plants may require staking to prevent them from toppling over, especially in windy conditions. Insert stakes or plant supports near the base of the plant and gently tie the stems to the support structure using soft ties or twine. This will provide stability and prevent damage to the plant.
ecofynd 16 inches Metal Plant Stakes, Pack of 10 | Single Stem Flower Plant Support | Garden Plant…
10 PACK & DECENT SIZES: Total 10 pcs plant support stakes, satisfy your different supporting needs,…
HOLE UP YOUR PLANTS: Perfect garden plant straightener, prop up your flimsy plants, prevent them…
STURDY & NATURAL COLOR: Steel core and plastic coating, sturdy and rust-proof, supportive and…
SLOT DESIGN & EASY TO USE: Each flower support has one slot for stems passing through easily without…
WIDE APPLICATIONS: Ideal plant stem supports, to support various flowers like amaryllis, orchid,…
VETAS Bamboo Sticks for Plants Support (Set of 20) 2.2 Feet, 67cm
GOOD QUALITY : Our bamboo stakes are all hand-made, using high-quality mature. Very strong and…
ECO-FRIENDLY : Our Eco-Friendly bamboo sticks will not hurt your plants. It is also Recyclable…
DIMENSION : Height 2.2 Feet (67cm). Pack Contains Best Quality lightweight Sticks. It has the…
EASY TO FIX : Just insert the tip of the stick deep into the soil so that it can be fixed vertically…
USES : These Sticks provide ideal support for various indoor & outdoor climbing plants. It is…
Pest and Disease Control
Cosmos plants are generally resilient and relatively pest-free. However, they can occasionally be affected by aphids or spider mites. Monitor your plants regularly and take appropriate action if you notice any signs of infestation. Use organic insecticidal soap or neem oil to control pests. Follow the instructions provided by the manufacturer.
#FunFact: In the language of flowers, cosmos plants represent peace, tranquility, and harmony. They are often associated with serenity and are considered a symbol of a peaceful mind.
Harvesting and Preserving Cosmos Flowers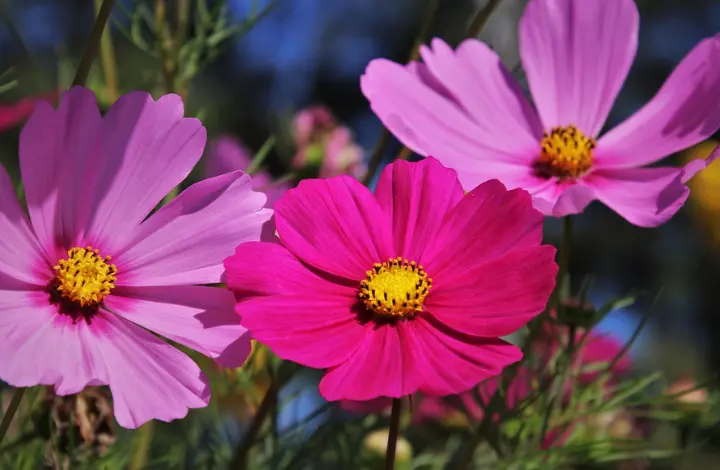 Harvesting Cosmos Flowers
Cosmos flowers make beautiful cut flowers and can be harvested to enjoy indoors. Harvest the flowers when they are fully open and at their peak of bloom. Use sharp scissors or pruning shears to cut the stems just above a leaf node. Harvesting regularly will encourage the plant to produce more flowers.
Preserving Cosmos Flowers
To preserve cosmos flowers for longer-lasting enjoyment, follow these steps:
Remove any foliage that will be below the water line in the vase.
Fill a vase with lukewarm water and add a floral preservative or a mixture of water, sugar, and a few drops of bleach.
Cut the stems at a 45-degree angle under running water to allow for better water uptake.
Arrange the cosmos flowers in the vase, taking care not to overcrowd them.
Place the vase in a cool and well-ventilated area away from direct sunlight and drafts.
Change the water every 2-3 days and recut the stems to maintain freshness.
Popular Varieties of Cosmos for Container Gardening
Bright Lights Mix
This variety of cosmos features an attractive mix of yellows, oranges, and reds. It grows to a height of about 3 feet and is perfect for adding vibrant color to your container garden.
Cosmic Orange
Cosmic Orange cosmos plants are known for their drought tolerance and stunning orange-colored flowers. This variety can reach a height of 4 feet, making it a striking addition to your container garden.
Peppermint Candy
Peppermint Candy cosmos plants boast lovely petals splashed in magenta and white. With a height of about 2 feet, they are ideal for smaller containers or as part of a mixed flower display.
Seashells Series
The Seashells series of cosmos plants offers distinctive tubular petals and stunning colors. Choose from a range of shades, including pink, white, and red. These cosmos plants can grow up to 3 feet tall and make an eye-catching addition to any container garden.
Chocolate Cosmos
Chocolate Cosmos is a unique variety with dark red flowers that emit a delightful chocolate fragrance. It grows to a height of about 2 feet and is perfect for adding a touch of elegance and fragrance to your container garden.
Cosmos Mixed Flower Seeds – Pack Of 30 Seeds By Ankam
Pack of 30 seeds in one packet improved quality seeds by Ankam
Blooming start approx. 30 to 35 days after germinating the seeds
High germination rate 70 to 80%
Planting instructions – use normal garden soil, any organic manure, river sand and peatmoss mix…
Planting place – grow any pots, planters, home gardening, balcony gardens, terrace gardening,…
Common Issues with Cosmos Plants
Slow Bloomers
In some climates, cosmos planted in spring may not bloom until days become shorter in early autumn. This delayed blooming is a natural response to the changing daylight hours and should not be a cause for concern. Be patient, and your cosmos plants will reward you with a profusion of flowers when the time is right.
Fungal Diseases
Cosmos plants can be susceptible to fungal diseases, especially in humid weather conditions. To prevent fungal infections, water the plants in the morning, allowing the foliage to dry before nightfall. Additionally, ensure proper air circulation around the plants by providing adequate spacing and avoiding overcrowding.
Additional Tips for Growing Cosmos in Containers in India
Consider grouping different varieties of cosmos with complementary colors and heights in the same container for a dynamic and visually appealing display.
Protect your cosmos plants from strong winds by placing them in a sheltered location or using windbreaks such as tall plants or trellises.
Experiment with different container sizes, shapes, and materials to add visual interest to your container garden.
Remember to label your cosmos plants to keep track of different varieties and planting dates.
Conclusion
Cosmos plants reminds me of the delightful poem Daffodils by William Wordsworth. Every time these gorgeous flowers dance and sway in the breeze, I feel giddy with delight, as I am sure Wordsworth felt that day when he walked past those beautiful yellow flowers.
If nature ever had the power to uplift the human spirit, the Cosmos flowers definitely have a role to play in that. If you have a garden, this plant is a must have. These plants are sure to bring abundant beauty and joy to your home and garden!
Last update on 2023-09-13 / Affiliate links / Images from Amazon Product Advertising API