Impatiens are vibrant and easy-to-grow plants that can add a burst of color to your garden or balcony. Having a garden filled with a splash of colors brings so much joy to the heart. If you don't have these gorgeous plants in your garden, you are certainly missing out. But, not to worry, Impatiens are very easy to grow. In this guide, we explore the different types of impatiens, and give you step-by-step instructions for successfully growing impatiens in containers. Read on to learn how you can create a stunning display of flowers in your own space!
Understanding Impatiens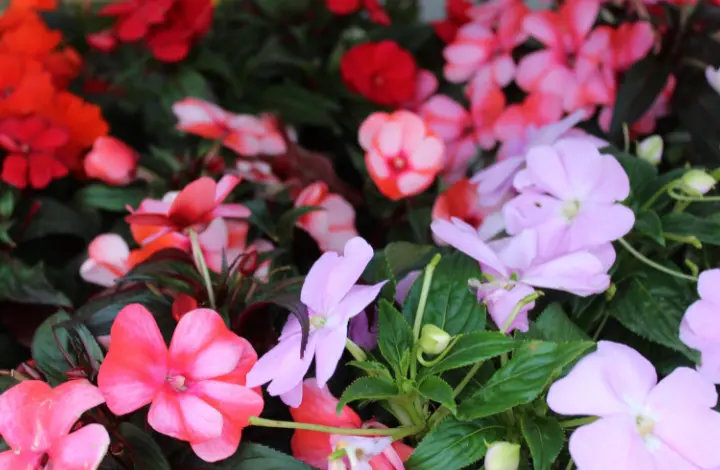 Impatiens, scientifically known as Impatiens walleriana, are popular annual plants known for their prolific blooms and ease of growth. These flowering plants are native to Africa, Eurasia, and North America.
With a wide range of colors and varieties available, including pink, red, mauve, lilac, and white, these plants are versatile and can be used as bedding plants, border plants, or in containers.
Impatiens Varieties
Impatiens come in various types, each with its own unique characteristics. In India, you can find these popular varieties in nurseries and homes:
Impatiens balsamina (Garden Balsam or Rose Balsam)
This variety is also known as "Gul Mehndi" in Hindi. It features bright, camellia-like flowers in a range of colors from white to dark red. The plant has an upright growth habit and is often grown as a border plant. Garden Balsam has also been used traditionally in India for its medicinal properties.
Impatiens walleriana (Busy Lizzie)
Known for its continuous blooming, it comes in various colors including pink, orange, white, and red. The plant prefers shady locations, making it perfect for adding color to less sunny areas. This species is also used as a houseplant in India, providing indoor color during the monsoon season.
#FunFact: Impatiens are also known as "Touch-Me-Nots" because their seed pods are very sensitive and just a light touch will cause them to burst open.
Impatiens hawkeri (New Guinea Impatiens)
Known for their large, showy flowers and broad, variegated leaves, they offer vibrant colors and are popular for adding color in partial or full shade areas. They require more sun than other Impatiens and are often used in pots or hanging baskets.
HERBALISM Impatiens hawkeri The New Guinea Impatiens
Fresh living plant in poly bag
HERBALISM is the reliable supplier of all plants.
See our collection of herbal plant in poly bag.
Comes in Safe And Secure packing . We Use A specially Ventilated Recyclable package Which Ensures…
Impatiens glandulifera (Himalayan Balsam)
Native to the Western Himalayas, this species has been naturalized in other regions. It features pinkish-purple flowers and explosive seed pods. It grows particularly well near water bodies and is known to attract bees and other pollinators.
Impatiens scapiflora
Endemic to the Western Ghats of India, this plant is known for its drooping, yellow flowers with a distinctly long spur. Its attractive, glossy foliage and charming flowers make it a popular choice for gardens in its native region.
Growing Requirements for Impatiens
Growing these plants requires a simple understanding of their fundamental needs for successful blossoming. In this section, we will discuss the optimal conditions, including light, water, soil, and temperature requirements, to ensure your plants thrive.
Quick Summary
| | |
| --- | --- |
| Growing Requirements | Explanation |
| Soil | Well-draining, loamy or sandy loam soil, rich in organic matter with a slightly acidic to neutral pH (6.0-7.0). |
| Light | Prefers partial to full shade; can tolerate some morning sun, but needs protection from intense midday and afternoon sun. |
| Temperature | Thrives between 20°C (68°F) and 30°C (86°F); needs protection from temperatures below 10°C (50°F) and intense sun. |
| Humidity | Flourishes in humid environments; may require misting or a humidifier in dry climates. |
| Watering | Requires regular, consistent watering; soil should be moist but not waterlogged. Avoid overwatering and underwatering. |
Soil Requirements
Impatiens prefer well-draining soil that's rich in organic matter. A loamy or sandy loam soil with a slightly acidic to neutral pH (6.0 to 7.0) is ideal. You can enrich your soil by adding compost or well-rotted manure, which will also improve soil structure and drainage.
The soil should be kept consistently moist but not waterlogged. Overly heavy or clay-based soils may need to be amended with organic matter and sand to improve drainage, as impatiens are susceptible to root rot in waterlogged conditions. For potted impatiens, use a high-quality, well-draining potting mix.
Light Requirements
Impatiens prefer locations with partial shade to full shade, making them an excellent choice for brightening up less sunny areas of the garden. They can tolerate some morning sunlight, but the intense midday and afternoon sun can be too harsh and cause the plants to wilt.
In hotter parts of India, it's especially important to provide shade during the hottest part of the day. However, if the location is too dark, impatiens may become leggy and produce fewer flowers.
For New Guinea impatiens (Impatiens hawkeri), they can handle more sunlight than other varieties, but they still need protection from intense, direct sun.
#FunFact: The name "Impatiens" means "impatient" and refers to the readiness with which the plants' seeds are dispersed.
Temperature Requirements
These are tropical plants and thus prefer temperatures that mimic their native environments. In India, they thrive best in temperatures between 20°C (68°F) and 30°C (86°F), making them ideal for most regions throughout the year.
During the cooler months, they should be protected from temperatures below 10°C (50°F), as they can suffer from cold damage.
Conversely, during extremely hot periods, impatiens should be shielded from intense, direct sun to prevent wilting and burning. Shaded or semi-shaded locations can provide a cooler microclimate even in the heat of the summer.
Humidity Requirements
Impatiens thrive in humid environments. If you live in a dry climate, consider misting your plants regularly or using a humidifier to create the ideal growing conditions.
Watering Requirements
These plants require regular and consistent watering to maintain their lush growth. They prefer soil that is well-drained but consistently moist, never waterlogged.
Water the plants thoroughly, and then let the top 1-2 inches of soil dry out slightly before watering again. In hot, dry periods, impatiens may need to be watered daily, especially if they are in pots or hanging baskets, which dry out more quickly than garden soil.
Overwatering or soggy soil can lead to root rot, while underwatering can cause wilting. Adjust your watering based on weather conditions and always check the soil moisture levels before watering.
#FunFact: These flowering plants are also known as "Busy Lizzies" in the UK.
Ideal Locations for Growing Impatiens in Your Garden
These blooming beauties can be grown in various parts of the garden depending on the specific environmental conditions and aesthetic goals.
Shady Borders: These plants are perfect for adding a splash of color to shady borders. Their vibrant blossoms can liven up these areas where many other flowering plants may struggle.
Container Gardens: They grow well in pots, hanging baskets, or window boxes. This flexibility allows you to place them in optimal locations, adjust their sun exposure, and add color to patios, balconies, or entrance ways.
Under Trees or Large Shrubs: These areas of the garden often have dappled sunlight, which is perfect for impatiens. Ensure the soil is well-drained and enriched with organic matter.
Along Garden Paths: They are great for softening the edges of pathways, especially in shady or semi-shaded parts of the garden.
Shady Wall Gardens: If you have a wall garden that doesn't get much sun, these plants can be a good choice. They can grow vertically and fill in the space with their bright, cheerful flowers.
How to Grow Impatiens in Containers
Now that you have a better understanding of Impatiens and the ideal conditions for growing them, here's the step-by-step process for growing Impatiens in containers.
Choose the Right Container
When selecting a container for your plants, there are a few key factors to consider:
Size: Choose a container that is at least 6-8 inches deep to allow for proper root development. The width of the container will depend on the number of plants you want to grow.
Drainage: Ensure that the container has drainage holes to prevent waterlogging. This will help prevent root rot and other water-related issues.
Material: Plastic, ceramic, or terracotta containers are all suitable options for growing impatiens. Just make sure the chosen material retains moisture well and is durable enough to withstand the elements.
Prepare the Potting Mix
Impatiens prefer a well-drained potting mix that retains moisture. You can create a suitable mix by combining equal parts of peat moss, perlite, and compost. This will provide the necessary nutrients while ensuring proper drainage.
Planting Your Impatiens
Fill the container with the prepared potting mix, leaving enough space for the roots of your impatiens.
Gently remove the plants from their nursery pots, being careful not to damage the delicate roots.
Place them in the container, ensuring that the top of the root ball is level with the soil surface.
Fill in any gaps around the plants with additional potting mix, gently firming it down to secure the plants in place.
Watering and Care
Water the plants thoroughly after planting to settle the soil and ensure proper hydration.
Maintain regular watering, keeping the soil evenly moist but not waterlogged. Impatiens are sensitive to lack of water, so be sure to monitor the moisture levels and adjust your watering schedule accordingly.
Fertilize your plants every 4-6 weeks with a balanced, water-soluble fertilizer. This will provide the necessary nutrients for healthy growth and abundant blooms.
Remove any spent flowers or yellowing leaves to encourage continuous blooming and maintain the overall appearance of your impatiens.
Pest and Disease Control
While impatiens are generally resistant to pests and diseases, it's important to keep an eye out for common issues such as aphids, mites, and whiteflies. Regularly inspect your plants and take appropriate measures, such as using organic insecticides or introducing beneficial insects, to keep these pests under control.
Enjoy Your Impatiens
Sit back, relax, and enjoy the beauty of your blooming impatiens! With proper care and attention, your impatiens will reward you with a vibrant display of colors throughout the growing season.
Additional Tips for Growing Impatiens in Containers
To further enhance your success in growing impatiens in containers, here are some additional tips:
Deadhead
Regularly remove faded or spent flowers to encourage continuous blooming and prevent the plants from going to seed prematurely.
Apply Mulch
Apply a layer of organic mulch around your impatiens to help retain moisture and suppress weed growth. This will also add a decorative touch to your container display.
Prune regularly
If your impatiens become leggy or overgrown, you can prune them back to maintain a compact and bushy shape. Use clean and sharp garden shears to make clean cuts just above a leaf node.
Conclusion
Growing impatiens in containers can be a delightful and rewarding experience. By understanding the different types of impatiens, choosing the right climate, and following the step-by-step instructions provided, you can create a stunning display of vibrant impatiens in your own space. Remember to provide the necessary care, water regularly, and enjoy the beauty of your blooming impatiens throughout the growing season. Happy gardening!
Creative Farmer Balcony Indoor Plant Impatiens Red Fast-Growing -…
Content : 1 Pack of Creative Farmer Balcony Indoor Plant Impatiens Red Fast-Growing Indoor Plant…
It require Low maintenance. we send hand-picked plant. You will receive a unique collection of…
Safe Packaging and Secure Delivery all across India
Everyone loves receiving live plant as a gift, from children to grandma and grandpa. Our Live plant…
Do not pour water(Only Spray in medium) for 5-6 days after planting, let it adjust to new…
Last update on 2023-09-16 / Affiliate links / Images from Amazon Product Advertising API