Marigold plants are easy to grow, make for great companion plants and add colour and beauty to a garden. It is a fast growing annual plant that produces gloriously happy yellow and orange flowers. They do have an offensive smell, but that add a rich exotic look to your garden. Plus, they attract bees and other pollinators. In this post, I'll show you how to grow marigold in containers.
Marigolds are usually propagated from seeds. You can dry the flowers you picked up from a vendor and sow them, or you can buy seeds from an online store or nursery. You can even borrow the dried flowers from your friend's garden and use them to start your marigold garden. Marigold seeds usually germinate with a week or two. They are easy to grow in containers and require very little maintenance. Here are the requirements for it:
How to Grow Marigold in Containers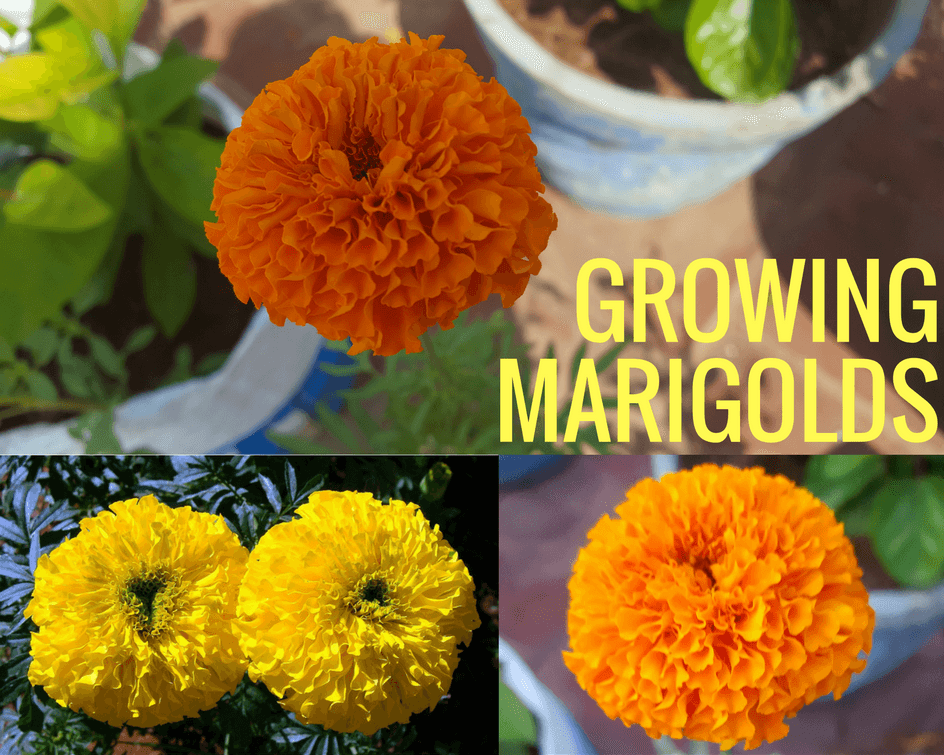 Sun
Marigolds love the sunshine. You can grow them in full sun but they also do well in partial shade. They don't do well in wet damp conditions and may rot and die.
Soil
They are not too particular about soil conditions but a well drained soil that is good enough for them. The soil doesn't even have to be rich in organic matter, so they are really the most non-fussy plants you can have in your garden.
Water
Marigolds grown in containers must be regularly watered. It is best to let the water flow out of the drainage holes at the bottom of the container and to allow the soil to dry before watering again. Always avoid spraying water on the foliage and flowers and water the plants in the morning to allow the plants to use it well during the day and dry out at night.
Mulch
Snails and slugs love the marigold plant, so apply a thick two-layer coat of mulch to protect the plants when they are seedlings and young plants. Mulching also has the added effect of retaining the moisture in the soil and keeping away weeds.
Fertilizers
Marigolds don't particularly need fertilizers for growing. In fact, if you do add fertilizers, they will give lush foliage with no flowers or less flowers.
Pruning
Although marigolds don't have to be pruned removing the dead flowers will increase the bloom considerably.
Pests
Marigolds are pest free plants – in fact a lot of pests are repelled by marigolds, which is one of the reasons why they make a great companion plant for your garden. Marigold plants are also known to repel root nematodes by working their magic under the soil.
If you want a garden filled with life and color, keep pests away and attract bees and pollinators, grow some marigold today!