The Tulsi is an aromatic herb that is steeped in ancient Hindu mythology and revered for its medicinal and spiritual properties. It can be easily grown in pots and is present in most religious-minded homes. There are over a hundred different varieties of Tulsi but the ones commonly grown in Indian homes include the Rama Tulsi, characterized by its big broad leaves and Krishna Tulsi with its purple leaves and stem. If you are planning to grow Tulsi in containers, here's how to go about it!
Tulsi plants can be bought from a nursery but is easily propagated from seeds. Just nip off the flowers from a plant and crush them in your pot. Before too long, you'll find them peeping out of the soil. Just remember to keep the soil moist and place them in the sun and they will germinate in no less than a week's time.
How to Grow Tulsi in Containers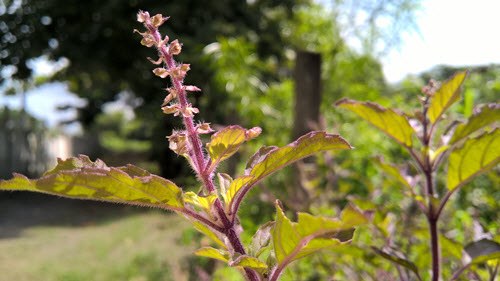 Sun
Tulsi is a sun loving plant but it grows well even in conditions of partial shade. Wherever you place your container, make sure it has at least 4-6 hours of sunlight.
Soil
A well drained potting soil should be more than enough to grow your plant.
Water
The Tulsi plant must be watered regularly if the top soil dries up fast. Otherwise it is best to go easy on the water, especially during cooler climes. Too much water can fungal diseases so avoid excessive watering.
Fertilizers
You can apply a good liquid fertilizer once every two weeks. It also helps to replace the top soil with good compost once a year.
Pruning
If you want your Tulsi plant to grow wild and bushy, you must regularly prune it. Once the plant reaches a height of about 12 inches, you can nip off close to half of its stem or branch.
If your plant starts to flower, the leaves will lose its flavor. In such instances, you can nip off the flowers to keep encouraging new growth.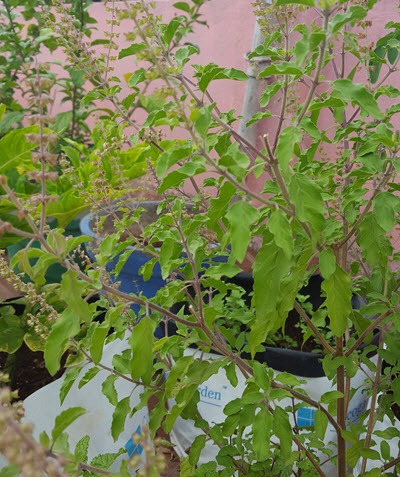 If you plan on growing medicinal plants in your garden, the Tulsi is a must have. It is a powerful immunity booster with antioxidant, antibacterial, antiviral, immune-stimulating and stress removing properties.
Simply eating the leaves of the Tulsi plant or drinking the water soaked in the leaves every day will boost your immunity. It is also an effective remedy against colds and coughs. So grow a Holy Tulsi in your terrace garden and have a handy, doctor in your home at all times.
You can get a tulsi plant from your local nursery or check out these ones on Amazon.
EverSneh Live Set Of 2 Real Rama Syama Ayurvedic Tulsi Plants Kali Hari Green Black Tulsi Plant…
Shipped In … 2 Live Rama Syama Tulsi PlantS With Black Plastic Pot 4 Inch Size, Corrugated Box
Water the plant daily to the required levels, Provide nutrition compost, manures every week for…
Save from Insects and pest. Grow in healthy organic content mixed soil. Give timely micronutrients…
Planting : Dig a hole twice as wide and deep as the pot your plant comes in. Backfill, mixing…
Trees need to be planted in full sun. Make sure there is no sudden change in temperature. Keep it in…
Last update on 2023-09-09 / Affiliate links / Images from Amazon Product Advertising API